Helio Protocol Expands Reach on BNBChain with Key Partnerships with PancakeSwap and Meuna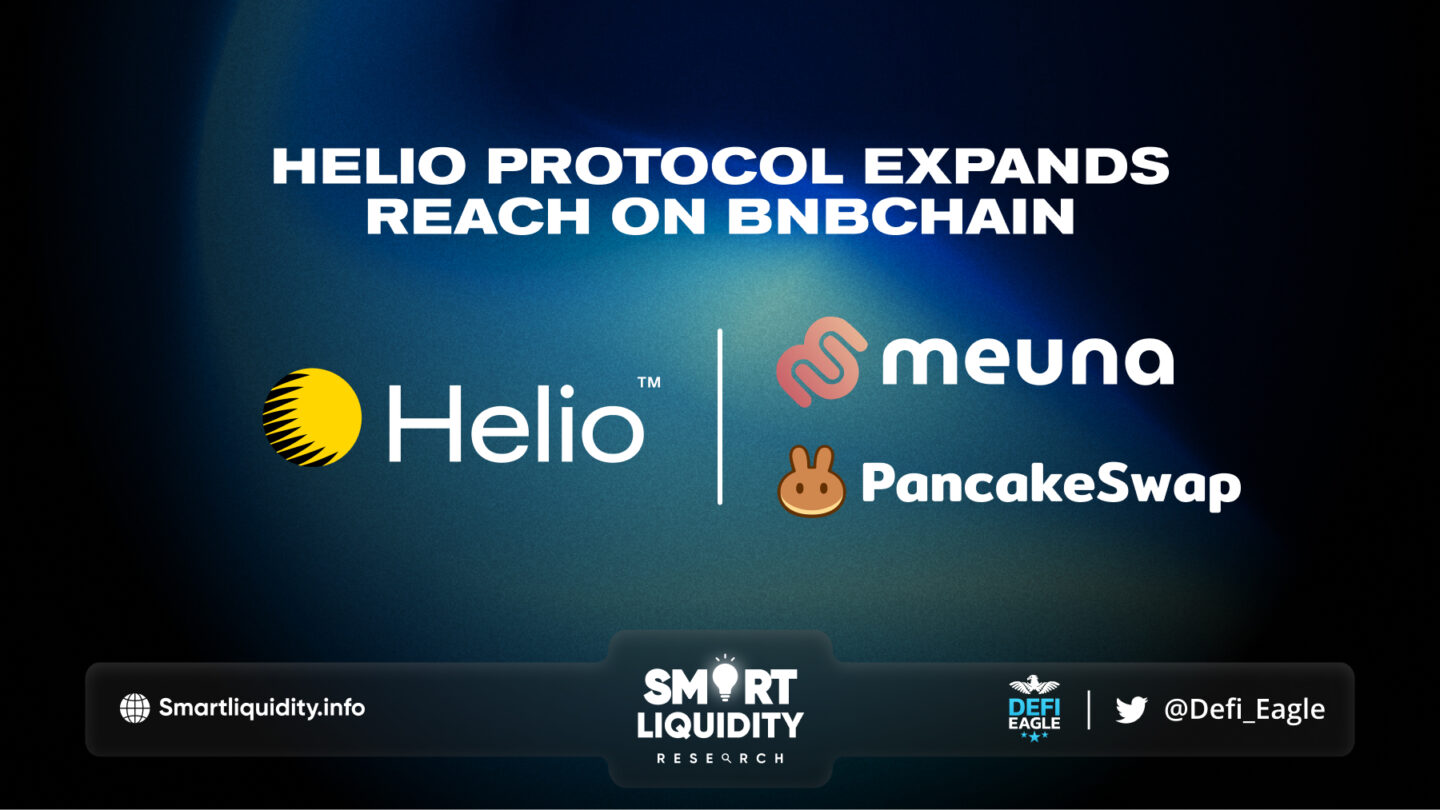 Helio Protocol, an ecosystem of decentralized finance (DeFi) instruments powered by its native "destablecoin" HAY, has announced two major partnerships that will further solidify its position on the Binance Smart Chain (BSC). By teaming up with PancakeSwap, the largest DEX on the BSC ecosystem, and Meuna, a decentralized exchange focused on real-world assets (RWAs), Helio Protocol is set to expand its liquidity pool and bring the tokenization of real-world assets to the forefront of the DeFi space.
Helio Protocol's recent initiatives are indicative of its growing prominence in the DeFi space. The ecosystem, built around the cutting-edge destablecoin HAY, is addressing centralization risks and expanding into new areas of the blockchain world.
Unlocking New Possibilities: Helio Protocol Introduces Exciting Opportunities for PancakeSwap (CAKE) Liquidity Providers
One of Helio Protocol's major moves is the launch of a new liquidity pool on PancakeSwap, the largest DEX in the BSC ecosystem. By partnering with PancakeSwap, Helio Protocol is providing more opportunities for liquidity providers and injecting significant liquidity to bootstrap the pool.
Users can mint HAY by depositing BNB or BUSD tokens on the Helio Protocol App.
The Syrup Pool: Stake HAY tokens to earn CAKE tokens!
Total Tokens: 27,900 CAKE
Distribution duration: 80 days
Start time: Approx. 1400 UTC on 31 Mar 2023
Finish time: Approx. 1400 UTC on 19 Jun 2023
Token rewards per block: 0.01210 CAKE
Max Stake per Wallet: 400 HAY for the entire duration of the Syrup Pool.
The cap is to give everyone an equal opportunity to farm rewards at a high APY.
The Farm: In conjunction with the Stake HAY, Earn CAKE Syrup Pool, we'll be providing a HAY-USDT farm.
The farm will have 1.4x CAKE rewards for the first 5 days, then 0.7x rewards for the remaining 75 days.
During and at the end of the 80-day period – approx. 1400 UTC on 19 Jun 2023 – the Farm will be re-adjusted to a 0x multiplier unless the following metrics are comparable with other farms of a similar multiplier: average daily volume, 14-day volume, unique token holders on BNB Chain, and there are no fundamental token issues or concerns related to users' safety and security.
Helio Protocol is also offering rewards and incentives to its LPs, such as the $5,000 staking raffle, which is sure to attract even more attention from the DeFi community.
Stake2Earn campaign is starting on Monday 4th April!
By depositing $50 of liquidity into the new pool, which includes approximately $25 HAY and $25 USDT, participants can enter the competition and stand a chance to win big. To be eligible, participants must follow Helio Protocol and [Redacted] on Twitter and claim OAT.
But that's not all – 50 lucky winners will receive 100 HAY each, which adds up to a whopping 5,000 HAY in rewards!
Not only can users potentially win big, but staking in the new liquidity pool can also help them earn extra rewards. Helio Protocol is always looking for ways to incentivize its users and provide them with a rewarding and engaging experience.
So, what are you waiting for? Join Helio Protocol's stake2earn campaign and take advantage of this fantastic opportunity to earn rewards and support the growth of the HAY/USDT liquidity pool.
Tokenizing Real-World Assets: Helio Protocol Forges Groundbreaking Partnership with Meuna for RWA Segment
But Helio Protocol is not stopping at liquidity initiatives alone. The platform has also entered into a strategic partnership with Meuna DEX, a decentralized exchange focused on RWAs. This partnership will allow users to tokenize real-world assets and trade them seamlessly and comfortably on the Meuna platform. With HAY destablecoin required to mint these assets, Helio Protocol's involvement in the RWA segment is sure to attract more interest and adoption.
By teaming up with Meuna, Helio Protocol aims to create a more seamless and comfortable environment for individuals to experiment with tokenizing real-world assets and buying and selling them on the platform.
As Meuna approaches the beta testnet release, Helio Protocol is set to be its launch partner, and its stablecoin, HAY, will be essential for minting tokenized real-world assets on Meuna's platform. The anticipated testnet activation of the Meuna platform with HAY destablecoins is live. Helio Protocol is also planning a special event to celebrate the event, with a total of 5,000 HAY to be distributed to participants of the testnet incentives program.
With more joint events planned in the future, Helio Protocol and Meuna's partnership is expected to have a significant impact on the adoption of decentralized finance and RWA tokenization.
Conclusions
Overall, Helio Protocol's recent moves highlight its commitment to innovation and expansion within the DeFi space. With new liquidity initiatives, strategic partnerships, and a unique destablecoin, HAY, Helio Protocol is carving out a niche for itself in the ever-evolving blockchain world.
Helio Socials
Website | Twitter | Whitepaper | Telegram | Discord | Medium
FRIENDLY REMINDER:
We deliver these news articles based on our own thorough research. We want to preserve some important information regarding the project that is presented in our column. We value our readers' opinion and appreciate your valued respect to us. The article above is not financial advice and as we always say "Invest at your own risk and only invest what you can afford to lose".