Thunderbird and SEERLABS Partnership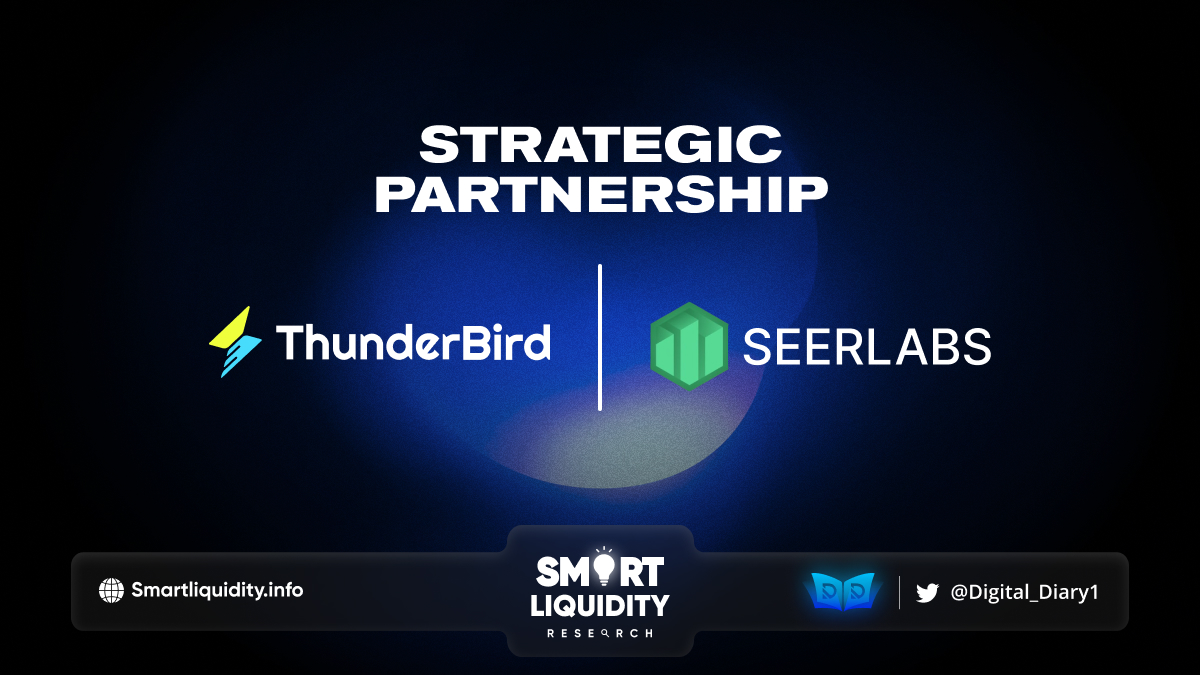 Thunderbird Finance has entered a strategic partnership with SeerLabs, an Asia's leading institution focusing on blockchain & Web 3.0 incubation. 
Thunderbird Finance, a social trading and education platform, and Seer Labs have announced an official partnership to strive towards greater user acquisition, transactional volumes, trader relations, KOL partnerships, and community engagement within the Greater China area and the South Korean communities.
Seer Labs, Asia's leading growth hacking and blockchain marketing organization. It will become the official lead marketing partners of Thunderbird Finance, an up-and-coming social trading and education platform. Which will complete their IDO on the Roseon Launchpad this Summer. With Seer Labs CEO Sharon Luo acting as the Lead Marketing Consultant to the Thunderbird brand as it seeks to expand its overall reach.
Speaking on the partnership, Thunderbird Finance CEO, Cathal Donnellan said, "Working with Sharon and the rest of the team at Seer Labs is an absolute privilege and demonstrates our commitment towards adding greater value to the token economy, both in Asia and beyond. Having worked with some of the leading names in the industry like Polygon, Veracity, DIA, and more. They possess the in-market expertise to drive positive results and really build the in-platform token economy."
Seer Labs CEO, Sharon Luo, added
Building and expanding a market necessitates having an appropriate strategy in place and making sure that the right channels, resources, and communities are available. We have a very high standard for projects we work closely with, and we are bullish and optimistic about the Thunderbird product. The DeFi world lacks a social trading ecosystem that is both sustainable and scalable, while there are major gaps in the education space within the token economy. For these reasons, we are very bullish on Thunderbird and see enormous growth potential within both the greater China and Korean markets.
Thunderbird will do its IDO on Roseon Launchpad this Summer. Get whitelisted now
About Thunderbird Finance
Thunderbird is one of the industry's first DEX platforms built on Arbitrum. Offering users Social Trading and Social Education centered around a native platform token, $TBIRD.
Thunderbird will offer users the ability a rich social media and trading experience, enabling traders. To provide in-platform, subscription-based, TikTok style content, making DeFi and Web3 accessible to regular users and experienced traders alike.
About SeerLabs
SeerLabs is a game-changing blockchain and cryptocurrency incubation hub and marketing agency, specializing in scaling up-and-coming cryptocurrency and blockchain projects. Helping successfully launch projects like Polygon (MATIC), DIA, Swingby Paralink Network and many more. Within the greater China and South Korean markets.
With a trusted network of over 2,000 KOLs and 20,000 communities. Seer Labs is fully-committed to bringing the best project to market and growing their overall reach globally.
SOURCE: MEDIUM