Notifi Integration with Injective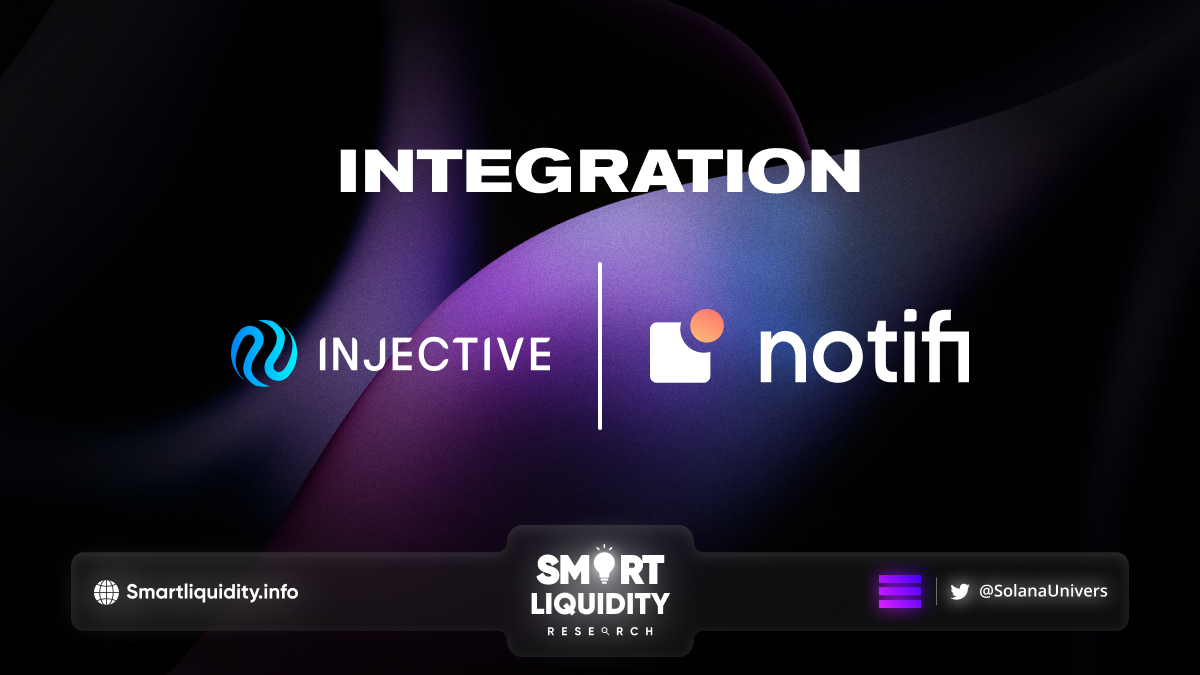 Notifi, a leading provider of notification services, has recently announced its integration with Injective, a lightning-fast layer one blockchain optimized for finance applications.
This integration of Injective with Notifi marks entrance into the Cosmos ecosystem, a network of interoperable blockchains that aims to create a decentralized internet of blockchains.
Through this integration, Notifi will offer alerts and notification capabilities to users of Injective, starting with Helix, the premier decentralized exchange built on Injective. Furthermore, this will enable traders to receive real-time notifications and customizable alerts on their trades and other activities on Helix, allowing them to react quickly to market movements and capitalize on opportunities as they arise.
Notifi's integration with Injective is a significant step in the development of a more accessible and user-friendly decentralized finance ecosystem. Additionally, by providing these notification services, Notifi can enhance the user experience on Helix and drive the adoption of decentralized finance applications more broadly.
Furthermore, Injective is focused on creating a free and inclusive financial system through decentralization, and its high degree of interoperability enables seamless communication between different blockchain ecosystems, including Cosmos, Ethereum, Solana, and Aptos. Moreover, the Injective ecosystem is home to some exciting dApps, including Astroport, Frontrunner, and Helix, which provide users with innovative and user-friendly ways to trade crypto assets and derivatives.
Overall, Notifi's integration with Injective and entrance into the Cosmos ecosystem is a positive development for the decentralized finance industry, and it will be exciting to see how this partnership continues to evolve in the future.
About Injective
Injective is a lightning-fast interoperable layer one blockchain optimized for building the premier Web3 finance applications. Injective provides developers with powerful plug-and-play modules for creating unmatched dApps. In addition, INJ is the native deflationary scarce asset that powers Injective and its rapidly growing ecosystem. Moreover, the support from Binance and prominent investors like Jump Crypto, Pantera, and Mark Cuban, underscores the potential and significance of Injective's technology and ecosystem.
About Helix
Helix is a premier decentralized exchange on Injective. Users can trade unlimited cross-chain crypto assets and perpetual markets with market leading rebates.
Helix offers spot and perpetual markets, zero gas fees, low taker fees, and seamless asset transferability across blockchains. Moreover, it also holds the record of becoming one of the fastest growing exchanges upon launch, reaching over $1 billion in cumulative trading volume in just the first month. Since then, Helix's total volume has surpassed billions.
About Notifi 
Notifi allows for simplified communication across all web3 messaging channels (Discord, Telegram, SMS, Twitter). Designed with simple APIs for easy integration and customizable and advanced features for dApps and web3 applications, Notifi empowers developers and creators to better engage with their users and communities via multichannel communications.
SOURCE
https://medium.com/@mrmarcrose/notifi-enters-the-cosmos-ecosystem-with-injective-and-helix-554c61ffbe82