Uquid and TRON DAO Integration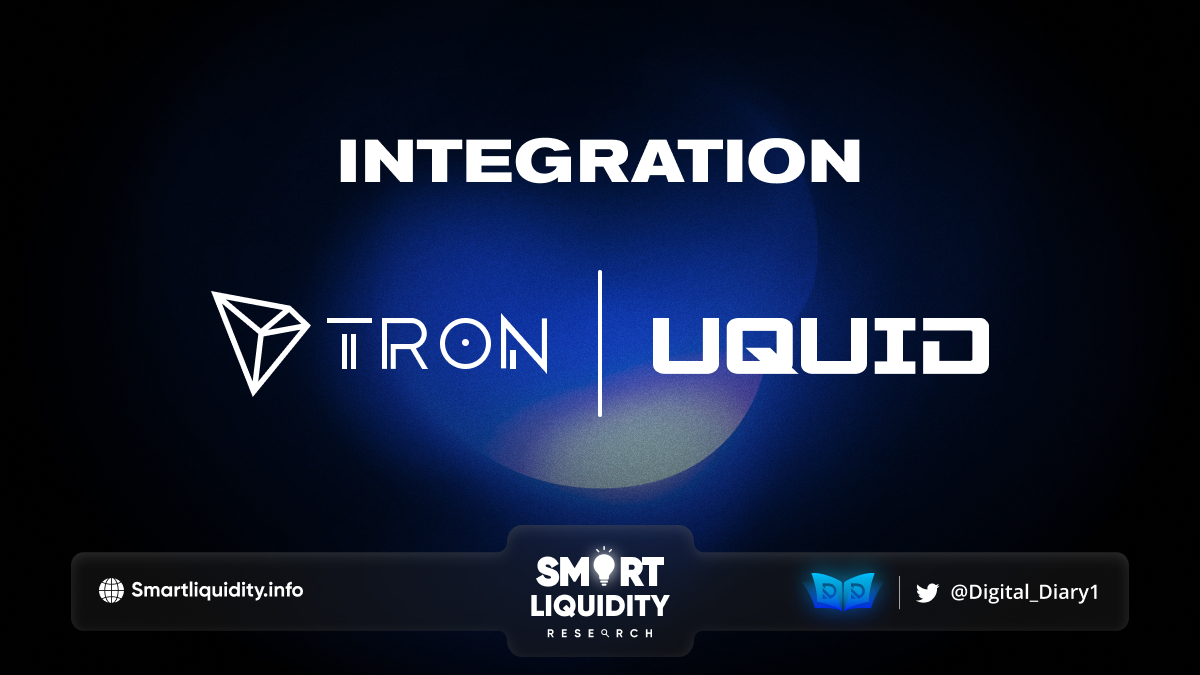 Uquid is thrilled to announce a new integration with TRON DAO to integrate TRX and USDT as payment methods into its marketplace. This collaboration provides users with faster and more secure payment experiences.
Uquid, a leading Web3 platform for purchasing physical and digital products and services, has partnered with TRON DAO to enhance its offerings and user experience. The partnership will integrate payment options with TRX and USDT on the TRON network into Uquid's marketplace, making it even easier for users to purchase the digital products and services they desire.
The collaboration between Uquid and TRON provides several benefits for users:
TRX offers a fast and cost-effective payment method for digital purchases.
USDT provides users with a stable value for their transactions, eliminating the volatility users often fear.
TRON's network speed and safety empower Uquid to offer its users a faster and more secure payment experience.
TRON also allows Uquid to develop new applications and services that can benefit its users in the future.
Partnering with TRON is an essential step in Uquid's mission to drive blockchain and cryptocurrency adoption. By offering a seamless payment experience, Uquid is making it easier for users to access and use cryptocurrency in their daily lives. Furthermore, by expanding its reach through partnerships with other leading blockchain projects, Uquid is enabling a more interoperable, decentralized digital economy.
Since 2016, Uquid has been developing an outstanding Web3 shopping infrastructure that offers millions of physical and digital products with the objective of serving 50 million users by 2027. Uquid's marketplace combines the best of e-commerce with the strengths of DeFi and NFT technology. From gift cards to mobile top-ups and virtual debit cards, users can purchase the products they want quickly and easily with cryptocurrency. With the integration of TRX and USDT on the TRON network, Uquid users can enjoy even faster and more affordable transactions.
By leveraging the TRON blockchain to provide users with a secure and user-friendly payment experience, Uquid is paving the way for a new era of digital commerce.
About TRON DAO
TRON DAO is a community-governed DAO dedicated to accelerating the decentralization of the internet via blockchain technology and dApps. The TRON network has gained incredible traction in recent years. As of March 2023, it has over 150.8 million total user accounts on the blockchain, more than 5.2 billion total transactions, and over $12.1 billion in total value locked (TVL), as reported on TRONSCAN.
In addition, TRON hosts the largest circulating supply of USD Tether (USDT) stablecoin across the globe. Overtaking USDT on Ethereum since April 2021. The TRON network completed full decentralization in December 2021 and is now a community-governed DAO. Most recently in October 2022, TRON was designated as the national blockchain for the Commonwealth of Dominica. Which marks the first time a major public blockchain partnered with a sovereign nation to develop its national blockchain infrastructure. On top of the government's endorsement to issue Dominica Coin ("DMC"), a blockchain-based fan token. To help promote Dominica's global fanfare, seven existing TRON-based tokens – TRX, BTT, NFT, JST, USDD, USDT, TUSD, have been granted statutory status as authorized digital currency and medium of exchange in the country.
About Uquid
Uquid pioneers in applying DeFi and Web 3.0 to E-commerce that aims to bring the best Shop to Earn experience. To customers with verified merchants, exclusive deals, cashbacks and Payin3 with Crypto.
Throughout the years, Uquid still keeps its fantastic performance with continuous growth. And the best effort to upgrade their store following the official Roadmap. With the largest selections of over 120 million physical, digital and NFTs products listed and comprehensive shipping services. To over 160 countries around the world, Uquid is confident in serving any demand of customers in the Metaverse.
Users shopping at Uquid are offered flexible and convenient payment methods including cryptocurrency, fiat or wallets. Uquid's ambition is to dominate the crypto marketplace by offering Buy Now Pay Later option to customers. Uquid Payin3 is all about protecting crypto futures value, by delaying the payment in three installments for 90 days, interest-free. With many years of building an infrastructure for Ecommerce in Metaverse. Uquid has found the easiest and safest way for customers to access their money and shop online.
SOURCE: UQUID BLOG