Ajuna Network and PolyCrypt Partnership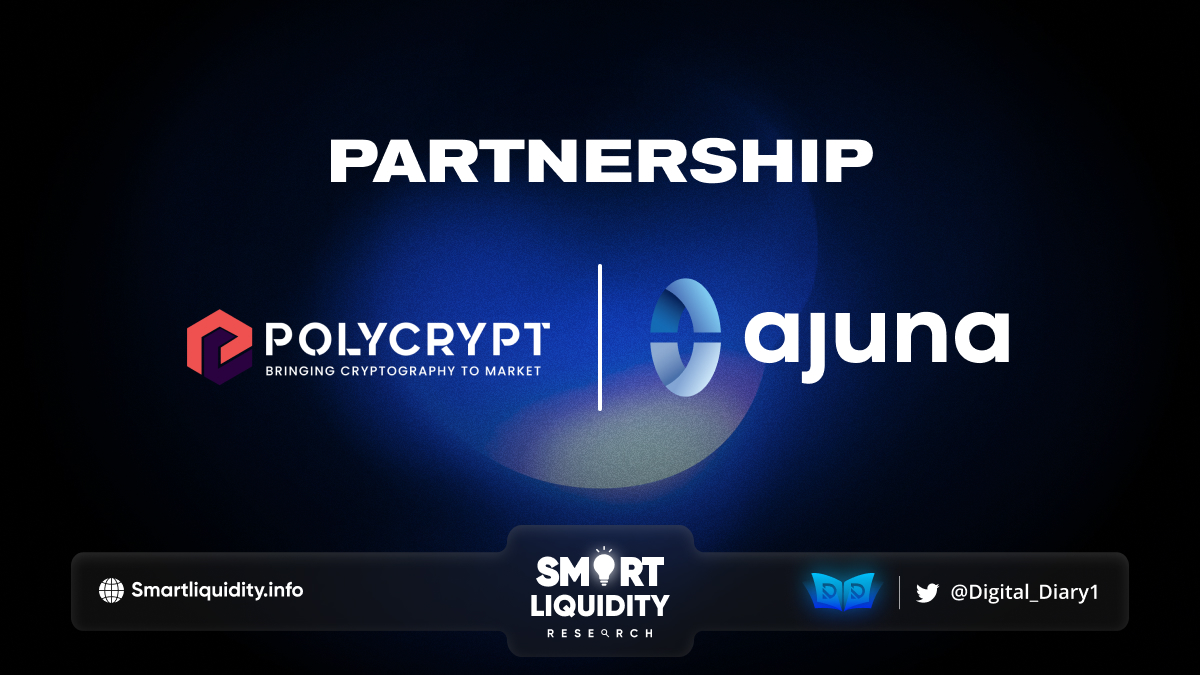 Ajuna Network, which is live with their canary network on Bajun, as seen on CoinMarketCap, is pleased to announce its partnership with PolyCrypt to introduce a cutting-edge TEE-based bridge and marketplace for NFTs.
This pioneering solution enables seamless transfers of NFTs between the Polkadot ecosystem and other networks, beginning with Ethereum, while maintaining the security and integrity of the digital assets.
This partnership combines PolyCrypt's proficiency in applied cryptography and blockchain research with Ajuna Network's expertise in developing blockchain gaming infrastructure, making them an ideal team to tackle this challenge.
Cédric Decoster, founder and CEO of Ajuna Network, expressed his excitement about the partnership, stating, "We are thrilled to partner with PolyCrypt, a prominent blockchain provider, to develop a chain-agnostic blockchain gaming infrastructure. With unparalleled experiences and privacy, players can now genuinely own and trade in-game assets in an open and free market. Our aim is to offer endless possibilities for gamers to discover, create and connect in a world they adore. This partnership will help us achieve our objective."

Hendrik Amler, CEO and Founder of PolyCrypt, shared Decoster's enthusiasm and emphasized the opportunity to explore a variety of benefits in working with Ajuna. "I am excited about exploring the bandwidth of benefits that working with Ajuna offers," said Hendrik Amler. "We have seen a growing demand for Web3 gaming applications and are excited to help Ajuna solve the interoperability problem that has until now been holding back the evolution of this sector and decentralized ecosystems in general."
By harnessing the complete potential of the Polkadot ecosystem, Ajuna Network will offer developers a modular toolbox to effortlessly integrate on-chain functionalities into their games. The ultimate objective is to establish genuine value for both gamers and developers by delivering a completely interoperable, decentralized ecosystem for games and virtual goods.
About Ajuna Network
Ajuna Network is a Switzerland-based decentralized gaming platform that brings blockchain gaming into the mainstream by integrating on-chain functionality with the world's leading development engines, Unreal and Unity. Built on Substrate, Ajuna leverages the full potential of the Polkadot ecosystem to provide developers with unprecedented flexibility to handle gaming infrastructure on-chain. Ajuna's ultimate goal is to create real value for both players and creators by enabling true digital ownership of game assets and shaping the future of gaming.
About PolyCrypt
The PolyCrypt GmbH is a spin-off of the Technical University of Darmstadt. The team has extensive experience in applied cryptography and blockchain research as well as in software development. Core areas for our team include the research and development of interoperability and scalability solutions as well as Plasma utilizing Trusted-Execution-Environment (TEE). In addition, their team members are the main developers of the go-perun library and therefore provide over 2 years of experience specifically in developing software in the blockchain space.
SOURCE: MEDIUM