NFTs and Gaming: The Perfect Partnership for Blockchain Adoption?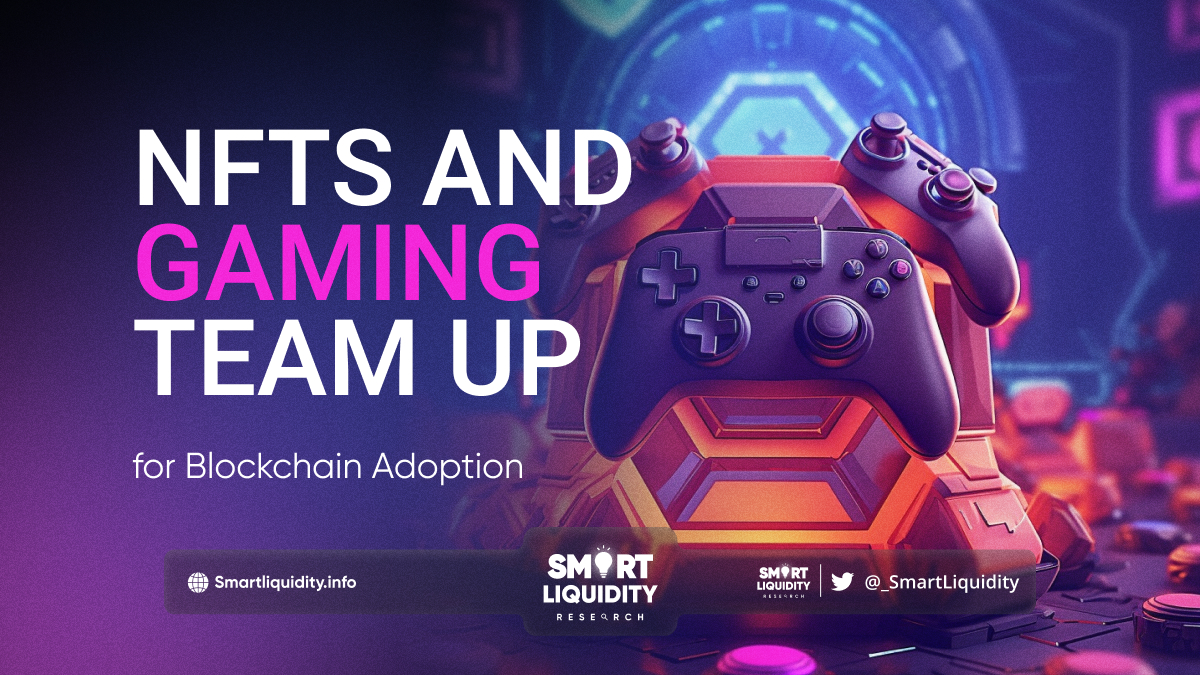 The world of gaming and blockchain technology have collided in recent years, with the introduction of NFTs. NFTs allow gamers to truly own and monetize their in-game assets, making it a lucrative venture for both players and developers alike. This article explores how NFTs and gaming are the perfect partnership for blockchain adoption, and how it's changing the landscape of the gaming industry.
Understanding NFTs and their Role in Gaming:
Non-fungible tokens are unique digital assets that are indivisible and cannot be replicated. In gaming, NFTs allow players to truly own their in-game assets such as characters, skins, and other virtual items. These items can be sold, traded, or transferred without the need for intermediaries, providing gamers with complete control over their virtual assets.
The Potential for In-Game Asset Monetization:
With NFTs, players can monetize their in-game assets by selling them on various marketplaces. This not only provides a new stream of income for players but also creates an ecosystem of value where gamers can buy and sell virtual assets just like physical goods. In-game asset monetization also benefits game developers as it provides an additional revenue stream and increases player engagement.
Building a Stronger Gaming Community through NFTs:
NFTs have the potential to build a stronger gaming community by fostering a sense of ownership and pride in players. Gamers who own NFTs can showcase their virtual assets, which can lead to a sense of status and prestige within the gaming community. Additionally, NFTs can provide a sense of nostalgia and emotional attachment to virtual items, which can increase player loyalty and retention.
The Future of NFTs in Gaming:
As the gaming industry continues to evolve, NFTs will become an even more integral part of the ecosystem. With the rise of blockchain technology, NFTs will provide a way for gamers to truly own their virtual assets and monetize them in a decentralized manner. The potential for NFTs in gaming is limitless, and we can expect to see more innovative use cases and applications in the future.
Some well-known examples of NFTs in gaming include CryptoKitties, Axie Infinity, and The Sandbox. CryptoKitties was one of the first NFT-based games, allowing players to buy, sell, and breed digital cats on the Ethereum blockchain. Axie Infinity is another popular game that uses NFTs, allowing players to collect and battle creatures called Axies. The Sandbox is a virtual world that allows players to buy and own land as NFTs, with each land parcel representing a unique virtual asset.
| | | |
| --- | --- | --- |
| Platform | Description | Unique Features |
| CryptoKitties | A game that allows players to collect, breed, and trade digital cats on the Ethereum blockchain. | Each cat is a unique NFT, with different traits and characteristics that affect its value. Players can also breed their cats to create new, unique NFTs. |
| Axie Infinity | A game that allows players to collect, battle, and trade digital creatures called Axies. | Each Axie is a unique NFT, with different traits and abilities that affect its performance in battles. Players can also breed their Axies to create new, unique NFTs. |
| The Sandbox | A virtual world that allows players to buy and own virtual land as NFTs. | Each land parcel is a unique NFT, with different locations, sizes, and features that affect its value. Players can also use their land to create and publish their own games and experiences. |
| Decentraland | A virtual world that allows players to buy and own virtual land as NFTs. | Each land parcel is a unique NFT, with different locations, sizes, and features that affect its value. Players can also use their land to create and monetize their own games and experiences. |
| Gods Unchained | A trading card game that allows players to collect, trade, and battle digital cards. | Each card is a unique NFT, with different attributes and abilities that affect its value in battles. Players can also sell their cards on various marketplaces. |
| Sorare | A fantasy soccer game that allows players to collect, trade, and manage digital player cards. | Each card is a unique NFT, representing a real-world soccer player. Players can use their cards to compete in leagues and tournaments, with rewards in cryptocurrency. |
| My Neighbor Alice | A game that allows players to own and build on a virtual island as an NFT. | Each island is a unique NFT, with different sizes and features that affect its value. Players can also buy and sell items on their island, and earn cryptocurrency by participating in community events and challenges. |
Conclusion
NFTs are changing the landscape of gaming, providing gamers with a way to truly own and monetize their in-game assets. With the rise of blockchain technology, we can expect to see more innovative use cases and applications for NFTs in gaming and beyond. By embracing NFTs, gamers can build a stronger sense of ownership and pride in their virtual assets, creating a more engaged and loyal gaming community. As the gaming industry continues to evolve, we can expect NFTs to become an even more integral part of the ecosystem