AFKDAO and Infinity Arena Collaboration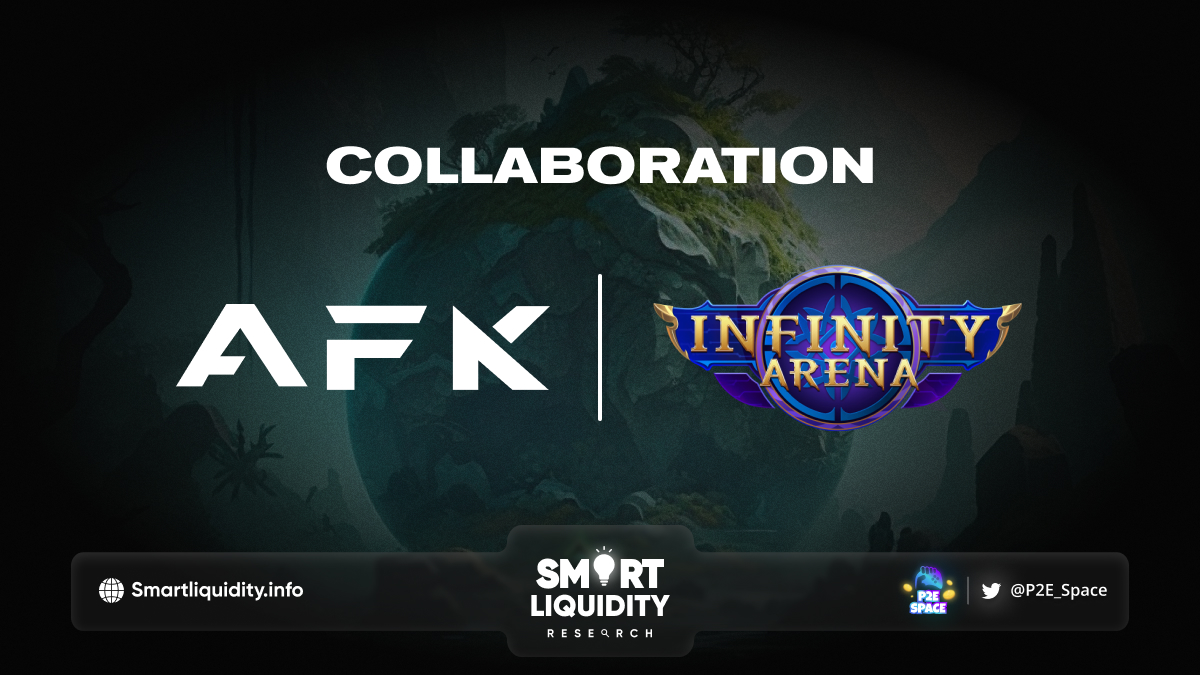 AFKDAO is thrilled to announce its collaboration with Infinity Arena,

a

decentralized

, sci-fi and tactical

P2E

, 

NFT

card and auto

battle

game built on the

BSC

.
This partnership holds great promise for both projects and the wider gaming community. By leveraging AFKDAO's decentralized liquidity protocol and the immersive gameplay of Infinity Arena, the collaboration aims to revolutionize play-to-earn gaming and create a more inclusive ecosystem.
About Partnership
The partnership between AFKDAO and Infinity Arena represents a paradigm shift for NFT gaming, poised to redefine the possibilities of the play-to-earn landscape. By leveraging AFKDAO's decentralized liquidity protocol and Infinity Arena's immersive gameplay experience, this collaboration aims to set new standards of innovation and inclusivity.
Central to the partnership is the DAO governance model, ensuring that the community plays an active role in shaping the portfolio of games, guild admissions, and treasury strategies. By fostering collective decision-making, this collaboration seeks to establish the strongest and widest player syndicate in the play-to-earn space, driving greater participation and growth.
The combined expertise of AFKDAO and Infinity Arena sets the stage for an unparalleled gaming experience. AFKDAO's liquidity solutions will enhance accessibility, liquidity, and investment opportunities for players within the Infinity Arena universe. Meanwhile, Infinity Arena's engrossing gameplay and captivating NFT collection will attract a broader audience to the realm of play-to-earn gaming.
About Infinity Arena
Infinity Arena is a combination of sci-fi and tactical play-to-earn NFT card game where players travel through the planets in search of Zeronium and defeat in combat to earn the reward. Players gradually build up an iconic NFT collection that grows in power over time, which they can use to venture into more tough battles with other players. Players will have to collect Zeronium and fight battles to complete the mission.
Infinity Arena is a decentralized NFT collection and auto battler game built on the Binance Smart Chain. Players can access nearly zero gas fees for mining or exchange of assets and sub-second transaction times. A diverse universe of iconic, collectible NFT characters meticulously crafted by talented artists awaits. Infinity Arena offers its community a unique opportunity to mine, trade, battle, and earn rare in-game assets.
About AFKDAO
AFKDAO is a decentralized NFT liquidity protocol that boosts the buildup of play-to-earn economies.
Through its proprietary ERC-4610 standard, AFKDAO enables compatible NFTs to be lent and borrowed in a non-collateral manner providing potential investors with easy gateway access to investment opportunities in gaming and metaverse projects.
Through the DAO governance, the community can decide the portfolio games, admit guilds, and treasury strategies for the best interest of the DAO, creating the strongest and the widest player syndicate in the play-to-earn space.
SOURCE: MEDIUM