BloxRoute Labs Integration with Drift Protocol into Their Solana Trader API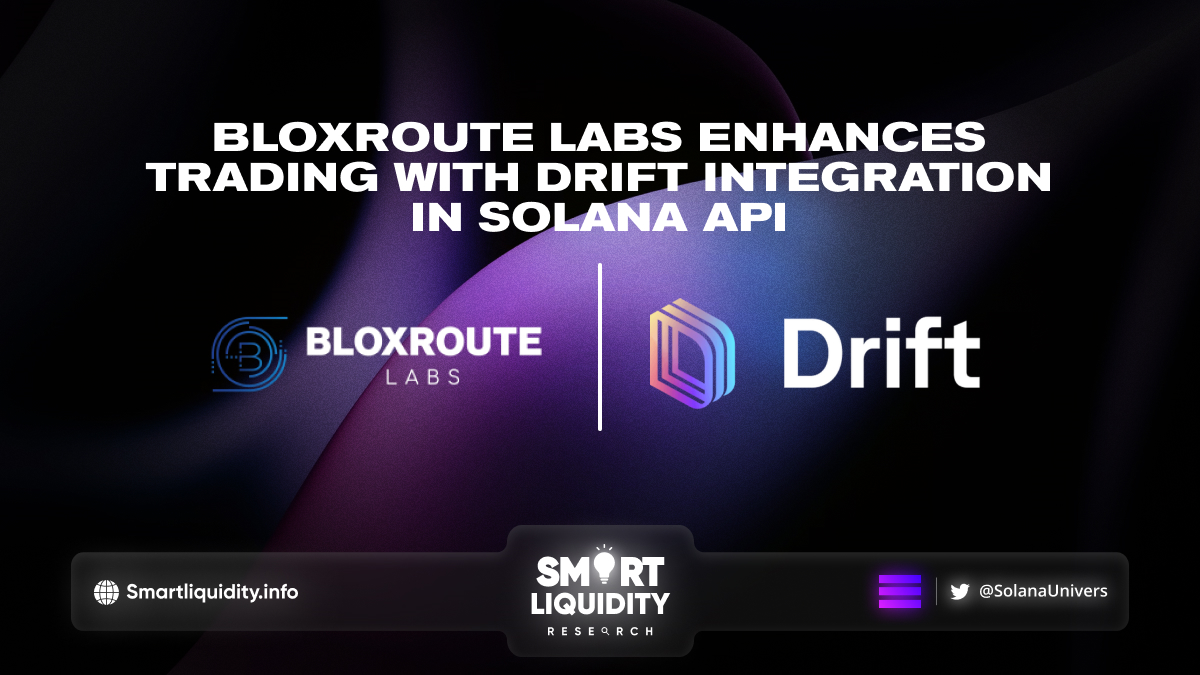 BloxRoute Labs, a prominent player in the blockchain space, has announced the integration of

Drift Protocol

into their Solana Trader API.
BloxRoute Labs Integration with Drift Protocol into Their Solana Trader API
In a move aimed at enhancing their trading capabilities on the Solana blockchain, BloxRoute Labs has seamlessly integrated Drift Protocol into their existing infrastructure. This integration opens up a range of exciting opportunities for traders, enabling them to leverage the power and efficiency of Drift Protocol when utilizing the Solana Trader API.
Drift Protocol, a cutting-edge solution for decentralized finance (DeFi), brings numerous advantages to the table. By incorporating Drift Protocol into their trading API, BloxRoute Labs empowers traders with increased speed and reduced latency, enhancing their overall trading experience on the Solana blockchain.
With this integration, BloxRoute Labs aims to provide traders with enhanced liquidity, reduced slippage, and improved execution times. By leveraging the advanced features of Drift Protocol, users of the Solana Trader API can benefit from a more seamless and efficient trading process.
The collaboration between BloxRoute Labs and Drift Protocol is a significant milestone in the blockchain industry. It highlights the continued efforts to bridge the gap between traditional financial systems and decentralized finance, paving the way for a more inclusive and efficient global trading ecosystem.
Traders and enthusiasts alike can look forward to the potential impact of this integration on the Solana blockchain, as it further solidifies the platform's position as a leading choice for DeFi applications and trading activities.
About bloXroute Labs
bloXroute Labs is a leading provider of blockchain distribution services, offering scalable solutions that revolutionize the industry. Through their Blockchain Distribution Network (BDN), customers benefit from ultra-low latency, gaining a competitive edge with lightning-fast transaction processing. As more users and projects connect to the BDN, bloXroute's technological superiority is amplified, enhancing speed and value. With a daily DeFi transaction volume surpassing $1.5 billion, bloXroute demonstrates its robust infrastructure and widespread adoption in the blockchain ecosystem.
About Drift Protocol
Drift Protocol is the leading decentralized perpetual futures exchange built on Solana, powered by a novel AMM and orderbook hybrid liquidity model. Since its launch in December 2022, Drift Protocol has transacted over $450 million in volume and is the decentralized exchange of choice for more than 2,800 traders.
SOURCE
https://bloxroutelabs.medium.com/bloxroute-labs-integrates-drift-protocol-into-their-solana-trader-api-b3494c918835