Unloc Partnership with Baxus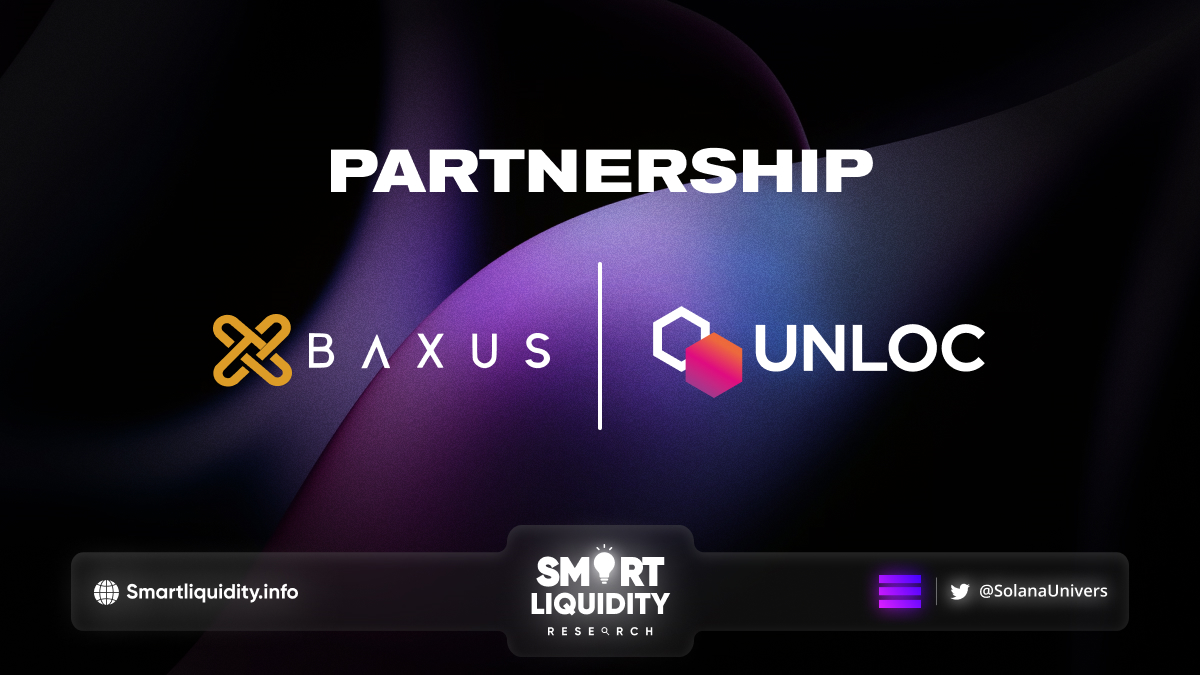 Unloc is proud to announce its strategic partnership with BAXUS, signifying a momentous collaboration. With a strong commitment to its vision, Unloc aims to create an outstanding platform that caters to the financial needs of NFT owners on the Solana blockchain. 
Unloc unveiled its exciting strategic partnership with BAXUS
Their first product launch introduces an innovative NFT-backed loan platform designed specifically for tokenized real-world assets. This groundbreaking loan structure stands out with its remarkable customization features, offering a one-of-a-kind opportunity within the market.
BAXUS is the result of a collaboration between a whiskey trader and a software engineer. Together, they have created a secure marketplace that facilitates the authentication, storage, purchase, and sale of fine wine and spirits. Currently, BAXUS has tokenized more than $30 million worth of bottles, casks, and barrels. These asset-backed tokens, known as whiskey-NFTs, offer complete transparency throughout their lifespan by publicly tracking their provenance. Each token is backed by a physically stored and insured bottle or cask, ensuring a 1:1 ratio. Users have the option to redeem their tokens and access the corresponding real bottles at any time. This digital platform simplifies the buying and selling process for bottles while ensuring their physical security within BAXUS' vault.
Partnership Highlights
The partnership between Unloc and BAXUS will revolutionize the borrowing and lending experience for fine spirits, a valuable asset class with extensive historical price data. Through this collaboration, BAXUS' whiskey enthusiasts and investors will have seamless access to the groundbreaking concept of DeFi-based, whiskey-backed loans. This innovative approach will open up new avenues for individuals to create wealth and diversify their portfolios. The process of leveraging the value of whiskey as collateral will be simplified and made more accessible, providing unprecedented opportunities in the realm of finance.
In this strategic collaboration, Unloc will utilize its extensive knowledge of decentralized finance to develop a streamlined lending platform. This platform will enable BAXUS users to borrow funds using the value of their whiskey tokens as collateral. This innovative approach empowers NFT holders by providing them with the opportunity to unlock the intrinsic value of their digital assets without the need for selling. This partnership will introduce a novel method for customers to leverage their investments in both the flourishing whiskey and NFT markets, opening up new possibilities and avenues for financial growth.
The partnership between Unloc and BAXUS exemplifies the transformative potential of decentralized finance and blockchain technology in revolutionizing traditional industries. This collaboration represents a collective effort to innovate and push the boundaries of what is possible. It signifies a promising future for whiskey investments and digital NFT-collateralized lending, showcasing the immense opportunities that lie ahead in these domains. By embracing innovation and leveraging the power of emerging technologies, they can anticipate a bright future for these sectors and the advancements they will bring.
About Unloc
Unloc's primary goal is to maximize the potential of NFTs by becoming a comprehensive platform where users can utilize their NFTs while still retaining ownership. They aim to keep discovering innovative methods for NFT holders to earn liquidity and profits from their holdings.
About BAXUS
BAXUS is the leading platform for authenticating, tokenizing, and trading whisky on the blockchain.
SOURCE
https://blog.unloc.xyz/unloc-partners-with-baxus-for-a-custom-lending-platform-e22d0e258369