BlockchainSpace and MetaCene Partnership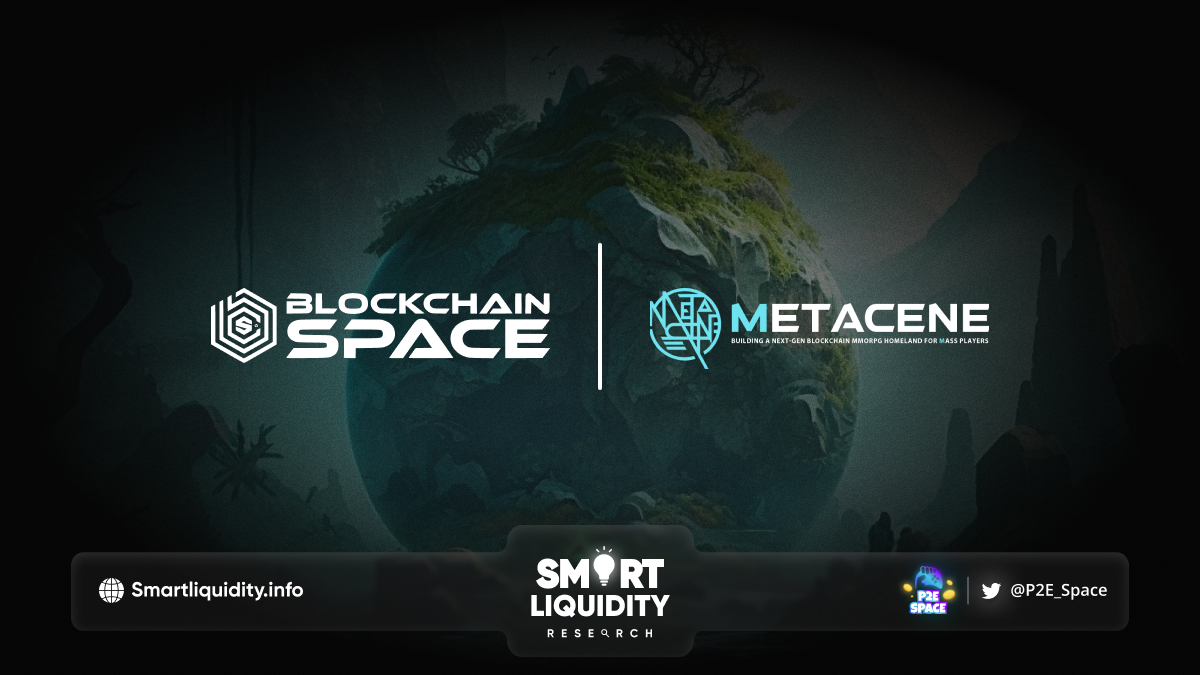 BlockchainSpace is thrilled to announce the partnership with MetaCene, a dynamic alliance that is set to transform your gaming experience and drive advancements in the landscape of play-to-earn gaming.
BlockchainSpace, as the premier hub for play-to-earn and creator communities around the globe, has persistently been at the forefront of helping guilds thrive in the metaverse. Their commitment to fostering entrepreneurial success in the gaming realm has not only made them a beacon of hope for aspiring gamers but also a crucial nexus for innovation. From indispensable digital tools and financing to educational resources through their gaming academies, BlockchainSpace is dedicated to empowering the next generation of play-to-earn gamers and guild owners.
Enter MetaCene — an open-world adventure replete with innovative gameplay. Striving to build the next generation of blockchain MMORPGs, MetaCene has been setting new benchmarks in the world of gaming. With an offering of roguelike PVE adventures, thousand-player PVP, MMO guild wars, and a multichain metaverse with in-game guild DAO governance, NFT commercialization, and land management, MetaCene is a force to be reckoned with. Led by a core team of gaming experts with over 20 years of industry experience from powerhouses such as Shanda Games, Blizzard, Disney, and Perfect World, and in collaboration with Polkastarter, DappRadar, ByteDance, and more, MetaCene is poised to reshape the way we perceive and interact with the gaming world.
"We're beyond excited to embark on this journey with MetaCene, an undeniable powerhouse in the world of blockchain gaming," said Peter Ing, CEO and Founder of BlockchainSpace. "Our partnership marks the dawning of the future of the play-to-earn landscape, a groundbreaking venture that aims to redefine the possibilities of the metaverse. Together, we're poised to create not only immersive and thrilling gaming experiences but also empower a new generation of gamers and entrepreneurs."
Partnership Highlights:
By combining BlockchainSpace's commitment to thriving gaming communities and MetaCene's revolutionary approach to blockchain gaming, this partnership promises to deliver an immersive and rewarding experience like never before.
Get ready to witness the revolution in play-to-earn gaming as BlockchainSpace and MetaCene join forces to create unforgettable experiences for gamers and entrepreneurs alike. This unique partnership offers a world of possibilities that merge gaming, entrepreneurship, and the exciting potential of blockchain technology.
Together, they'll continue to redefine the limits of play-to-earn gaming, and they couldn't be more excited for you to join them on this incredible journey.
About MetaCene
MetaCene is building a next-gen blockchain MMORPG homeland for mass players. It presents a surreal post-apocalyptic society where survivors interact with diverse NFTs to redefine civilizations. MetaCene pioneers player-centric entertainment, governance, and creation through innovative PVE and PVP gameplays, robust technology infrastructures, social guild DAO governance, sustainable economic systems, and in-game editors. MetaCene is founded by gaming experts with 20+ years of industry experience from Shanda Games, Blizzard, Disney, Perfect World, and others. It envisages a multi-chain future from Rangers Protocol with real-time confirmation and super-low gas fees. The MetaCene Apostle NFT collection and the Alpha version are coming in 2023 Q2.
About BlockchainSpace
BlockchainSpace started off as a physical space in Makati City Philippines, where its founder Peter Ing successfully organized over a hundred in-person gatherings and meet-ups of various Web3 evangelists, investors, and founders to help grow the crypto industry in the region. Today, BlockchainSpace powers Southeast Asia's communities with blockchain technology to provide secure and transparent community management, fostering trust and loyalty among its user base. Its solution suite includes WE3, a community management platform, trademark community programs such as the Guild Partner Program and Creator Circle. Since 2020, BlockchainSpace has empowered over 100 communities and raised $20M from top investors, including Animoca Brands, CoinGecko and Crypto.com Capital.
SOURCE: MEDIUM