Navigation Guide | UBi – Revolutionizing Content Creation on the Web3 Platform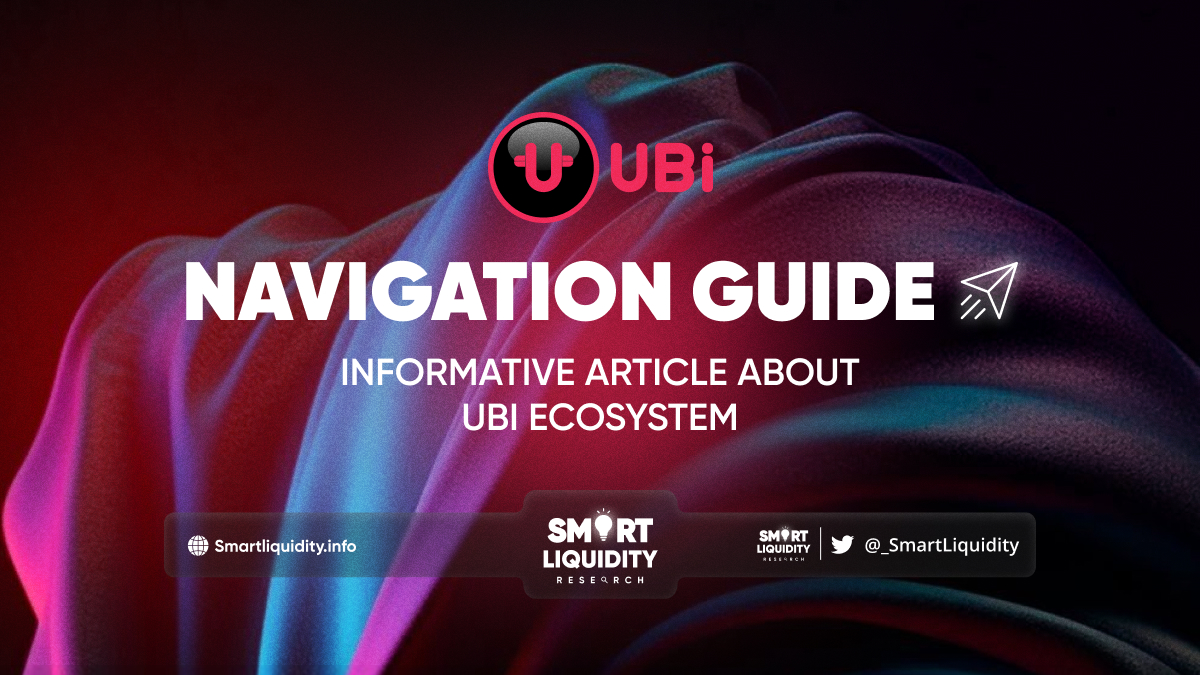 In this article, we have explored UBi, a revolutionary platform designed for influencers and creators in the digital space. By leveraging the power of blockchain technology and embracing the principles of Web3, UBi offers a decentralized and automated marketplace for content creation.
UBi's private sale is on June 5, 2023, inviting early adopters to be part of this groundbreaking project.
Click here for their join list.
Join us as we delve into the navigation guide for UBi and discover how it is transforming the world of content creation.
Introduction
UBi, an influential marketplace created with passion, is set to revolutionize content creation and empower influencers and creators in the digital era. Built on the Ethereum Blockchain, UBi harnesses the power of blockchain technology to create a completely automated and decentralized platform for content creators. As the world transitions to Web 3.0, UBi aims to provide a seamless user experience while ensuring data privacy and ownership.
Embracing the Power of Web3
Blockchain technology has brought forth numerous successful decentralized protocols, such as cryptocurrencies and NFTs. Web3, the newest revolution of the World Wide Web, primarily utilizes blockchain technology to decentralize user data and transactions. UBi embraces this paradigm shift and integrates its platform entirely on the Ethereum Blockchain, ensuring transparency, security, and trust for its users.
A Platform for Collaboration and Expression
One of UBi's major advantages is its seamless integration with Web3 dApps. Users are not required to provide any personal information, preserving their privacy. UBi serves as a hub for influencers and creators to collaborate, invite, and host events on Web3. By sharing and uploading their content, creators can connect with others who share similar interests. The algorithm behind UBi's platform facilitates content discovery, ensuring that users can explore trending videos and featured events from the community.
Empowering Content Creators
UBi provides a platform for all users and influencers to freely express themselves. Unlike many web2 social media platforms with limitations, UBi allows creators to openly communicate their limitations to their viewers in whichever way they desire. UBi's mission is to return the power to the hands of the users, fostering an environment where content creators can thrive and share their passions.
Welcome to UBi: A Crypto-Based Platform
UBi welcomes creators from diverse backgrounds who create content based on their unique interests, such as travel, food, music, and more. As a crypto-based platform, UBi aims to send a positive message about cryptocurrency and blockchain, highlighting the opportunities they bring. By becoming an essential platform for crypto enthusiasts and creators, UBi enables users to explore the potential of this transformative technology.
Monetization and Ownership with UBi
UBi introduces its native currency, $UBN, which empowers content creators to monetize their content in multiple ways. With UBi, creators have greater control over their assets and earnings, ensuring ownership and control remain in their hands. The platform offers various monetization options, allowing creators to unlock their full potential while being rewarded for their hard work.
Key Features of UBi
UBi comes packed with features designed to cater to content creators' needs and provide an exceptional user experience:
View and Viewer Tracking: Content creators can track views and viewers, gaining insights into the reach and impact of their content.
Direct Invitations: UBi enables users to send direct invitations to other users, fostering collaboration and engagement.
P2P Engagement Algorithm: UBi's algorithm connects creators and influencers with similar interests, facilitating meaningful connections and collaborations.
Host Events on Web3: UBi allows content creators and influencers to host both free and paid events, expanding their network and engaging with their audience in new ways.
P2P Payment System: UBi provides a peer-to-peer payment system, ensuring secure and seamless transactions within the platform.
Post-2-Earn Payment Reward System: UBi rewards content creators as they go, enabling them to earn based on the engagement and impact of their content.
Stake as you Earn: UBi introduces a staking mechanism, allowing creators to earn rewards by staking their $UBN tokens, further incentivizing participation.
Join UBi's Private Sale on June 5, 2023!
UBi's Roadmap

As UBi gears up to launch its platform, it invites early adopters and supporters to participate in its private sale on June 5, 2023. This exclusive opportunity allows individuals to become part of UBi's journey from the very beginning. By joining the UBi platform, users can:
Discover a decentralized marketplace for content creation
Collaborate and connect with influencers and creators
Monetize their content using $UBN tokens
Host events on the innovative Web3 platform
Don't miss your chance to secure your spot in this groundbreaking project and be at the forefront of the digital revolution.
Embrace the Future with UBi
The World Wide Web is gradually moving towards Web3, a fully digital era that introduces new technologies and decentralized assets and companies. With the help of Web3, users gain greater control over their assets and data. UBi stands at the forefront of this digital revolution, empowering content creators and shaping the future of decentralized content creation.
Sharing UBi Beyond the Platform
To expand its reach and facilitate seamless access for users, UBi enables content creators and users to share and invite others outside the UBi network through various web2 social platforms. Additionally, users can conveniently download the UBi dApp via these platforms, ensuring accessibility for a wider audience.
Conclusion
UBi is poised to redefine content creation, providing influencers and creators with a decentralized and automated platform powered by blockchain technology. With its commitment to empowering users and enabling greater control over assets and earnings, UBi paves the way for a new era of content creation. Join UBi on its mission to revolutionize the industry and embrace the power of Web3.
UBi Socials
Website | Twitter | Telegram | Medium | Instagram
*Disclaimer: The information provided in this article is for informational purposes only and does not constitute financial advice or investment recommendations. Please conduct your own research before participating in any investment opportunities.*