Phantom Integration with Unstoppable Domains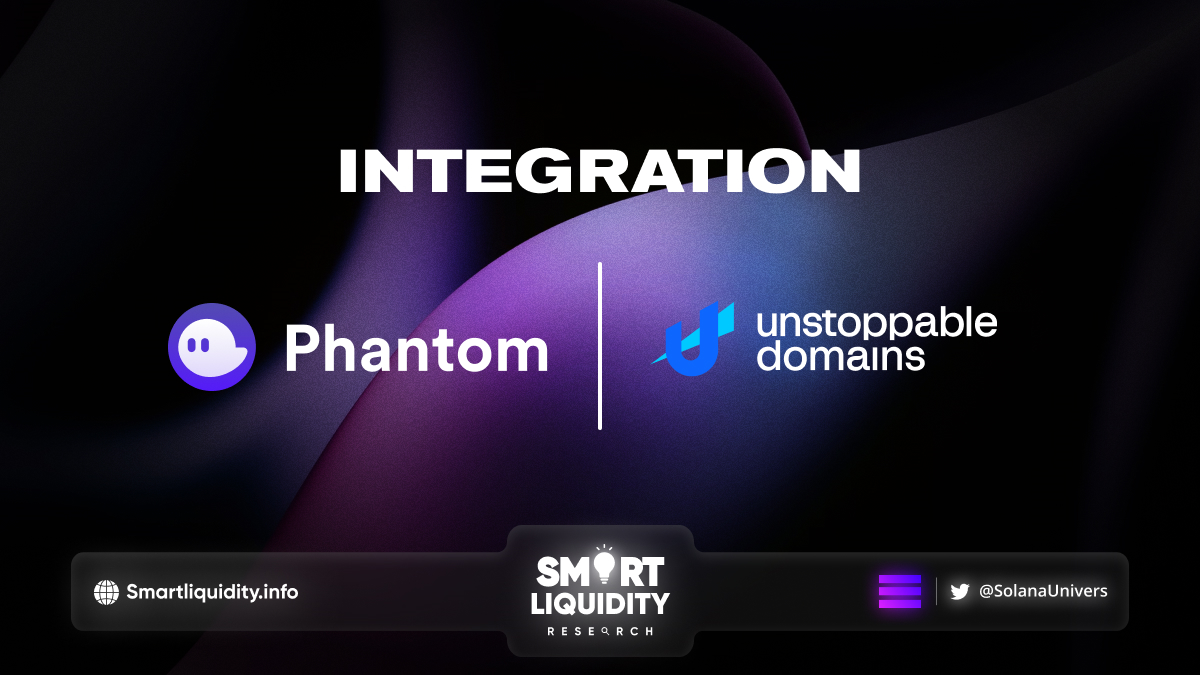 Unstoppable Domains, a prominent player in the blockchain domain industry, unveils the latest developments surrounding the highly anticipated Phantom Wallet.
Phantom Integration with Unstoppable Domains
Unstoppable Domains dives deep into the innovative features and functionalities of the Phantom Wallet, a cutting-edge blockchain wallet solution. The integration of advanced security measures and user-friendly interfaces aims to revolutionize the way users interact with their digital assets.
Phantom, a well-known wallet celebrated for its intuitive interface and strong NFT functionalities, revolutionizes the management of digital assets with unparalleled ease. As the top Solana wallet, Phantom has experienced remarkable expansion by prioritizing user-friendliness and NFT compatibility. With recent support for Ethereum and Polygon, Phantom solidifies its position as the most user-friendly and NFT-centric wallet available. The integration of Unstoppable Domains further enhances the NFT experience for Phantom users, offering a seamless journey into the vibrant NFT universe.
Phantom recognizes the value of your Unstoppable Web3 domain as an NFT securely held in your wallet. With Phantom, you can conveniently access and view your domain directly within your account. The user-friendly interface allows you to easily pin your domain to your profile, enabling quick access to its details and seamless transactions, all without needing to leave the app. Phantom streamlines the management of your Unstoppable Web3 domain, providing a seamless and intuitive experience for users.
Management Quote
"Unstoppable Domains is about making Web3 accessible, intuitive, and ultimately, unstoppable," said Sandy Carter, COO and Head of Business Development at Unstoppable Domains. "Our integration with Phantom, a wallet that shares our vision for an inclusive and NFT-friendly Web3, brings us a step closer to that reality."

"At Phantom, we're focused on building the best wallet possible," said Brandom Millman, CEO & Co-Founder at Phantom. "By adding support for Unstoppable Web3 domains, we're giving our community a new way to personalize their experience and manage their Web3 domains."
They are thrilled to embark on this exciting chapter of their mission to enhance the user-friendliness and personalization of Web3. The collaboration between Unstoppable Domains and Phantom is revolutionizing the way users engage with NFTs and cryptocurrencies, simplifying the entire process.
With the support of 170 renowned Web3 wallets, Unstoppable Domains empowers users with even greater utility for their domains. Now is the perfect time to claim your Unstoppable domain and unlock the advantages it brings. Experience a streamlined Web3 journey and enjoy the simplified and personalized features offered by Unstoppable Domains.
SOURCE
https://unstoppabledomains.com/blog/categories/announcements/article/phantom-wallet