Solana and ChatGPT Join Forces to Revolutionize Blockchain Technology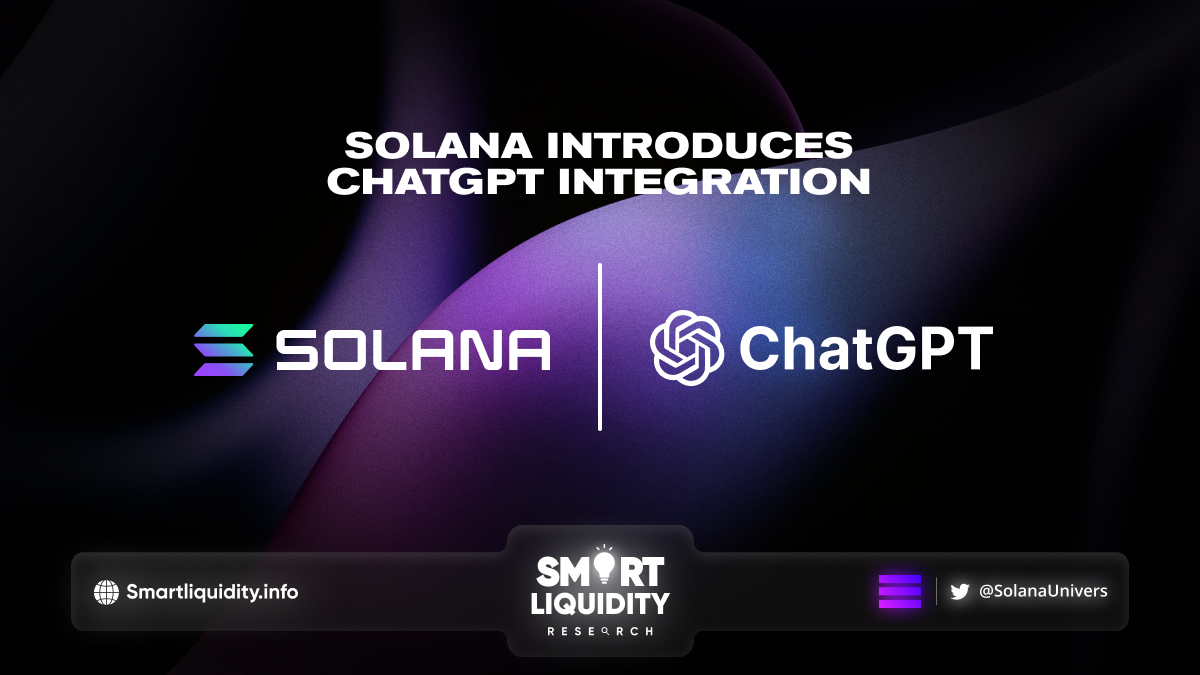 In a groundbreaking collaboration, Solana, a high-performance blockchain platform, and ChatGPT, an advanced language model, have come together to push the boundaries of innovation in the blockchain space.
Solana and ChatGPT Join Forces to Revolutionize Blockchain Technology
This collaboration promises to introduce new possibilities, pushing the boundaries of what can be achieved through the integration of blockchain and artificial intelligence. Solana's robust infrastructure, coupled with ChatGPT's sophisticated language processing capabilities, lays the foundation for groundbreaking advancements across various sectors.
The Solana Foundation, the nonprofit organization behind the innovative layer-1 blockchain Solana, has announced a significant development in its network. In collaboration with Solana Labs, the team responsible for developing products and tools for the Solana blockchain, an AI-powered ChatGPT plugin has been successfully integrated. This integration brings advanced conversational capabilities to the Solana network, opening up new possibilities for decentralized applications (dApps) and expanding the platform's utility. With this groundbreaking integration, Solana aims to further strengthen its position as a leading player in the blockchain ecosystem.
The ChatGPT Plug-in
The ChatGPT plug-in, based on the powerful GPT-3.5 architecture by OpenAI, enhances Solana's functionality by providing users with intuitive and efficient AI-powered features. This integration opens up new possibilities for developers and users to leverage AI within the Solana ecosystem.
By incorporating AI technology, Solana aims to optimize smart contract development, decentralized applications (dApps), and user experiences. The integration of ChatGPT allows developers to create intelligent applications that process and analyze complex data, improving decision-making within the network. Users will benefit from enhanced conversational interfaces and personalized experiences, enabling seamless interactions with Solana's ecosystem.
The integration of AI technology demonstrates Solana's commitment to innovation and scalability within the blockchain industry. By merging the power of AI with decentralized networks, Solana aims to revolutionize various sectors, including decentralized finance (DeFi) and non-fungible tokens (NFTs).
The Solana Foundation's partnership with Solana Labs and the development of the ChatGPT plug-in set a precedent for other blockchain platforms to explore the convergence of AI and decentralized technologies. This integration has the potential to drive further adoption and innovation within the Solana ecosystem, creating a robust and intelligent blockchain environment.
The successful integration of AI technology into Solana opens the door to a future where AI and decentralized networks coexist harmoniously, enabling more efficient and secure operations across various industries. As Solana continues to evolve, the integration of AI will play a pivotal role in shaping the future of blockchain technology.