FiDi Joins Astar's Builders Program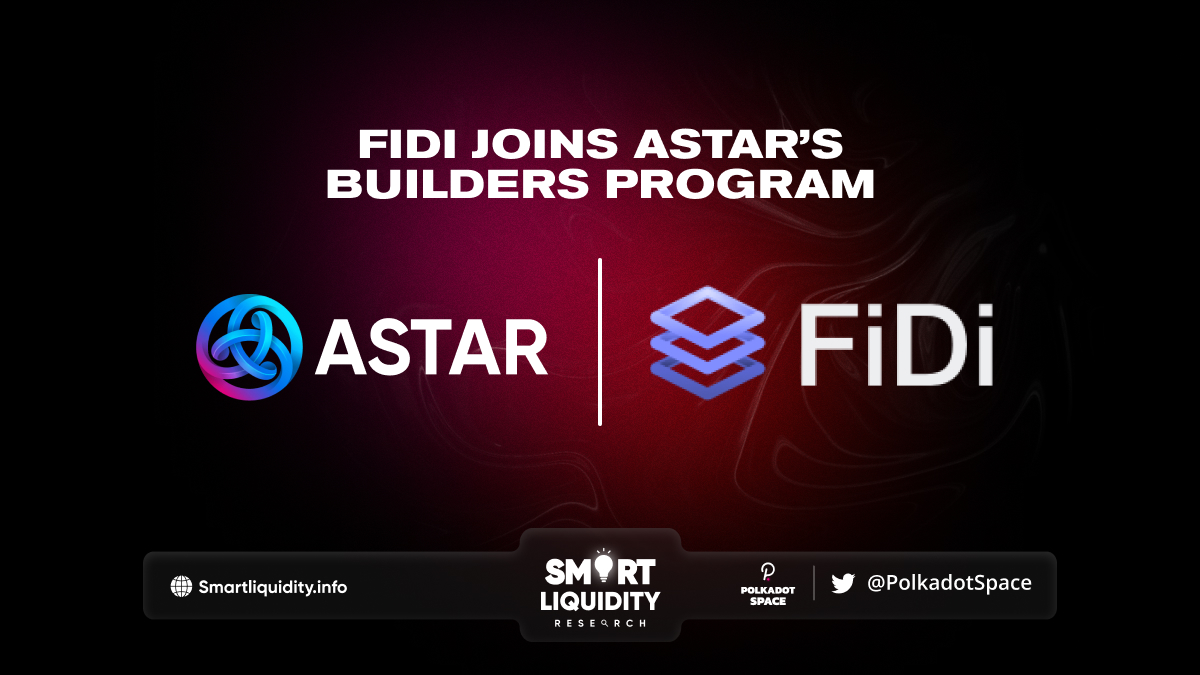 FiDi Joins Astar's Builders Program
FiDi joins Astar's Builders Program (May 26, 2023). boost the development efforts in the Astar ecosystem; they have been whitelisted into Astar's dApp staking program.
What is dApp Staking?
For developers to build great dApps, they need financial incentives, and that's where dApp staking comes in. The dApp staking program is a unique differentiator only Astar and Shiden have in the Polkadot ecosystem. It allows developers who build dApps to get compensated, which enables them to keep building and improving their dApps.
At its core, dApp staking is similar to staking on validators. The difference is that dApp stakers, also known as nominators, can nominate their Astar tokens on dApps they want to support.
At every block, a portion of the rewards goes to dApp staking. This reward is then divided between operators (developers) and nominators. Overall, this creates a powerful incentive for developers to build dApps on Astar and nominators to support developers via dApp staking.
Why support FiDi?
FiDi is an advanced portfolio tracker that allows anyone to track their crypto holdings across multiple wallets and blockchains. It offers a secure non-custodial interface and surfaces high-precision deep analytics for 100+ chains and 2000+ protocols. FiDi has been approved by the Astar community to join Astar's Builder's Program. By nominating to FiDi on the dApp store page, you help support their development efforts and contribute to the ecosystem's growth.
The amount FiDi receives with the dApp staking program depends on the number of nominators on the dApp portal page. The more nominators they have, the more rewards they will receive to support their development efforts. At the same time, you will receive up to 10% staking rewards by staking ASTR in their dApp.
How to use dApp staking
Step 1: Buy ASTR Tokens
Get your hands on some Astar tokens $ASTR. You can buy them on Binance, BKEX, and OKX. The complete list of markets can be found on CoinGecko or elsewhere.
Step 2: Create a Substrate-based Wallet
They are many providers out there, ask your favorite AI assistant for their tradeoffs, but here are some of the popular ones: Talisman, Subwallet, Nova, and others endorsed by Polkadot.
Step 3: Visit Astar Portal and Connect Your Wallet
When you have the ASTR tokens in your wallet, navigate to the Astar portal: https://portal.astar.network/ and connect your wallet to Astar Network. Then, click on 'dApp Staking' and look for our project: FiDi
Step 4: Add Your Staking Amount
You can click on our project to learn more about the smart contract we use for the staking and the technology and utility we provide to the community. To add your staking amount, click 'Stake' in the box and sign in with your wallet on a browser extension.
Step 5: Add, Unstake, or Claim
Once you have staked your tokens, you can do three things: add, unstake, or claim.
Add: to stake more; you can add more ASTR in dApp staking.
Unstake: to unstake, you can claim your ASTR back.
Claim: (top of page): claim your rewards from all dApps you staked on. For every ERA, you can claim your rewards, but we recommend doing this once every week.
Conclusion
In conclusion, Astar Network's dApp staking program is a powerful incentive for developers to build dApps on Astar and for nominators to support developers via staking. By participating in this program, we can contribute to the ecosystem's growth and support the development of innovative projects like FiDi.
Moreover, the token economics model creates a positive feedback loop on the valuation, providing more value to developers and stakers alike. This network effect is crucial for the ecosystem's success, and we are thrilled to be part of Astar's Builders program.
About Astar
Astar Network — The Future of Smart Contracts for Multichain. Supports the building of dApps with EVM and WASM smart contracts and offers developers true interoperability, with cross-consensus messaging (XCM).