Bounce Finance now supports Cronos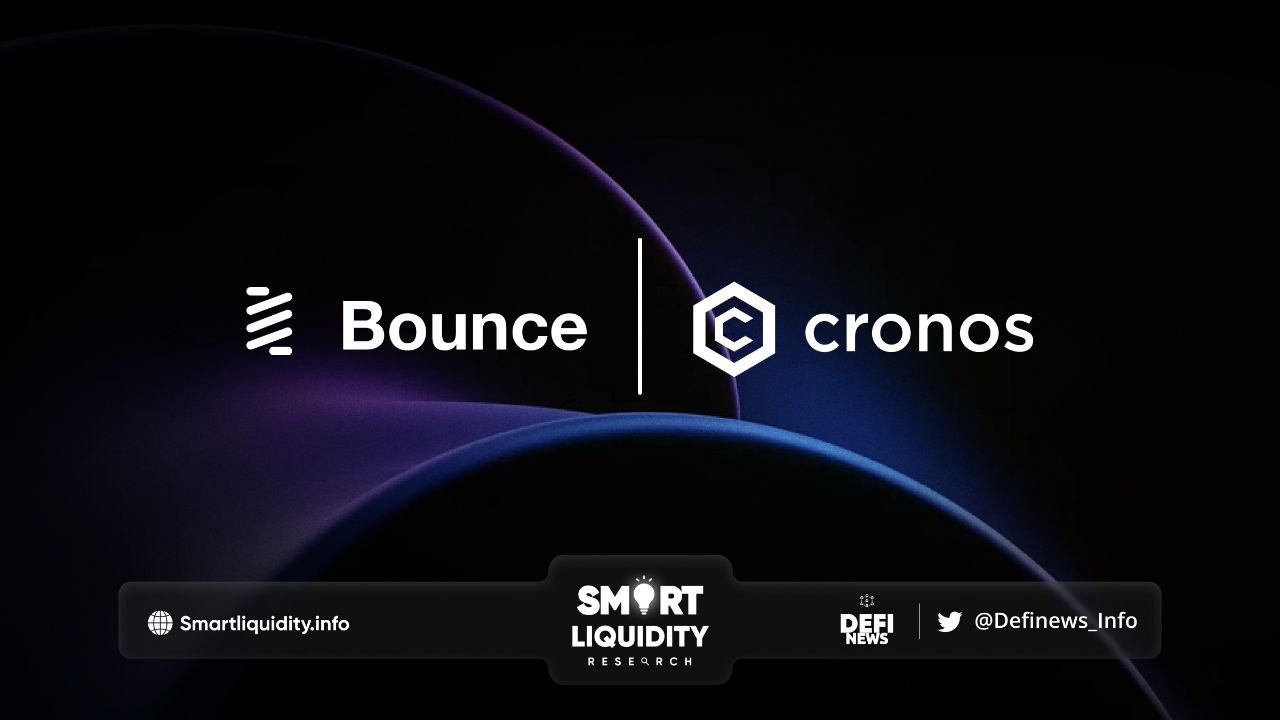 Bounce Finance now supports Cronos to transform on-chain Auctions with enhanced benefits. Cronos is the first blockchain that interoperates with both Ethereum and Cosmos ecosystems. Users can now create and participate in decentralized auctions on Cronos through the Bounce app.
The collaboration between Bounce Finance and Cronos is set to propel the DeFi ecosystem forward, offering users a more inclusive, scalable, and cost-effective experience. By harnessing the strengths of both platforms, participants can anticipate enhanced auction functionalities, faster transaction speeds, and increased opportunities for engagement.
The collaboration between Bounce Finance and Cronos presents a host of advantages for the DeFi community:
Enhanced Scalability and Performance
Cronos' architecture delivers exceptional scalability, enabling faster transaction processing and reducing network congestion. By integrating with Cronos, Bounce Finance ensures that users can participate in auctions with improved efficiency and minimal delays.

Cost-Efficient Transactions
Cronos offers cost-effective transaction fees compared to traditional Ethereum-based platforms. This means that users of Bounce Finance will enjoy lower costs when participating in auctions, making it more accessible to a broader range of participants.
Interoperability and Liquidity Opportunities
With Cronos' interoperability features, Bounce Finance will gains access to a wider network of blockchain ecosystems within the Cosmos network. This will open up exciting possibilities for cross-chain liquidity, allowing users to tap into a broader pool of assets and expand their trading opportunities.
A Future of Interconnected and Efficient Decentralized On-Chain Auctions
As Bounce Finance continues to drive innovation and expand its Auction as a Service offering, the integration with Cronos represents a crucial step toward the future of decentralized finance. This integration will align perfectly with Bounce Finance's commitment to providing cutting-edge solutions and empowering users with seamless and efficient auction experiences.
With the integration with Cronos, Bounce Finance embarks on an exciting journey towards a more interconnected, scalable, and sustainable decentralized future.
ABOUT Bounce Finance
Bounce Finance is a decentralized auction protocol that empowers users to create and participate in diverse types of auctions across multiple blockchain networks.
ABOUT Cronos Chain
Cronos is the leading Ethereum-compatible layer 1 blockchain network built on the Cosmos SDK, supported by Crypto.com, Crypto.org, and more than 400 app developers and partners.
RESOURCES