Eclipse Builders and Bullieverse Partnership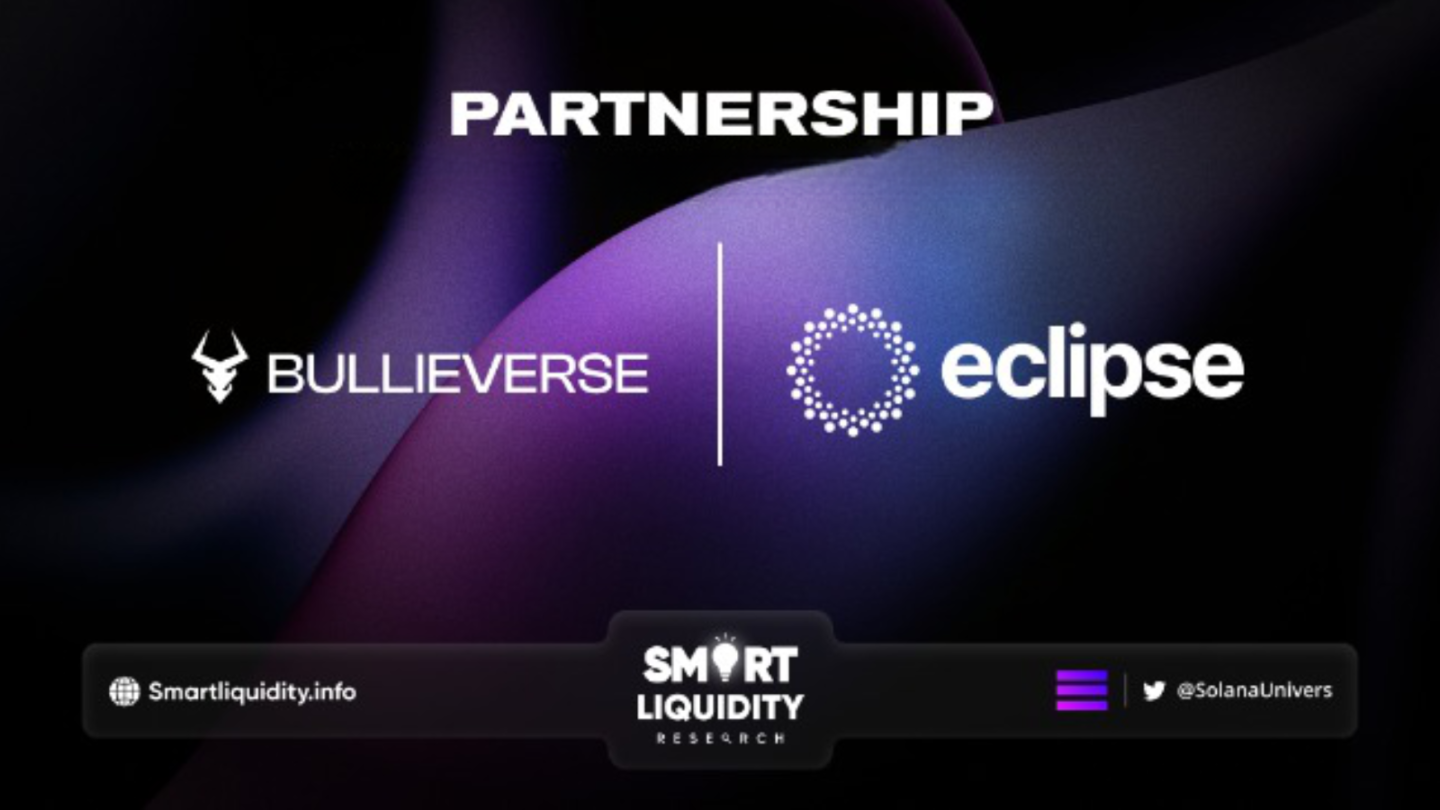 Eclipse Builders and Bullieverse have joined forces to usher in a transformative era for Web3 gaming.
Eclipse and Bullieverse Partnership to Revolutionize Web3 Gaming with Verifiable Randomness
This dynamic partnership includes the launch of a high-throughput Ethereum Virtual Machine (EVM) chain, developed in collaboration with Celestia and Neon Labs. The key highlight of this chain is the integration of verifiable randomness through SupraOracles, a groundbreaking advancement that enhances the trustworthiness and security of on-chain games.
The EVM chain utilizes Neon Labs' technology to enable parallel execution of EVM transactions through the Sealevel Virtual Machine. The processed blocks are subsequently posted to Celestia, ensuring the availability and accessibility of the executed data.
What do VRFs entail and why are they essential for decentralized gaming platforms such as Bullieverse?
VRFs, or Verifiable Random Functions, play a vital role in decentralized gaming platforms like Bullieverse. These cryptographic systems generate pseudo-random numbers in a way that is both verifiable and resistant to tampering. The importance of VRFs lies in their ability to ensure that outcomes, such as game results or lottery winnings, are generated legitimately and cannot be manipulated.
For Bullieverse, implementing VRFs brings heightened trust and protection against malicious behaviors within their gaming ecosystem. Whether it's determining game outcomes or selecting winners for loot drops, the integration of Supra's VRFs guarantees a fair and manipulation-resistant process. Specifically, Bullieverse will introduce VRFs through battle passes available in their marketplace, where users can purchase them using the platform's native token.
The integration of VRFs not only allows Bullieverse to claim fair on-chain randomness in their games but also provides verifiable proof of it. This aligns perfectly with Bullieverse's commitment to creating an enjoyable and sustainable web3 gaming experience for their users.
This partnership between Bullieverse and Supra exemplifies the promising future of web3 gaming, demonstrating how collaboration and innovative use of blockchain technology can deliver immersive and equitable gaming experiences.
Conclusion
The partnership between Eclipse Builders and Bullieverse marks a significant milestone in the realm of Web3 gaming. With the launch of a high-throughput EVM chain featuring verifiable randomness through SupraOracles, trust and security are elevated to new heights. This collaboration paves the way for a future where players can enjoy Web3 games with complete assurance and unleash the full potential of decentralized gaming ecosystems. Get ready to embark on an exciting journey as Eclipse Builders and Bullieverse redefine trust and revolutionize the Web3 gaming experience.
About Bullieverse
Bullieverse is a Web3 Native Entertainment brand with omnichannel experiences like Gaming, AR/VR, and Art, with an ever-expanding gaming ecosystem where members of the community can play various games built on Unreal Engine alone, with friends, or against others in PvP to win incredible prizes and NFT rewards.
About Eclipse
Eclipse is a customizable rollup provider supporting novel on-chain use cases. Our infrastructure allows developers to "pick and choose" the best aspects of blockchain technology needed to create unique decentralized applications, without making technical trade-offs.
SOURCE
https://www.eclipse.builders/blog/implementing-verifiable-randomness-for-on-chain-games