EZZY Game, the Simplest M2E and P2E Game!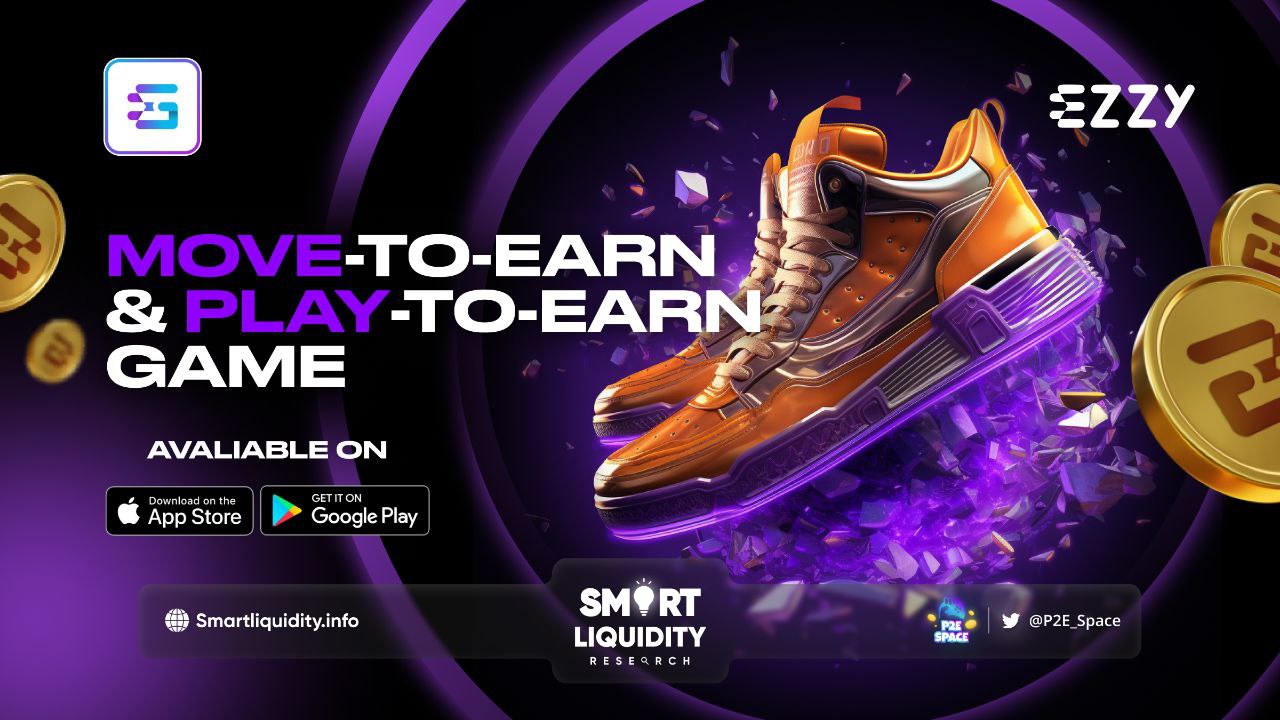 Introducing EZZY Game, the simplest M2E (Move-to-Earn) and P2E (Play-to-Earn) game featuring Web3 elements where you can get $GEZY tokens by walking or running in the open air or by playing a simple game.
Ezzy Game is a user-friendly mobile app that offers a straightforward and accessible gaming experience. To get started, users need to download the app and wear sneakers, enabling them to engage in physical activities like walking or playing a game. By participating in these activities, players earn tokens, which likely serve as a form of in-game currency or rewards.
Ezzy Game Invite-to-Earn Partnership Program!
This program is designed to reward its valued users for sharing the Ezzy Game app with their friends, family, and social networks.
By participating in this program, you have the opportunity to earn exclusive rewards and benefits:
In EZZY Game, you are given a unique invitation code that you can share with a friend, acquaintance, relative, or any other person to register in the app.
DOWNLOAD HERE AND USE PROMO CODE: (tyBwpRg4u)
When this other person registers using your code and gets new Sneakers, you get one invitation point.
As soon as you get 20 invitation points, you get the opportunity to get one new pair of Sneakers as a gift.
Thus, you can receive (as a gift) Sneakers of the same class as your friends and acquaintances who registered in the app using your invitation code.
How EZZY Game works: Proof-of-Walk Algorithm
In training mode, the EZZY Game app uses the special Proof-of-Walk algorithm which tracks user activity using an accelerometer, the Internet, and geolocation and rewards GEZY tokens based on the data received.
To mine (get) GEZY tokens while training, you need to DOWNLOAD THE APP and use promo code (tyBwpRg4u). Get Sneakers for GEZY, start your training, and start moving in the open air. The Proof-of-Walk algorithm generates GEZY tokens once a minute. The user can exchange them for other tokens, use them to mint new Sneakers, accumulate them for one purpose or another, or send them, for example, to friends and acquaintances, immediately after the training.
EZZY Game has two game modes where users get rewards:
Training Mode
With EZZY's training mode, you have the freedom to embark on your outdoor activities at your preferred pace, whether it's a leisurely walk or a brisk jog. The app records your movements and assigns value to your efforts in the form of EZY tokens.
The reward size is determined by the Daily Power of Sneakers, a unique metric that sets the maximum potential reward you can earn per minute and day. Regardless of the type of Sneakers you wear, you can participate and accumulate tokens based on your activity level.
EZZY empowers you to train at your comfort and rhythm while earning tokens as a gratifying incentive. Start your journey today and be part of the rewarding M2E experience with EZZY!
Tournaments
Get ready for exciting challenges and big prizes with EZZY Game's periodic tournaments. Compete against fellow users and showcase your skills to win substantial rewards of different values. These tournaments introduce captivating mechanics that will keep you engaged and entertained.
As an added twist, certain tournaments may incorporate GEZY burning mechanics, which positively contribute to the tokenomics of the game. Participate, excel, and seize the opportunity to make your mark in the competitive world of the EZZY Game.
Exciting News: EZZY Game App Transitions from Beta to Alpha Version!
EZZY Game has made significant progress and has now transitioned from its beta phase to the alpha version. This milestone represents a major step forward in refining and enhancing the game's features, mechanics, and overall user experience. With the alpha version, players can expect even more engaging gameplay, improved functionality, and exciting new content to explore.
With the launch of the alpha version, the EZZY project introduces the brand-new main $GEZY token. This marks a fresh start for those who may have missed out on the beta version, providing a new opportunity to engage with the game and its token economy.
The main $GEZY token brings enhanced features, improved functionality, and an optimized experience for players. It's the perfect time to join the EZZY community, embark on exciting M2E and P2E adventures, and seize the chance to earn and utilize the main $GEZY token.
Trade $GEZY Tokens on PancakeSwap and Unlock Gaming Sneakers!
The new $GEZY token is now available for trading on PancakeSwap, a leading decentralized exchange. To ensure security and trust, $GEZY has been verified by CertiK, providing peace of mind to token holders.
Players will have the opportunity to purchase gaming Sneakers using GEZY tokens. These Sneakers offer incredible benefits, allowing you to earn up to 30% per month. It's an excellent way to maximize your rewards and enhance your gaming experience within the EZZY ecosystem.
Tokenomics
GEZY is the main in-game token of the EZZY Game, which is used for transactions within the fitness game and on the project website. It is required to get the Sneakers and is also awarded as a reward for workouts and games. GEZY operates in the BNB Smart Chain network, so you need to have some BNB for transaction fees.
Initially, 10,000,000 GEZY were created and distributed as follows:
3,000,00 GEZY— Directed to a liquidity pool on the decentralized exchange (DEX) PancakeSwap v3 paired with a USDT token for a total equivalent of about 360,000 USDT (3,000,000 GEZY and 180,000 USDT).
6,000,000 GEZY — Directed to a special bot for PancakeSwap for the BNB Smart Chain network. Its task is to ensure the maximum possible stability, preventing sudden fluctuations in the exchange rate of GEZY to other tokens.
1,000,000 GEZY — Allocated for marketing and other activities related to the development and popularization of the EZZY Game. The goal is to steadily and constantly expand the user base of the project.
GEZY issuance is unlimited – users receive new tokens as a reward for walking or playing. But for maximum stability – it is technically possible not only to create new tokens with the help of an owner wallet (smart contract owner) but also to burn the surplus tokens.
To put it simply:
If the demand for GEZY grows and more and more people receive Sneakers and then withdraw the received reward. It is possible to mint new tokens through the owner's wallet to send to the hot game wallet for a further reward payment to these players.
And if there are too many tokens on the game's hot wallet – they will destroy the excess tokens by burning through the owner's wallet to stabilize or create a moderate deficit.
In addition, burning is provided as part of tournaments or other activities. Part of the prize pool can be taken out of circulation and irrevocably destroyed to reduce the supply of GEZY tokens in the market.
In addition, 20% of all GEZY tokens used by players to obtain Sneakers are distributed as follows:
10% goes to the developers to maintain the project, including marketing activities, team maintenance costs, and other expenses.
5% goes to the trading bot for PancakeSwap to maintain the smoothest possible fluctuations and maximum possible stability.
5% goes to increase the liquidity of the GEZY token against USDT.
EZZY Game's main goal is to achieve stability and minimize excessive spikes in liquidity withdrawal in one direction or another on the DEX.
Economic Sustainability of the EZZY Game
The economic model of the EZZY Game is designed to stimulate stable and sustainable demand for GEZY. To reduce the likelihood of excessive instability that would disrupt the long-term development of the application.
To create a sustainable economic model, the following are integrated:
Limitation of Sneakers — Released by collections in limited quantities. This is to prevent excessive demand/pressure on GEZY and the sudden withdrawal of tokens from the liquidity pool. There may also be restrictions on getting Sneakers per account (e.g., no more than 1 Sneaker of each rarity from one collection).
Changes the amount of GEZY required to receive Sneakers

— In different collections, the amount can also be adjusted depending on the ratio of GEZY to USDT in the liquidity pool on PancakeSwap. All game users (old and new) are in equal conditions.
Longevity — Sneakers wear out and become inactive after a while, so there is no cumulative pressure on tokenomics.
No Whale Effect — Maximum reward per Sneakers you need to train or play 10 minutes a day. If the user wants to use many Sneakers, he will not be physically able to train or play a conditional 1,000 hours a day. Plus, the first point imposes additional restrictions on whales.
Limit on the withdrawal/exchange of 3 000 GEZY per day — You can't withdraw or exchange more than 3,000 GEZY per day to USDT/BNB. This is an important tool to positively impact tokenomics.
Ban on multi-accounting

—They use a lot of tools to protect them from circumventing game conditions.
Burning mechanism

— Use in case of token surplus and for positive impact on tokenomics.
Farming — Provide liquidity by both players and large "whales" with a large amount of USDT. The conditions are slightly different for players and whales. The main purpose of the functionality is to increase the liquidity of GEZY and further smooth out the probability of exchange rate changes.
EZY Token Use-Cases
Sneakers collections in the EZY token often have reduced Durability and increased stats. Users can get high rewards in EZY tokens in a short period.
The EZY token is riskier at this point in terms of stability.
 Several deflationary elements will be added to the EZY tokenomics in the future. It includes a complete stoppage of issuance after some time.
Some of the GEZY tokens that developers receive (when players receive Sneakers) will be exchanged into USDT in the future. It will also be channeled into the decentralized bot and liquidity of the EZY token.
Players can choose which token to use in the EZZY Game to receive their reward.
Smart contract address:

0xb452bc9cead0b08c4ef99da0feb8e10ef6bb86bb
How To Play EZZY Game?
Download the app and register
Download the EZZY Game to your smartphone and register an account. Be sure to allow access to GPS — this is required to track your activity during training.
Get Trial Sneakers and real rewards
Immediately after registration, you can get Trial Sneakers of any rarity type and use them to test the app. Turn on a workout, move outside at 2-20 km/hour, or play a game while sitting at home on the couch. Although the Sneakers are a trial – you can get real rewards from them. To unlock the trial Sneakers reward, you only need to get game Sneakers for a certain amount of GEZY.
Get gaming Sneakers
Top up your in-game wallet with USDT tokens from BNB Smart Chain (BEP-20), exchange them for GEZY, and use them to get in-game Sneakers. The higher the class of Sneakers, the more GEZY they bring.
Train in Sneakers and Get GEZY
Select Sneakers in the EZZY Game, turn on the workout, and start moving outside at 2-20 km/h – that's walking or running. The app will track your activity and earn rewards in GEZY tokens once per minute. Or go into a game and catch GEZY tokens by moving the Sneakers with the arrows. After you finish training or playing the game you can exchange GEZY to BNB or USDT directly in the app and withdraw them to your wallet or exchange. You can also withdraw and GEZY to exchange to PancakeSwap or 1inch for any tokens. You can also send it to your friends, or for any other purpose. Or you can keep GEZY inside the app to get new Sneakers – whatever you want.
Share your achievements!
Share your achievements on social media and invite your friends to train and play with you as part of the Invite-to-Earn program. By inviting your friends, you can get new Sneakers as a gift.
EZZY Game Anti-Cheating Mechanism
Some users may try to cheat the EZZY Game in various ways so the developer behind the platform has developed an anti-cheating system that will protect the Proof-of-Walk game algorithm from unscrupulous users.
The anti-cheating system monitors user behavior in real-time and collects the necessary data to be able to punish perpetrators for trying to deceive EZZY Game.
The only way to fairly receive GEZY as a reward for playing or working out is to use the same account on the same phone.
Prohibited things:
Using multiple accounts on one phone.
Walking around with the workout turned on multiple phones at the same time.
Creating any ways to simulate play and movement (including riding a vehicle/electric scooter/bicycle, attaching your phone to animals, and so on).
ONE person can't use 2 or more accounts.
Users are allowed to perform this activity:
To walk with friends with an activated EZZY Game workout on each phone.
To walk with more than one phone, but only if the EZZY Game workout is activated on one of them.
Cheating Penalty
"All types of cheating will be punished in various ways, from deactivation of active Sneakers to complete account ban."
EZZY GAME DAO Governance
EZZY Game fully shares all the principles used in the decentralized finance (DeFi) ecosystem. Its users will have the opportunity to participate in voting on the issues of further development of the fitness game. All users who are interested in developing EZZY Game will take an active part in the project in DAO format (Decentralized Autonomous Organization).
Overall, Ezzy Game appears to be a user-friendly mobile app that encourages physical activity and rewards players with tokens. It's simplicity and growing player base make it an appealing choice for individuals looking for a straightforward and engaging gaming experience.
ABOUT EZZY GAME
EZZY Game app is an M2E (Move-to-Earn) and P2E (Play-to-Earn) game featuring Web3 elements. This is also the place where you can get GEZY tokens by walking or running in the open air or by playing a simple game. The EZZY app is based on the Fitness Mining concept (Train and Mine). Users walk or run in the open air and mine GEZY tokens which can then be exchanged for other tokens, for example, USDT, or used in any other way.
FOLLOW EZZY GAME ON THEIR OFFICIAL SOCIAL MEDIA CHANNEL
Website | Twitter   | Medium | Discord | Whitepaper | Telegram | NFT COLLECTION