Good Games Guild and MetaCene Collaboration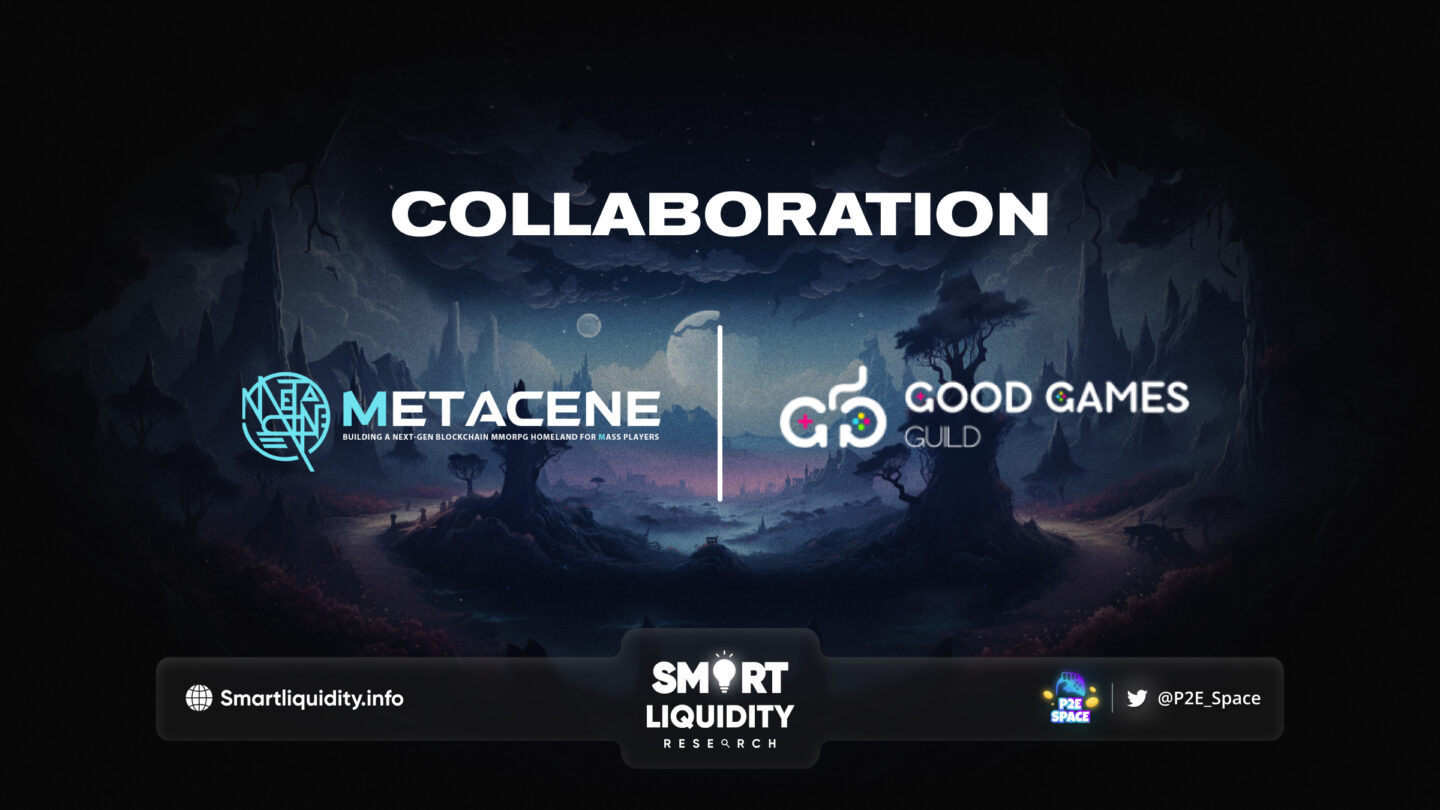 Good Games Guild is thrilled to announce an exciting strategic partnership with MetaCene, the next-gen blockchain MMORPG homeland that promises to revolutionize the gaming industry!
This partnership marks a significant milestone for both Good Games Guild and MetaCene. By combining forces, they aim to offer an unparalleled gaming experience to its players. The synergy between Good Games Guild's dedicated community and MetaCene's groundbreaking MMORPG world promises an exciting and dynamic environment where players can not only fulfill their social needs but also explore unique financial opportunities through NFT interactions.
Through this collaboration, they envision a future where gaming transcends boundaries and empowers players to shape their destinies in an immersive blockchain universe. Together, they'll work tirelessly to create unforgettable gaming adventures, foster a strong gaming community, and drive the gaming industry towards new heights of innovation.
About MetaCene
MetaCene is building a next-gen blockchain MMORPG homeland for mass players. It presents a surreal post-apocalyptic society where survivors interact with diverse NFTs to redefine civilizations. MetaCene pioneers player-centric entertainment, governance, and creation through innovative PVE and PVP gameplays, robust technology infrastructures, social guild DAO governance, sustainable economic systems, and in-game editors.
MetaCene Gameplay
— Innovative PVE
As one of its main gameplays, the PVE of MetaCene organically incorporates the MetaCene storyline and its physical landscape, and pictures a world in which MetaCene survivors can navigate on their quests for resources to rebuild the world and recreate civilizations, running around and exploring the world of MetaCene themselves. The PVE gameplay in MetaCene is mainly manifested by two gaming scenarios: the Open-World Adventure and the Dungeon Encounter.
— PVP: Where Cooperation and Confrontation Co-exist
As a multiplayer interactive gaming mode where human players compete against each other, PVP (Player-versus-Player) is adopted in MetaCene as one of the main gameplay to demonstrate the competitiveness of the game. But unlike the pure combats in most RPGs, the competitions in MetaCene are all about resources and profits.
— Mining for More
Mining is an integral part of the MetaCene gameplay to drive things up. Opening a door for players to embrace free-to-play attributes and improve gaming experience.
Founded by gaming experts with 20+ years of industry experience from renowned companies. Like Shanda Games, Blizzard, Perfect World, and more. MetaCene is well-equipped to deliver an unparalleled gaming experience.
MetaCene is also a part of the multi-chain future from Rangers Protocol. Ensuring real-time confirmation and super-low gas fees for smooth and efficient gameplay. Their upcoming MetaCene Apostle NFT collection and the Alpha version in 2023 Q2 are sure to set new standards in the world of blockchain gaming.
About Good Games Guild
Good Games Guild is a Gaming Hub that aims to create the largest virtual world economy. By sponsoring millions of play-to-earn gamers, investing in play-to-earn games along with their in-game assets. And building tools that will enhance the future of gaming and meta-verse.
SOURCE: MEDIUM