Mystiko Live on Polygon Mainnet!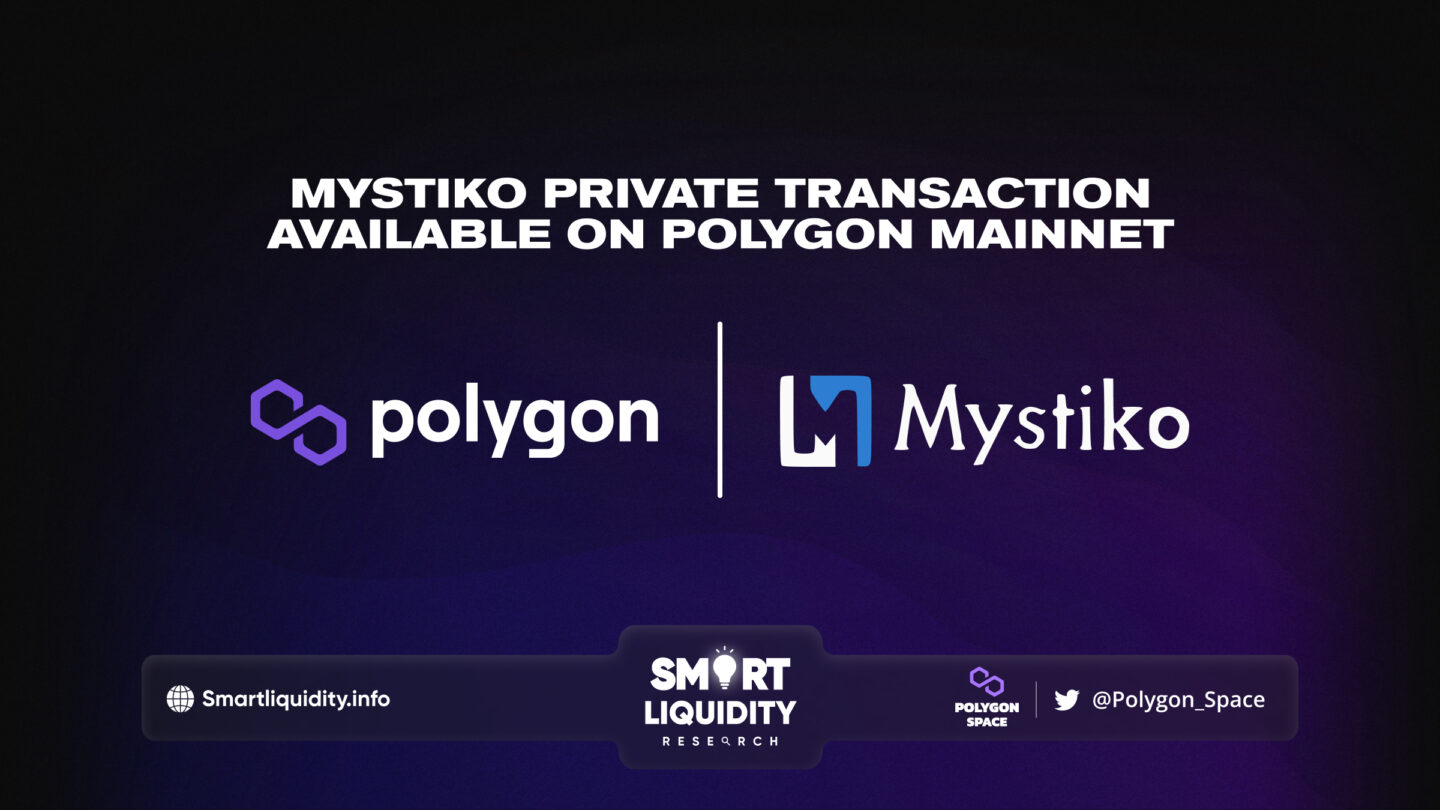 Mystiko Private Transaction Available on Polygon Mainnet!
Polygon users can also store, transact, pay, transfer, and manage MATIC, USDT, USDC, BUSD and wETH on the Polygon main net with full privacy.
👩‍💻 Mystiko Private Wallet👉 https://app.mystiko.network
📕 Tutorial 👉 https://docs.mystiko.network/mystiko-web-wallet-tutorial-mainnet .
Since the launch of Mystiko on Ethereum, BNB Chain main nets. Over 60k transactions and 54 million USD worth of crypto was transitioned in full privacy via Mystiko.Network. And they are excited to bring privacy as a solution to users and developers on Polygon.
It has been a wonderful journey since Mystiko.Network joined the Polygon community in 2022, and they are excited to announce that Mystiko is now officially LIVE on the Polygon mainnet. They look forward to continuing to collaborate with the Polygon community, and they would appreciate your feedback and advice on the next key features of Mystiko.Network.
** See live private tnx dashboard on Mystiko.Network offcial website👉https://mystiko.network/
For users: Use Mystiko and get rewards!
Users who try out Mystiko.Network App for private payments will be rewarded Mystiko OG NFT and potentially win future whitelist opportunities!
Read more 👉 https://medium.com/@Mystiko.Network/mystiko-main-road-to-100-million-pop-phase-1-your-privacy-story-bd5bde36fd7b
For developers: Build with Mystiko!
Mystiko.Network is building the ultimate universal web3 privacy infrastructure through PaaS (Privacy as an SDK), and they look forward to working with Web3 partners to enable privacy for all and accelerate crypto adoption in Web3.
Mystiko wallet is the first and one of a million creative private dApps that could be powered by Mystiko.Network. More private dApps in Mystiko.Network are to be expected. Stay tuned for more updates!
Whether you would like to add user privacy as a new feature to your existing dApps, or to build a new private Defi app from scratch, don't hesitate to reach out to '[email protected]' for more info and integration details — Mystiko.Network is always excited to work with developers to push the boundary of on-chain privacy. Join, build, and get rewarded!
Trusted Setup Ceremony Program. Zk trusted setup ceremony is a crucial step towards a trust-less network. Mystiko will be running a ZK trusted setup ceremony soon to generate verifier smart contracts and to make Mystiko protocol truly trustless. If you are interested in joining Mystiko ZK trusted setup ceremony, please reach out to "te[email protected]" for more details and stay tuned for updates!
Wanna give Mystiko a trial run?
Try multi-chain and cross-chain private transactions on the most updated Mystiko.Network on testnets 👉https://auditablezk.mystiko.network/
Supported testnets: Polygon, Ethereum, BNB Chain,Fantom, Avalanche, Aurora(upcoming), Moonbeam
Wallets: MetaMask
Bridges: Celer IM, Mystiko Test Bridge, LayerZero, Axelar Network
About Mystiko.Network
Mystiko.Network is the base layer of web3 with both connectivity and confidentiality. Leveraging zero-knowledge proof with industry-leading "zk of zk" technology and auditable-zk compliance design, Mystiko.Network guarantees interoperability, scalability and privacy, all at once.
SOURCE:
https://medium.com/@Mystiko.Network/mystiko-private-transaction-available-on-polygon-mainnet-ccc5c15360a3