IOST's Blockchain launched on Tencent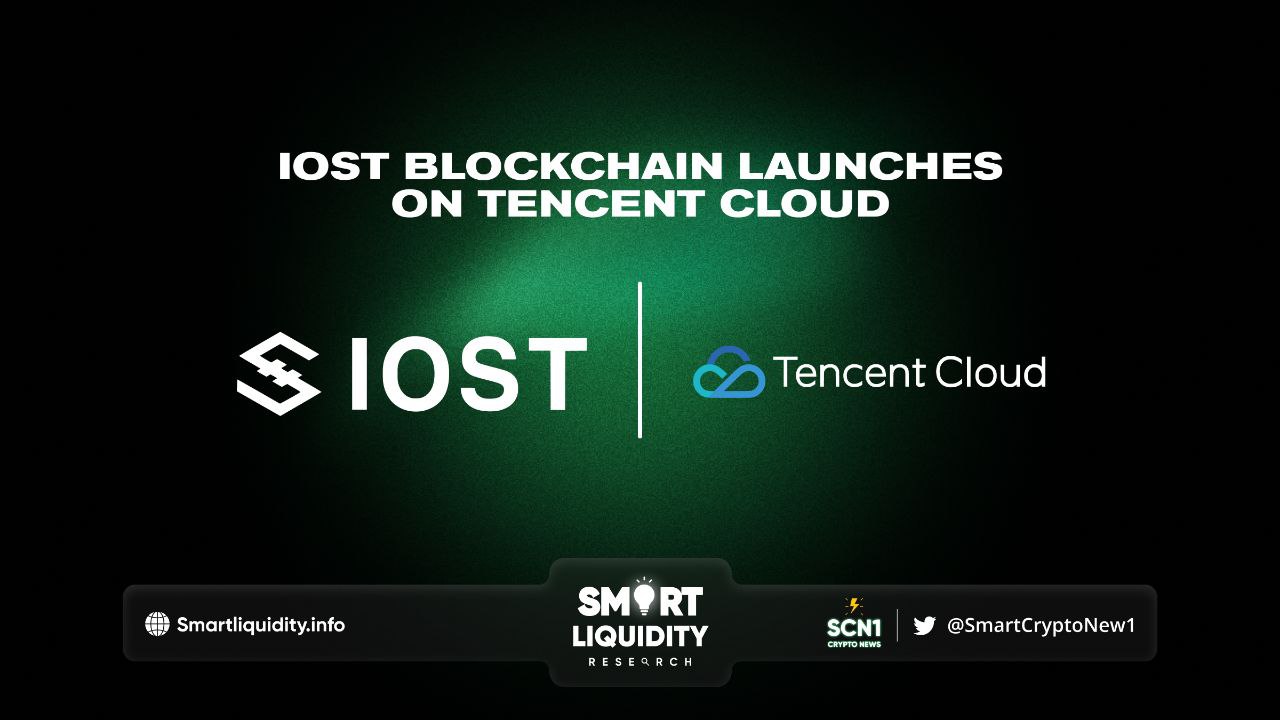 IOST's Blockchain launched on Tencent Cloud. In the era of Web3, cloud services have emerged as a pivotal force promote digital transformation across industries. To provide users with efficient, stable, secure, and open blockchain solutions, IOST is actively fostering collaborations with renowned international cloud platforms like Tencent Cloud and AWS. Their goal is to empower a vibrant and sustainable multi-cloud ecosystem.
"This marks a pivotal stride in IOST's strategy for a multi-faceted cloud ecosystem. In the times ahead, our unwavering focus remains on an all-encompassing and profound expansion within the multi-cloud milieu. This entails fostering deeper dialogues and collaborations with eminent international cloud service platforms like Tencent Cloud and AWS. Our objective stands resolute in creating diverse decentralized, high-performance, user-friendly, stable, and secure blockchain offerings for global users."— Blake (IOST Co-CEO)
Looking ahead, IOST is set to deepen collaboration with Tencent Cloud, leveraging IOST-shared international digital infrastructure and ecological advantages. Centered around Web3, AI, and blockchain, IOST is embarking on a comprehensive partnership. Guided by technology-driven cost reduction and efficiency enhancement, it aims to set industry benchmarks, and collectively explore new paths and models in the realm of the digital economy."
To expand the global multi-cloud ecosystem, IOST has strategically aligned with Tencent Cloud. Resulting in the formal debut of two pivotal blockchain services: the NFT and Blockchain traceability services.
NFT Service
Catering to the corporate realm, NFT service is a comprehensive digital brand enabler, facilitating NFT issuance, digitization of brand IP, and strategic positioning within the Web 3.0 NFT landscape.
Description
The diverse spectrum of creative works. Spanning videos, music, paintings, and other artistic expressions are endowed with decentralized financial attributes at their nucleus. This dynamic metamorphosis lays the foundation for robust circulation, effectively optimizing conditions to harness the latent potential, thereby enabling users to partake in the dividends yielded by art NFTs and embracing the facets of digital literary art.
Notable Features
Leveraging professional blockchain technology and NFT trading platforms, the service empowers the encoding of information concerning tangible artworks onto the blockchain, subsequently generating congruent NFT renditions. The cryptographic contours therein validate the artworks' authenticity, thereby ensuring inviolable digital copyrights.
Unveils a one-stop digital branding initiative tailored for enterprises, streamlining exclusive NFT issuance. Fostering the metamorphosis of brand IP into digital assets and engendering agile forays into the Web 3.0 NFT domain. The advent of blockchain redefines the trajectory from conventional to digital art, recalibrating the valuation of art collection and investment viability within the market, thereby unlocking the latent potential within digital art.
Orchestrating the ascendance of high-tier NFTs, a renaissance is heralded in the sphere of art collection value and the investment potency of market circulation.
Blockchain Traceability Service
The cornerstone of IOST's traceability initiative is preventing counterfeiting and enabling traceability across the full product lifecycle. The actualization is through the Blockchain traceability service.
Description
Pioneering a holistic approach, users are empowered to transmit information about commodities from their inception, traversing customs inspections, logistical engagements, warehousing logistics, distributorship, and ultimately culminating in their availability at retail outlets, onto the blockchain traceability system. This information, verified and corroborated by stakeholders including upstream suppliers, warehousing logistics partners, downstream distributors, and retailers, coalesces into a transparent and credible transactional dossier, fostering multidimensional trust and shared transactional insight.
The IOST traceability system converges disparate functionalities, encompassing information input, device management, and regulatory submissions.
Notable Features
Through an unswerving embrace of blockchain's immutable and decentralized architecture, IOST bequeaths a holistic traceability apparatus. This holistic approach ensures data integrity by encoding information that undergoes validation by a multitude of stakeholders. This irrefutable chronicle of information safeguards data authenticity, consequently elevating the caliber of enterprise information management. Mitigating the risks associated with data manipulation. The service serves as a bulwark against unscrupulous vendors exploiting vulnerabilities. Within the production and sales lifecycle, it perpetuates the circulation of spurious and substandard goods.
Tencent Cloud — Shaping the Future of Cloud
Today, Tencent Cloud provides more than 400 technologies and connectivity solutions that support enterprise-grade digital transformation. Through its global infrastructure network, covering more than 26 geographic areas across five continents and 70 availability zones, with more than 2800 acceleration nodes.
FOLLOW IOST OFFICIAL CHANNELS
Telegram | Twitter | Facebook | LinkedIn | Medium | Reddit
RESOURCES