Avocado Partnership with Magic Eden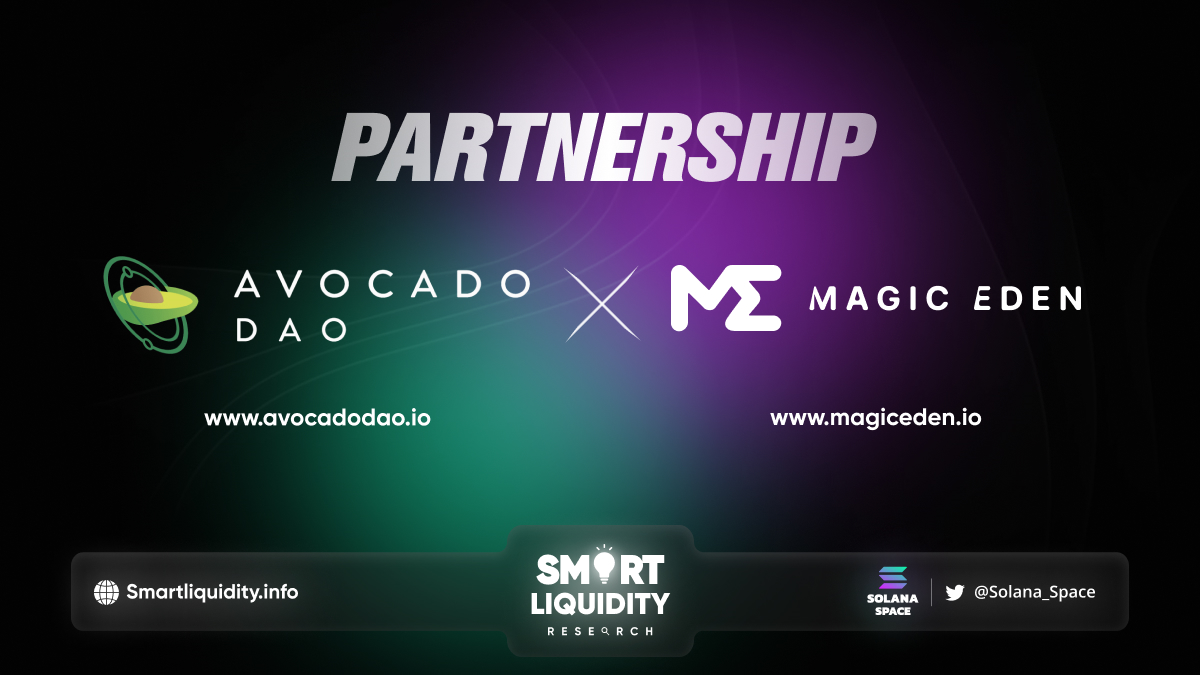 Avocado announced its partnership with Magic Eden, the leading NFT marketplace on the Solana blockchain for both assets and gaming.
Magic Eden is home to the next generation of digital creators boasting over 90% of the Solana NFT market share and reaching eight figures in $SOL trading volume in the last month alone.
The platform is home to art collectibles, gaming NFTs and Eden Games. With record growth and strong community backing, Magic Eden is the Opensea of Solana and home to the broadest collection of NFT assets on the Solana chain.
What is Magic Eden?
Pioneered by former leaders from crypto, tech, and the hospitality industry, the Magic Eden team leveraged their skills to provide a seamless user experience with state-of-the-art technology to mint and trade NFT assets. The project collaborates closely with creators and has developed a vibrant community, making it the go-to marketplace for Solana NFTs.
Backed by some of the industry's leading investors, such as Coinbase Ventures, Alameda Ventures, Solana Capital, and co-founders of Phantom, Magic Eden has a solid foundation to continue to spur its growth as an established leader in the Solana ecosystem.
The project provides several services on its platform, from facilitating the creation, trading to information relating to all things NFT:
Magic Eden's launchpad facilitates the minting process for creators to bring their NFTs to life.
Users can sell their existing Solana-based NFTs via the secondary market on the Magic Eden marketplace, ensuring maximum exposure and minimal gas fees.
As web3 gaming gains traction and gaming NFTs become mainstream, Magic Eden is the place to grab these gaming assets.
Magic Eden also develops a dedicated game listing page containing information, reviews from popular influencers to showcase the latest games, etc.
Competitions and tournaments
The marketplace boasts the largest discord community across the Solana marketplaces, with over 141k members. Magic Eden plans to engage their members in competitions and tournaments hosted on its discord server.
Adopting the DAO structure allows Magic Eden to work closely with the community, creating a robust Solana ecosystem. The DAO allows its members to vote on NFT collections and governance aspects and several other DAO-related activities.
Partnership Highlights
Avocado DAO is excited about its partnership with Magic Eden from a gaming, NFT, and community perspective. They are heavily invested in servicing and engaging their community and share the vision of expanding users' knowledge in NFTs and web3 gaming.
The Magic Eden team also has the foresight to acknowledge gaming as a great way 'ease people into new technology' and onboard new users into NFTs and crypto. It is something that Avocado DAO works enthusiastically toward — supporting the first generation of crypto and web3 users by facilitating access to the space.
Avocado invests in NFT assets and partners with projects and games within the Solana ecosystem; one example of its recent partnerships is MonkeyLeague — also available on the Magic Eden marketplace.
Magic Eden is a cutting-edge project with massive potential for growth as they continue to expand into the web3 space. The project comprises a strong team with in-depth market experience and innovative plans for future growth. At Avocado, they are focused on community and the adoption of web3 for first-generation users through Play-to-Earn gaming and the facilitation of NFT assets. The Avocado partnership with Magic Eden will evolve toward their common goal as they both advance in this fast-paced environment.
About Magic Eden
Magic Eden is building the biggest and most liquid NFT marketplace globally and home to the next generation of digital creators on Solana.
About Avocado Dao
Avocado Dao is a collection of contributors that believe in the benefits of blockchain technologies and the metaverse—making a real-world impact through virtual contribution!
 ⏩ SOURCE