Parallel Finance x Equilibrium XCM Integration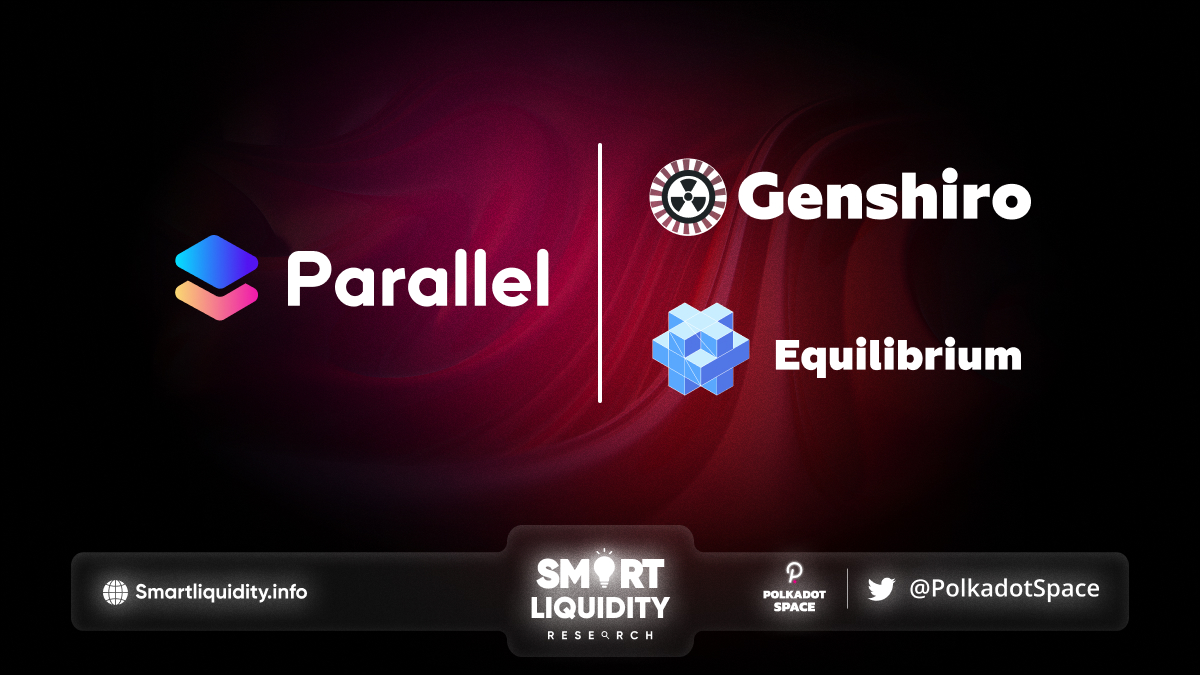 In the continuous efforts to ensure seamless communication between parachains in a bid to improve the greater Polkadot and Kusama ecosystem. Parallel Finance x Equilibrium XCM Integration. Firstly, Parallel Finance is excited to announce the opening of its cross-chain communication with Equilibrium via bi-directional HRMP channels.
This cross-consensus messaging (XCM) channel is opened between Parallel Heiko, the sister protocol of Parallel Finance, and Equilibrium testnet — Genshiro. The primary use case of this bi-directional communication channel is to enable native communication and the transfer of HKO and GENS between the two chains without the need for bridges.
This development will bring GENS token to the products in the Parallel Heiko super DApps suite which include DeFi products like Liquid staking, AMM, decentralized money market, liquid crowdloan stream protocol (DAO tooling), wallet, and yield farming. The integration will also be extended to PARA and Equilibrium mainet soon.
HRMP or Horizontal Relay-routed Message Passing is the transport protocol of XCM — the interoperability mechanism within the Polkadot and Kusama relaychains. It allows for rich messaging and interaction between parachains on the network and eliminates communication barriers between them. Being in its early phase, the main feature of this interaction involves token movement. However, more generic, extensible, and customizable message parsing features to enable multichain DApp deployments will be added in the future.
Equilibrium is a substrate-based cross-chain protocol on the Polkadot network that lets non-custodial liquidity pools on different blockchains interact with each other. It unites them as one cross-chain decentralized lending hub with built-in synthetic assets, advanced price discovery, and bailout mechanics. Equilibrium implements a PoS consensus mechanism with a DeFi-specific fee model and designed to underlie a wide variety of decentralized finance applications.
About Equilibrium
Equilibrium is a one-stop DeFi platform on Polkadot that allows for high leverage in trading and borrowing digital assets. It combines a full-fledged money market with an orderbook-based DEX. EQ the native utility token that is use for communal governance of Equilibrium. xDOT is a liquid and tradeable wrapped DOT that unlocks liquidity of DOT locked in parachain auctions and delivers multiple crowd loan bonuses on Polkadot.
About Genshiro
Genshiro is a Kusama-based sister-chain for Equilibrium. It's the protocol that helps users seamlessly earn yield, borrow, and trade on margin. Using asset portfolios instead of single collateral vaults.
About Parallel Finance
Parallel Finance (with its Kusama-based Heiko network) the Polkadot network-based DeFi super DApp protoco. Features a composable and interoperable ecosystem of community-focused decentralized applications. The DApps include liquid staking, AMM, decentralized money market, liquid crowdloan, stream protocol, wallet, and yield farming applications. The protocol committed to building a decentralized future that empowers the community, by increasing DeFi accessibility, capital efficiency, and security.