ShibafriendNFT Upcoming IDO on Oxbull!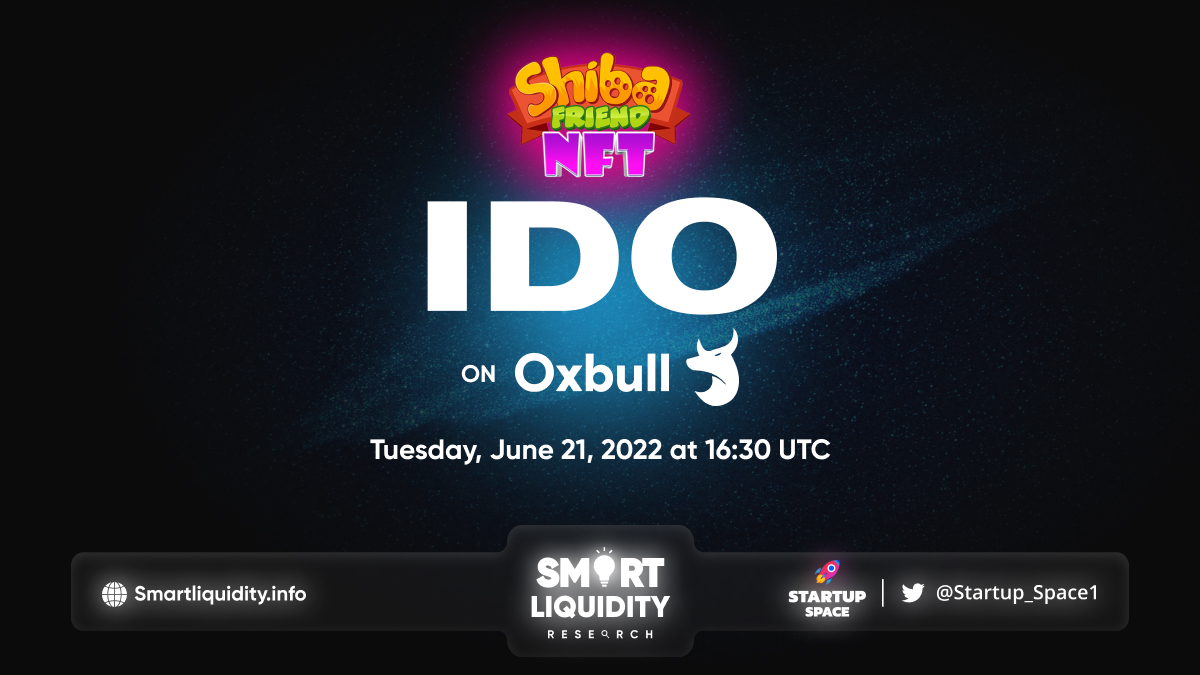 Oxbull has announced its upcoming IDO with ShibafriendNFT, a sport metaverse consisting of Shiba Inu and football games with REAL Top Football Clubs!
TL;DR
To buy Shibafriend NFT Sport Metaverse, A team dedicated to bringing in Top Sports Brands to Web3.0 with Shiba Inu and Sports GameFi:

1. Hold the minimum required OXB amount for Smart-Stake before 19th June 2022, 0001 UTC.

2. head over to the BSC pool page to buy on the 21st June 2022, 1630UTC onwards.

For full details, read on:
"If you love Football⚽️ and Dogs🐶, You will love the Shibafriend NFT Sports Metaverse!🐶⚽️"
With over 7,400,000 followers in coinmarketcap, Over 1,000 active players already playing the Shiba Music Game, Shibafriend NFT Sport Metaverse aims to bring the next Top Sports Brand to Web 3.0 with Shiba Inu and Sports Gamefi!
The Shibafriend NFT Metaverse
It's in the Metaverse, where NFT Shiba pets roam free with 3D movements and where there's different commands to hang out, explore, socialize, trade, and play to earn tokens.
The Metaverse Genre: Role Playing Game, Adventure Sports Games.
The Metaverse boasts:
The Metaverse itself where Shiba lovers, Pet lovers, can explore the Shiba Pet Metaverse perform activities and tasks to earn rewards.
The Shiba Pet NFT where there are over 25 sets of Cute 3D SHIBA NFT to play in the Shiba Music Beat GameFi app. They will expand the NFT Pets to other breeds. Pets to other breeds.
The World's first Shiba Inu GameFi, Shiba Music Beat which is already live and available to play: https://shibafriendnft.io/play-game
For more info about the project and gameplay, view the Whitepaper here.
Tokenomics
Total Supply: 10,000,000,000 $SHF
Private Sale: 6.5%, Locked for 7 days, followed by daily linear release over the subsequent 18 months.
Public IDO: 1%, 18% to be released during Token Generation, followed by 41% in the subsequent months.
Team: 10%, Locked for 24 months, followed by monthly released over the subsequent 36 months
Advisor: 2%, Locked for 3 months, followed by daily linear release over the subsequent 24 months.
Liquidity: 12%
Marketing: 13.5%, Locked for a month, followed by daily linear release over the subsequent 24 months.
Treasury: 5%
Staking Rewards: 50%, Quarterly linear release over 5 years. Transactions in the Metaverse and the Marketplace will be burned.
IDO Price: $0.0054
Listing Price: $0.0054

Listing date TBA on the 30th of June.
Participating in the IDO
To find out more about how to participate in the IDO on the day itself, read here. Using the Smart Staking approach to Oxbull.Tech's IDO model, The IDO details as follows:
Tier-1 and 2 Qualifying Deadline: Hold OXB by 19th June, 0001UTC
Tier-1 Contribution: 21st June 2022
Tier-2 and 3 Contribution: 22nd June 2022
Tier-3 Gleam Link: To Be Released
Contribution opens here:https://www.oxbull.tech/#/presale
Claiming the Tokens:
Upon TGE, token claims can be done manually via Token Claim.
Please follow the official Oxbull telegram group for further details of the claim time and changes, if any.
IMPORTANT NOTES: Qualification of Tier-1 and 2 will require ENROLLING SMART STAKING. In the event where an Investor who has not enrolled in Smart Staking but has the required number of holdings SHALL NOT be eligible for the aforementioned tiers.
Each qualified address will only be eligible for ONE transaction. Meaning if an address is qualified for tier 1, they will not be qualified for tier 2.
About ShibafriendNFT
ShibafriendNFT is the first to release a Shiba Play-to-Earn game for casual gamers, female gamers, Shiba lovers, dog lovers, and pet lovers.
About Oxbull
OxBull is the launchpad and startup incubator developed by a group of talented and avant-garde tech enthusiasts, and was launched in February 2021.
SOURCE
https://oxbull.medium.com/oxb-being-humans-best-friend-with-shibafriend-nft-e9f2cda8f58