GoCrypto Is Entering The Bloktopia Metaverse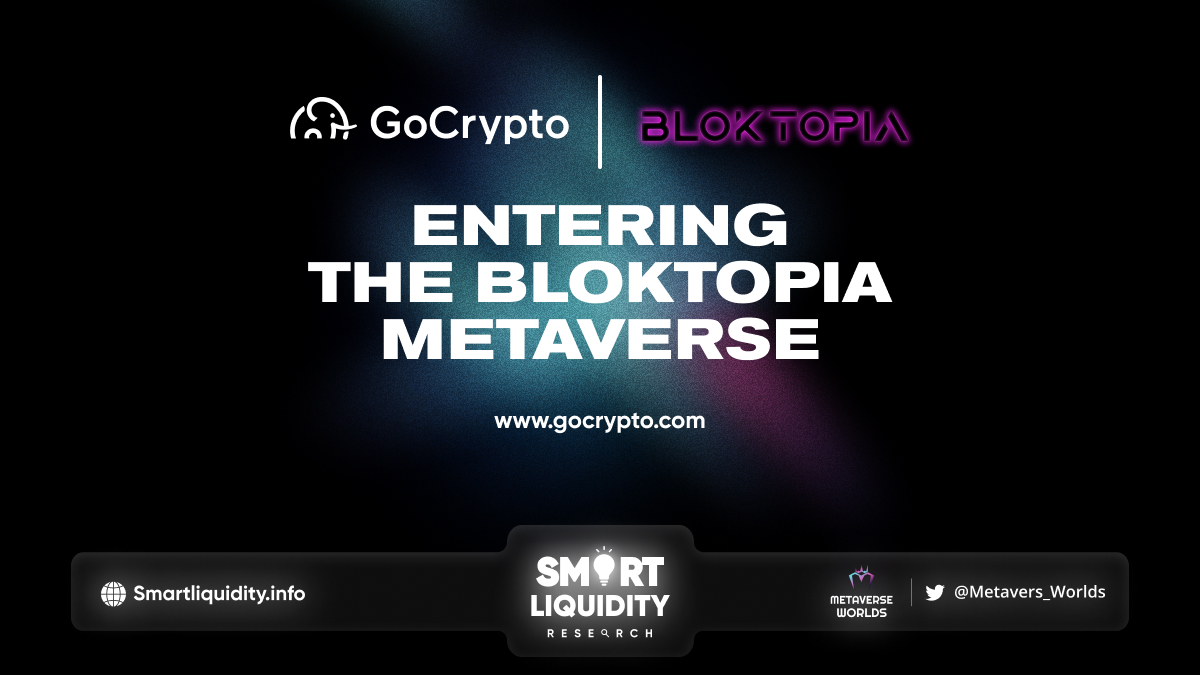 GoCrypto is excited to set up its first metaverse offices in the 21 stories high virtual skyscraper, better known as Bloktopia.
Firstly, GoCrypto believes in the Bloktopia team, their project, and its contribution to the world of crypto. This is why they didn't want to miss the opportunity to set their offices in the virtual skyscraper. Additionally, GoCrypto will be situated on the 3rd floor, lot 44, showcasing GoCrypto products and hosting community events. As Bloktopia evolves, it will integrate more advanced features, such as merchant onboarding, GoC token trading & staking, and more.
If all goes to plan, the first Bloktopians will be able to enter GoCrypto virtual offices in Q4.
Join with GoCrypto in Bloktopia
In 2020 the metaverse was valued at over $40 billion. Experts are estimating the number could reach $800 billion by 2024 and from $10 to $30 trillion in the next 10 to 15 years. All of this is only speculation, but the current hype around virtual land, real estate, or any other virtual asset ownership seems justified.
The overall excitement around Web3 and metaverses makes creating metaverse a thrilling task. "With a metaverse, you're not confined to rules of bricks & mortar stores, planning permissions, limited floor space, etc." stated the Bloktopia team. "We've really been able to expand our creative thinking and start building what our community needs." 
Lastly, GoCrypto team couldn't agree more with them as they too share deep appreciation and love for its community. They want to make sure their supporters receive the best of both worlds – real-life and metaverse alike. Also, They are excited to welcome you into its Bloktopian offices soon where you'll be able to experience an unprecedented VR experience, bringing crypto users together all in one immersive and engaging environment.
About GoCrypto
GoCyrpto is building a payment network to help people get paid seamlessly. They strongly believe in building solutions where cryptocurrencies meet real life. Where merchants can set prices in their local currency as they always have, while enabling direct crypto payments to their customers and getting paid in their preferred currency. Everyone gets the best of both worlds, and they take great care that this happens securely, instantly, and without hassle for any participant.
With unified payment protocols, they introduced a brand new practice in the world of global crypto payments. GoCrypto connects all stakeholders and technologies of the payment chain to enable their customers to pay with or accept cryptocurrencies.
About Bloktopia
Bloktopia is a Skyscraper made up of 21 levels to pay recognition to 21 million Bitcoin. Token holders will be known as Bloktopians. It will act as a central hub and welcome all levels of crypto experience. For the first time ever, users will have access to crypto information and immersive content all in one place. Bloktopians will be able to earn revenue through real estate ownership, advertising revenue, play games, build networks and much more. By using the world's most advanced real time 3D Creation Engine, Lastly, Bloktopia will leverage this technology to create stunning visualisations and user experience.
SOURCE:
GoCrypto