Amulet and Francium Long-Term Partnership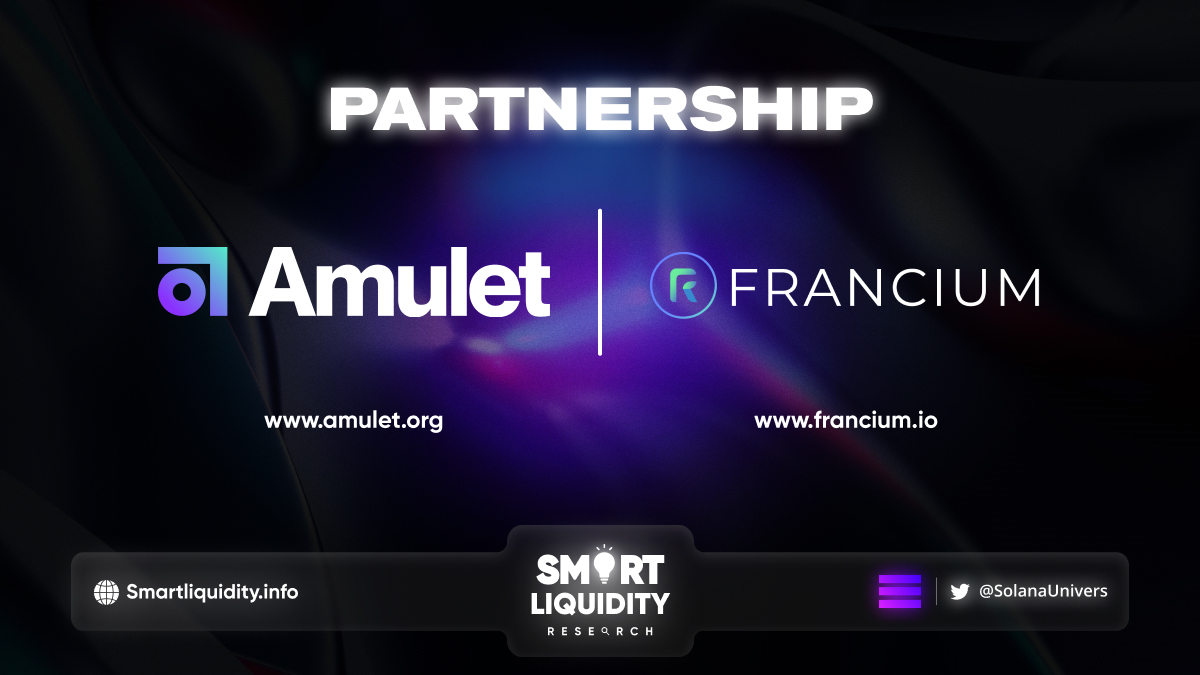 Amulet Protocol announced its long-term partnership with Francium, a DeFi Yield Strategy platform built on

Solana,

to collaborate on protecting web3 user assets. 
Long-Term Partnership
Amulet is delighted to confirm its long-term partnership with Francium, a decentralized yield aggregator, which is powered by the Solana ecosystem.
Amulet is currently BUIDLing a web3 insurance protocol offering a simple, reliable solution to protect users against any potential hacks or vulnerabilities. Indeed, Rust-based ecosystems like Solana have been growing at an extraordinary pace and Amulet's platform is being design to take advantage of this.
Amulet will initially launch on the Solana ecosystem before moving into a multi-chain solution. After being backed by Solana Ventures, proud to confirm their first official partnership with Francium, a like-minded protocol also built on Solana.
Introduction to Francium
Francium offers a variety of automated strategies for its users. These include leveraged/hedge farming, DeFi combination strategies and Smart trading strategies. The platform also offers an automation toolset for strategy builders including a DeFi automation framework, strategy dev toolset and standard SDK (Software Development Kit).
Francium and Amulet are both utilizing Solana as it is the fastest blockchain in the world. Francium also offers a guide to those new to the ecosystem and wanting to begin their Solana adventure. This guide can be access here.  https://docs.francium.io/product/how-to-defi-on-solana
Francium is an exciting DeFi platform where roles include being a Lender, Yield Farmer or Liquidator.
Lenders can earn variable, low-risk returns on assets by depositing them into lending vaults. Tese assets then become available to yield farmers looking to leverage their positions.
Yield farmers borrow assets from lending pools. While, Francium allows yield farmers to leverage up to 3x and borrow interest, and is subtract from potential returns.
Finally, Liquidators monitor the pool for underwater leveraged farming positions. This is when equity collateral becomes too low, sensing the risk of default, these bots will then liquidate.
Indeed, this partnership will focus on reducing levels of risk, increasing elements of security and collaborating on future marketing activity.
"We're really excited to confirm our first official partnership with Francium. We've known the team a while and we have always been impress by their approach to building a community-driven platform on Solana. They are always looking for additional solutions to provide their users with the highest-level of security protection and risk-reduction. We're delighted to announce this partnership as the first of many to come in preparation for our September product launch." Rupert Barksfield, Project Lead, Amulet Protocol. 
About Francium
Francium, a Decentralized Yield Strategy Aggregator built on Solana. Offering a variety of strategies for users and builders, Francium is the place where strategy meets DeFi.
About Amulet
Amulet, a decentralized insurance protocol built for the Rust-based ecosystem, starting with the Solana blockchain. Amulet has designed an innovative and open insurance model, which not only effectively addresses the common challenges of existing decentralized insurance protocols, but also creates a new paradigm shift for the whole insurance sector.
SOURCE
https://amulet.org/blog/amulet-and-francium-confirm-long-term-partnership-focused-on-digital-asset-protection/