Vision Announces Partnership with Propel!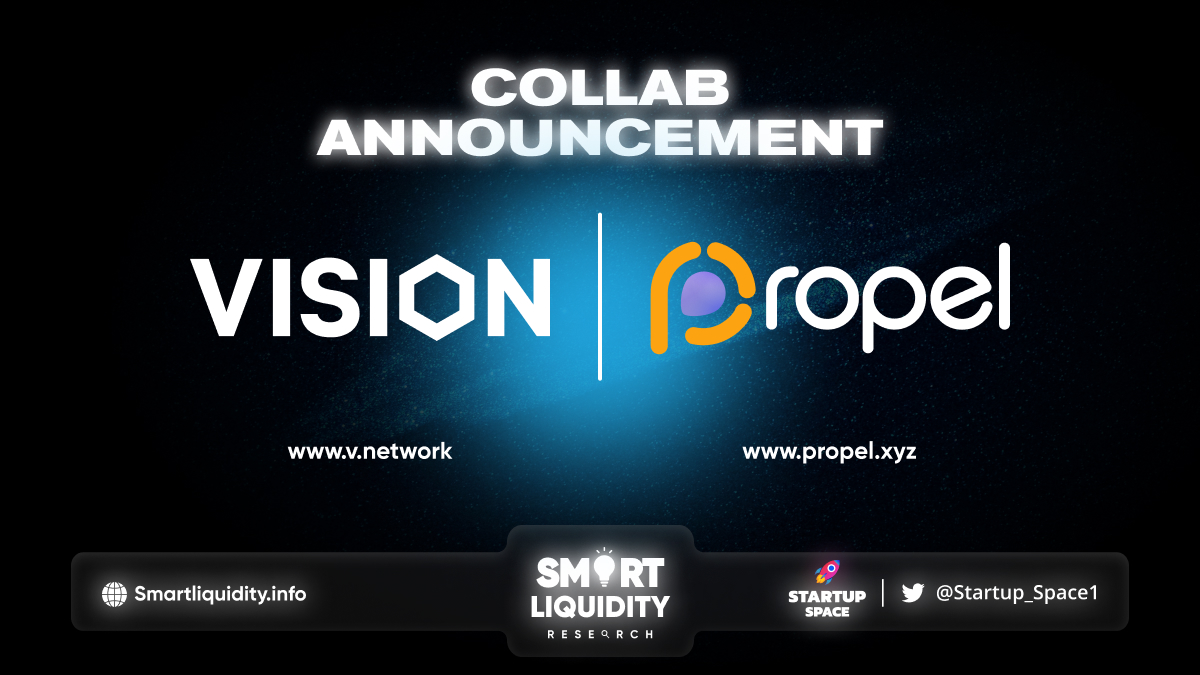 Vision is excited to announce partnership with Propel, the first-ever multi-chain blockchain Infrastructure solution provider.
Propel has invested heavily in developing and auditing independent products in three key areas of Blockchain technology to address the drawbacks mentioned above: Metaverse, Decentralised Finance (DeFi), and Launchpool.
What is Propel?
Propel delivers a one-stop tech stack for developers and companies to build on prominent blockchains such as Polkadot, Ethereum, Binance Smart Chain (BSC), Polygon, and xDAI. Propel aims to decrease the repetitive work for Blockchain projects and simplify the creation of Metaverse and DeFi projects.
Interestingly, handling Propel's tech stack requires no coding or even the coupling of smart contracts or conducting contract audits.
Within the toolkit, Propel provides three core parts:
Metaverse (Metaverse a Service):
Propel's MaaS portfolio contains four sections:
GameFi: Includes infrastructure services related to Gaming & DeFi.
NFT utilities: Includes an entirely new notion of NFT infrastructure services such as Renting NFT (re-NFT), Staking NFT (s-NFT), and Fractional NFT (f-NFT).
Core Metaverse: Includes complete, configurable, and secure ERC standard solutions.
Smart Verse Contracts: Includes smart contracts interconnected by the logic of creation and function.
DeFi Infrastructure (DeFi as a Service):
Propel's DaaS portfolio includes DeFi solutions that work across multiple Blockchains and are suitable for both new and existing projects. In real-time, we provide services like Investor Dashboard, MultiSig Wallet, Cross-chain Bridges, Staking & LP Staking, Anti- Dumpster, and more.
They also offers a one-stop shop for all smart contract needs, including vesting smart contracts, staking smart contracts, yield Farming contracts for LP tokens, and much more. All of our smart contracts have been multi-audited by experts in the field.
Propel Pool (Staking as a Service):
In addition to Metaverse and DeFi, Their pool offers a Staking platform that rewards users for staking single assets, LP tokens, and traditional tokens. Users can earn passive income and projects can increase demand for their tokens by joining the Propel pool.
Hence, Propel offers readily integrable modules for most of the widely implemented DeFi and Metaverse-related features. However, its offerings aren't limited to the ones mentioned above. As a customer-centric platform, Propel also develops tailormade products and features to suit the needs of individual clients.
About Propel
Propel is an unparalleled Blockchain Infrastructure Provider. Their Infrastructure include MaaS (Metaverse as a Service) & DaaS (DeFi as a Service) along with SaaS (Staking as a Service) ecosystem.
About Vision Metaverse
Vision is a decentralized metaverse proof-of-stake blockchain platform and home to the VS cryptocurrency powered Vision Go! Engine. It has been designed from the ground up by a team of top engineers and game designers.