Relation x Port3 Integration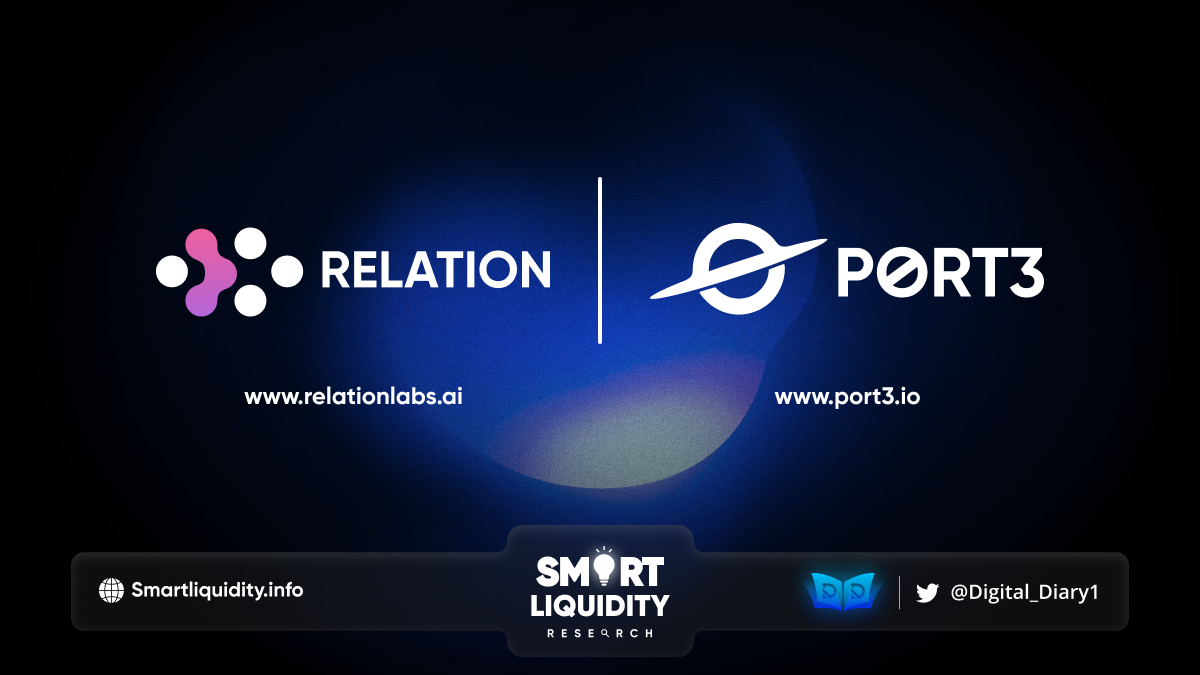 Relation is thrilled to announce that they'll partner with Port3 to accelerate the expansion of the Web3 social graph.
Social Graph is a concept brought by Web2 social networking giants. By offering basic social functions, Web2 social platforms are able to build increasingly broad and sophisticated social graphs as their core assets, while users' data is being exploited for nothing.
However, Web3, which is based on blockchain, promises to return privacy and data ownership to users. A new era of social networking is dawning.
What is Relation?
As an application entry for social graph data, Relation ONE allows Web3 users to integrate multiple public chain addresses into a unified identity by signing with crypto wallets such as Metamask, Phantom, Plug, Polkadot js, Blockto and BSC Wallet, etc. At the same time, users are able to connect their Twitter, Telegram and Discord accounts to this unified identity, implementing the mapping of real social relationships in the Web3 world.
Therefore, mass social graph data paves the way for Relation to add tags to different users and generate user portraits accurately. In this case, Relation is also capable of providing users with on-chain friend recommendation and interest-matching services. Relation users can create a personal-centered Web3 social graph based on their on-chain interaction behaviors and Follower-following relationships, and expand their first, second and even N-degree social network. While all of these features and services work on the basis that Relation fully protects users' data security and ownership.
On the other hand, Port3 aims to become the gateway to the Web3 social graph by bridging between Web2 and Web3 social data. By encouraging users to connect their Web2 social accounts, Port3 has covered 3.8 million+ users over Telegram & Discord with an average DAU of 15k. With aggregated social data across Web2 & Web3 platforms, Port3 will offer users Dao tools, SoGraph.xyz analytic dashboards and last but not least social data oracle. Port3 is seeking to unlock the full potential of social insights in the Web3 era.
Relation x Port3 Integration
Lastly, Web3 social networking brings a better solution to data ownership, data privacy and distribution of benefits. This cooperation between Relation and Port3 aims to raise users' senses of belonging to the Web3 world and lower the threshold of using Web3 products. They hope to retain more and more crypto natives in Web3 social Dapps and protocols to build and explore Web3 social data values together.
About Relation
Relation aims to explore the value of social graph data on Web3. Their vision is to provide the most powerful and rich social graph data for multiple global blockchain systems and to explore new paradigms connecting people, organizations, relationships, and behaviors — serving as the next generation social networking infrastructure in the Web3 era.
About Port3
Port3 is the gateway to Web3 social insights with Web2 social data as an add-on. Port3 has covered over 3.8 million users over Telegram & Discord with an average DAU of 15k; Dataset covering 8 L1s and most of the EVMs; Social dataset covering Twitter and expanding into other Web2 social media. Port3 is seeking to unlock the full potential of social insights in the Web3 era. There are three pillars to building the Port3 universe.
SOURCE: MEDIUM