MetaShooter and Katana Inu Partnership!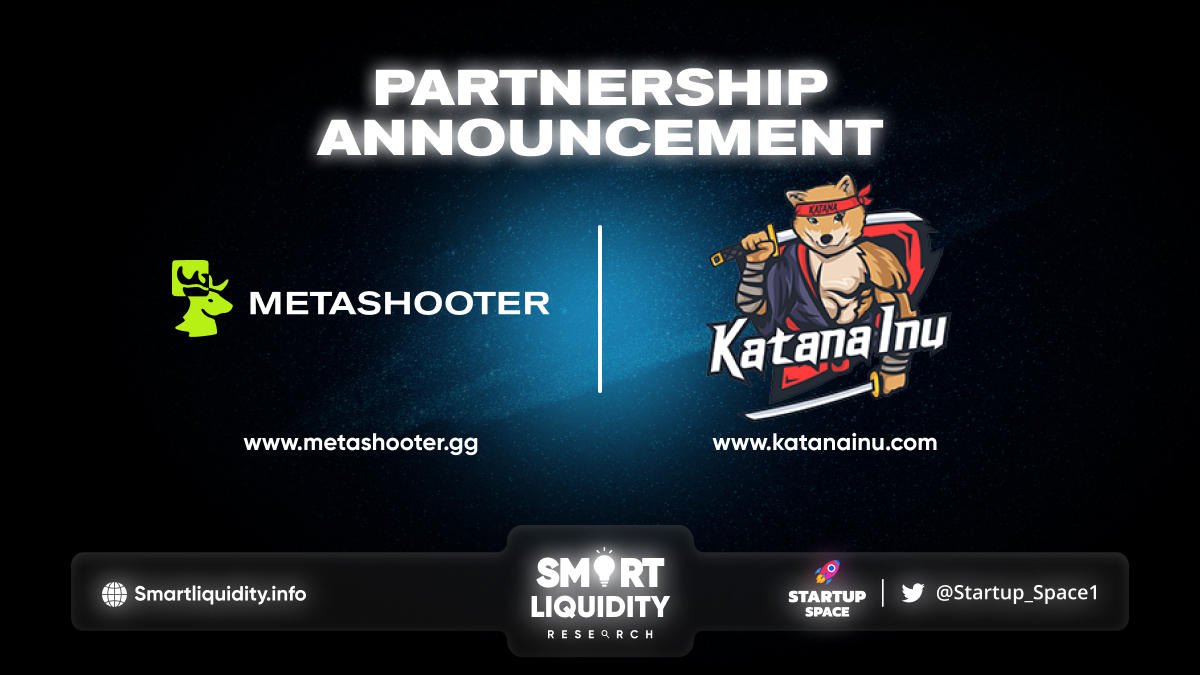 MetaShooter is ecstatic to announce partnering up with Katana Inu, a platform that provides a comprehensive ecosystem for gamers and traders that is powered by DeFi and NFT.
As a result of MetaShooter's ongoing collaboration with an increasing number of partners on a daily basis, their company is currently experiencing a growth trajectory that is completely insane.
This presents a fantastic opportunity for MetaShooter to broaden their network of partners and GameFi projects in order to acquire new knowledge and make internal improvements to their platform.
This agreement will allow both parties to broaden their exposure to new communities and accelerate their rate of growth. Both MetaShooter and Katana Inu are excited to contribute to the improvement of gaming experiences for players all over the world.
Project Overview
The fact that Katana Inu is both a game and a marketplace is one of its distinguishing characteristics.
The platform that successfully blends DeFi, NFTs, and high-quality graphical games in order to provide gamers with an experience that is both exciting and rewarding.
The game has a Play-to-Earn model that will allow players to retain full control and ownership over their in-game assets, which means developers can no longer profit off these items.
In addition, the primary goal of Katana Inu is to combine the strengths of a strong gaming platform with the advantages of DeFi, NFT, and other blockchain-based derivatives. To put it another way, the team sees the platform not only as a source of entertainment for its users, but also as a potential source of passive money for those users.
Within this marketplace, each and every player would have the opportunity to buy, sell, trade, or otherwise exchange their valued in-game goodies.
About Katana Inu
Katana Inu is a unique approach towards 3D gaming. With its primary focus set towards integrating play-to-earn utility into normal PC Games.
About MetaShooter
MetaShooter is the first decentralised blockchain-based hunting metaverse that joins millions of gaming enthusiasts in a community where they can experience realistic hunting and develop many activities with wide monetization opportunities.
MetaShooter enters the Metaverse gaming market by giving new ways of hunting and putting its players first. Players can create their own hunter and prepare to enter huge hunting industry:
Experience real hunting, play in tournaments, multiplayer with stunning visuals with VR compatibility.
Hunt & Earn, receive token rewards by hunting trophies, winning tournaments, and more.
Customise & Upgrade hunting equipment by making their hunter unique.
Develop, buy hunting lands, build towers, breed NFT dogs, and earn passive income.
Explore the open World, hunt anywhere they want, experience various environments, animals, stunning visuals and realistic dynamics.
Experience exciting, RNG technology powered gameplay with logical utilisation of each NFT asset.
SOURCE
https://medium.com/@metashooter/we-are-pleased-to-announce-our-partnership-with-katana-inu-d3e15ae8d494