SafeProof Announces Partnership with Padmon!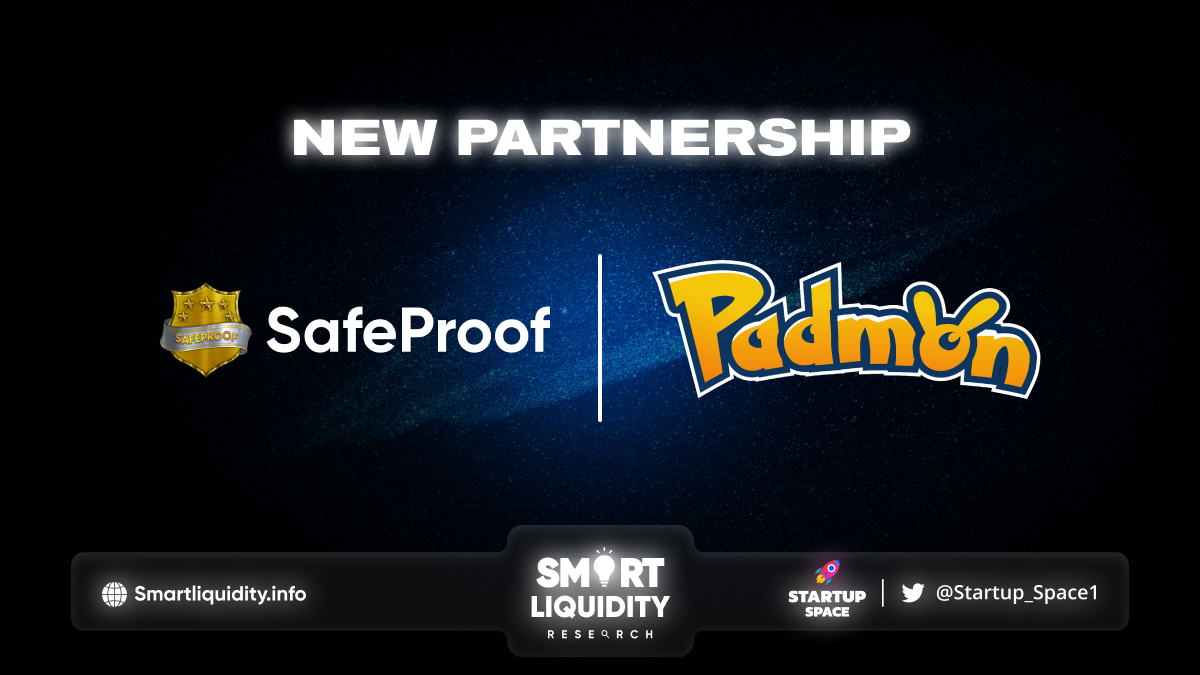 SafeProof is extremely delighted to announce new partnership with Padmon.
What is Padmon?
Padmon, of course is a multi-chain launchpad!
Padmon are creating a unique dynamic to the opportunities they (and other launchpads) provide. With so much uncertainty around the world of crypto, investing early on in new projects is of course a high risk investment. In a sense, all crypto investments are high risk considering the lack of centralized oversight and the extremely limited timeline project teams have to demonstrate their efficacy over an extended period of time.
They aim, along with providing opportunities to invest in some of these projects that they ascertain to be of high quality to bring to their community, is to also provide additional perspective to approaching these investments through educating those actively engaged in their community!
They will also be bringing about discussion of personal security — regarding how to keep your assets and funds as safe as possible while navigating the world of defi crypto investing.
This creates a community of healthy investors, which also means providing projects that we host with a healthier dynamic of early investors to likely better assist in the sustainability of their native token/coin in its early life on the live market!
There are of course also stipulations that we will insist upon for incoming projects
IDO/IGO project teams will be required to lock their liquidity added at the launch of their native token with a trusted 3rd party as well as provide contract audits. Teams will also at minimum be KYC'd, doxxed, and/or required to provide demonstrable commitment to the longevity of their project to our team.
Their Tier System
Padmon has developed a system which requires users to hold a certain amount of PDM in order to participate in our IDOs/IGOs.
Padmon's Tokenomics
Total Supply: 100,000,000
Liquidity: 25% (locked)
Public IDO: 45% (20% at TGE, 20% per month following 4 months)
Ecosystem: 10%
Team: 10% (locked)
Reserve Supply: 5% (locked)
Airdrop: 5% (To be dropped in small intervals as rewards for active participation)
Token Taxes
3% AMM
2% Marketing
(5% slippage)
PDM available to be traded on KnightSwap and PancakeSwap
About Padmon
Padmon is a multi-chain launchpad with a mission to provide up-and-coming crypto projects and Game-Fi platforms to their community of discerning investors.
About SafeProof
SafeProof is a company that specializes in security, such as identity verification KNOW YOUR CUSTOMER (KYC) of crypto project owners and smart contract audits, which aims to provide a sense of security for investors in investing to know the progress of project owners and avoid individuals who are not responsible for committing criminal acts, because considering the many frauds in this case that result in personal losses.
Why does your project need KYC Verification?
Know your customer (KYC) is a process of verifying them identity of the project team (Developer). SafeProof verifies the identity of team's project in order to make safe in the cryptocurrency.
In the blockchain technology nowadays, financial institutions are increasingly vulnerable to illegal criminals. Know your customer (KYC) is designed to protect investors and financial institutions from fraud in the cryptocurrency.
SOURCE
https://medium.com/@safeproofofficial/safeproof-partnership-with-padmon-43927f162584