ArcadeLand and Metashooter Partnership!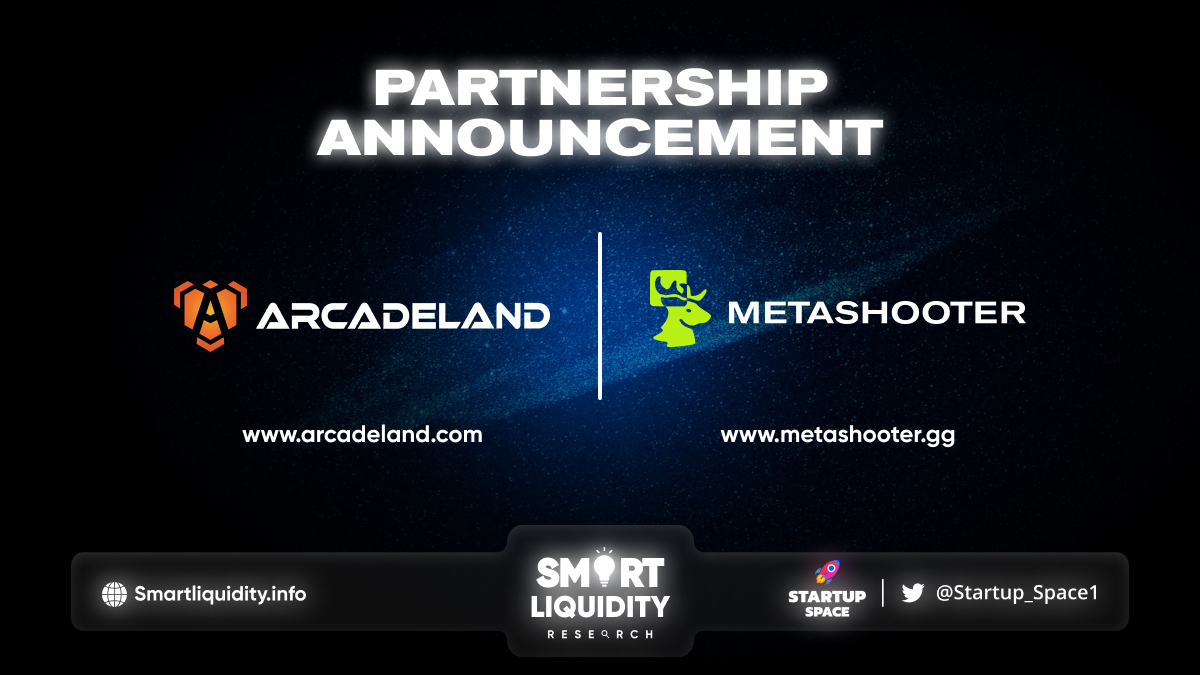 ArcadeLand has announced partnership With MetaShooter To Bring Hunting Game To Its Metaverse.
ArcadeLand is proud to announce an exciting partnership with MetaShooter to bring its players back to their primal roots in an exciting, realistic, and VR-compatible hunting game.
MetaShooter — Hunt for Glory, Survival, and Riches
Sharpen your senses and steady your weapon in the MetaShooter Metaverse, where you'll undergo realistic hunting in the open world and develop many activities with monetization opportunities.
MetaShooter is built on Unreal Engine using Nvidia and SpeedTree assets to achieve sharp dynamics and graphics. Experience the full range of the hunter lifestyle, hunt with the most basic equipment, or gear up to the max by buying, building, and assembling infrastructure alongside customizable NFT-powered weaponry.
MetaShooter allows you to use creativity to maximize your hunting skills and capabilities. Its expansive marketplace and equipment forging features will enable you to purchase off-the-shelf weapons and assemble your own for more reliable shots.
In addition, you'll get to breed NFT hunting dogs to assist you in your hunting and sell them on the marketplace for profit. Use the marketplace to purchase equipment, weapons, and materials, sell them or even rent your assets such as hunting towers or acquired lands to generate passive income.
MetaShooter will soon host a Mystery Box INO where the participants will get to reveal a bunch of unique in-game NFT assets of different rarities, ranging from weapons to skins to whitelist tickets and more, so make sure not to miss out!
Bringing Game Hunting to the ArcadeLand Metaverse
Brace yourselves, ArcadeLand citizens, for the time to unleash your most ancient hunting instincts is here! From now on, visitors of the ArcadeLand Metaverse will access the exciting world of MetaShooter without leaving the ArcadeLand platform, and players of MetaShooter can enjoy all of the fantastic benefits and features of ArcadeLand as well.
Players can now access MetaShooter and hundreds of other games through the ArcadeLand portal. ArcadeLand will serve as a fully interactive HQ for MetaShooter. Experienced and new players will stay up-to-date with the latest promotions, game tournaments, promotions, and upcoming events!
The ArcadeLand platform helps onboard large masses of new gamers by making Web3 gaming accessible to everyone.
About MetaShooter
MetaShooter enters the Metaverse gaming market by giving new ways of hunting and putting its players first. Players can create their own hunter and prepare to enter huge hunting industry:
Experience real hunting, play in tournaments, multiplayer with stunning visuals with VR compatibility.
Hunt & Earn, receive token rewards by hunting trophies, winning tournaments, and more.
Customise & Upgrade hunting equipment by making their hunter unique.
Develop, buy hunting lands, build towers, breed NFT dogs, and earn passive income.
Explore the open World, hunt anywhere they want, and experience various environments, animals, stunning visuals and realistic dynamics.
Experience exciting, RNG technology-powered gameplay with logical utilisation of each NFT asset.
About ArcadeLand
ArcadeLand is building the ultimate gaming Metaverse.
SOURCE
https://medium.com/@playarcadeland/arcadeland-partners-with-metashooter-to-bring-hunting-game-to-its-metaverse-77a60f142f99