Notifi Integration with Sharky.fi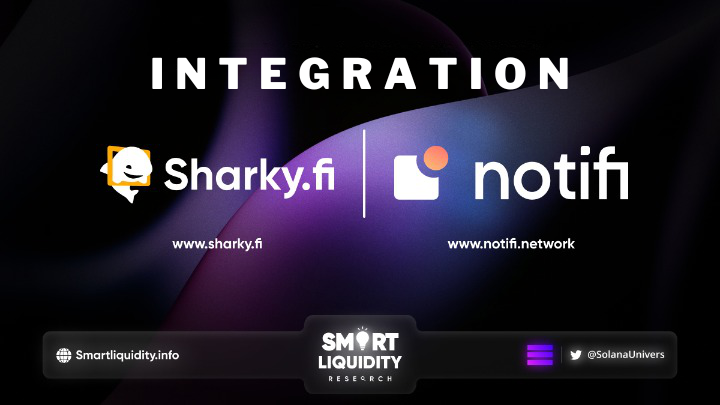 Notifi, embed notifications and messaging into decentralized applications, announced its integration with Sharky.fi, first Escrow-less NFT lending protocol.
Notifi Network is pleased to announce its integration with Sharky.fi, a decentralized NFT lending protocol built on Solana. Moreover, Sharky launched an escrow-less NFT platform where you can make money as a lender and get money as a borrower. Indeed, users can lend $SOL to earn a high APY and borrow $SOL against their NFTs. This is a game-changer for the NFT community. In other words, the addition of Notifi, a web3 messaging layer, allows all Sharky users to opt-in to receive real-time alerts for wallet transaction information.
Sharky's Lender & Borrower Experience
Sharky has simplified the process for borrowers and lenders for NFT-backed loans. Borrowers can use any NFTs they are holding long-term as collateral for a loan while the NFT remains safely in their wallets. This provides instant liquidity and a way for long-term holders to invest in other ways. Lenders are able to set their loan offer amount. And are either repay, with interest, or able to acquire a discounted NFT through foreclosure.
One big feature that sets Sharky apart is that borrowers continue to participate in DAO governance voting, air-drops, VIP event access and all the ancillary utility benefits of their NFT during the loan repayment period.
"The team at Sharky.fi is bridging the gap between DeFi and NFTs with their innovative platform and lowering the entry barrier where anyone can get involved. Providing the web3 messaging layer allows the community to stay informed on their medium of choice from email, SMS or telegram. We look forward to adding customized alerts as the Sharky.fi platform evolves." Paul Kim, CEO of Notifi.
Notifi and Sharky.fi Integration 
Due to the short-term nature of Sharky loans (2 weeks or less), partnering with Notifi's alert features helps ensure nothing is overlook for both lenders and borrowers. Moreover, Notifi provides real-time updates on loan status through email, SMS, or telegram. Hence, with these notifications, Sharky users can now set real-time push alerts. For when the borrower has repaid the loan or even when the loan has defaulted, and you can take ownership of their collateral!
Indeed, Sharky has been partnering with with some of the hottest NFT projects on Solana. Such as Solana Monkey Business, Cardinal Labs, Atadia, and recently adding Notifi's community NFT, Notifish.
"At Sharky.fi, creating a positive user experience is of utmost importance. We are thrill to share that we have partnered with Notifi to provide real-time alerts through SMS, email, or telegram. This is an awesome feature that helps make sure loans get repaid in time by borrowers and that lenders don't miss investment opportunities*" — Anton, Founder, Sharky.fi*
Indeed, Notifi simplifies communication across all web3 messaging channels. With simple APIs for easy integration and is customizable for dApps and web3 applications. Notifi is committed to partnering with projects like Sharky.fi to provide custom alerts per community, a layer of transparency with real-time updates, and engage with the web3 community through offering new messaging features and tools.
Sharky.fi is the first escrow-less NFT lending protocol and was released on Solana in April of 2022. Sharky connects NFT Holders with Lenders. Anyone can make a loan offer for NFTs in a collection and NFT holders can "left-click-borrow" to receive cash instantly. Users can lend $SOL to earn a high APY and borrow $SOL against their NFTs as collateral instantly. The platform provides a mutually beneficial arrangement for the borrowers and lenders.
About Notifi
Notifi is Twilio for Web3. Notifi simplifies communication across all Web3 messaging channels. The Notifi platform is design with simple APIs for easy integration, customizable, and advanced features for dApps and Web3 applications. Notifi empowers developers to better engage with their users via multichannel communications.
SOURCE
https://medium.com/notifi/notifi-powers-alerts-for-nft-lending-platform-sharky-fi-dfae0624869a