Gamerse New Cooperation with Fight Legends!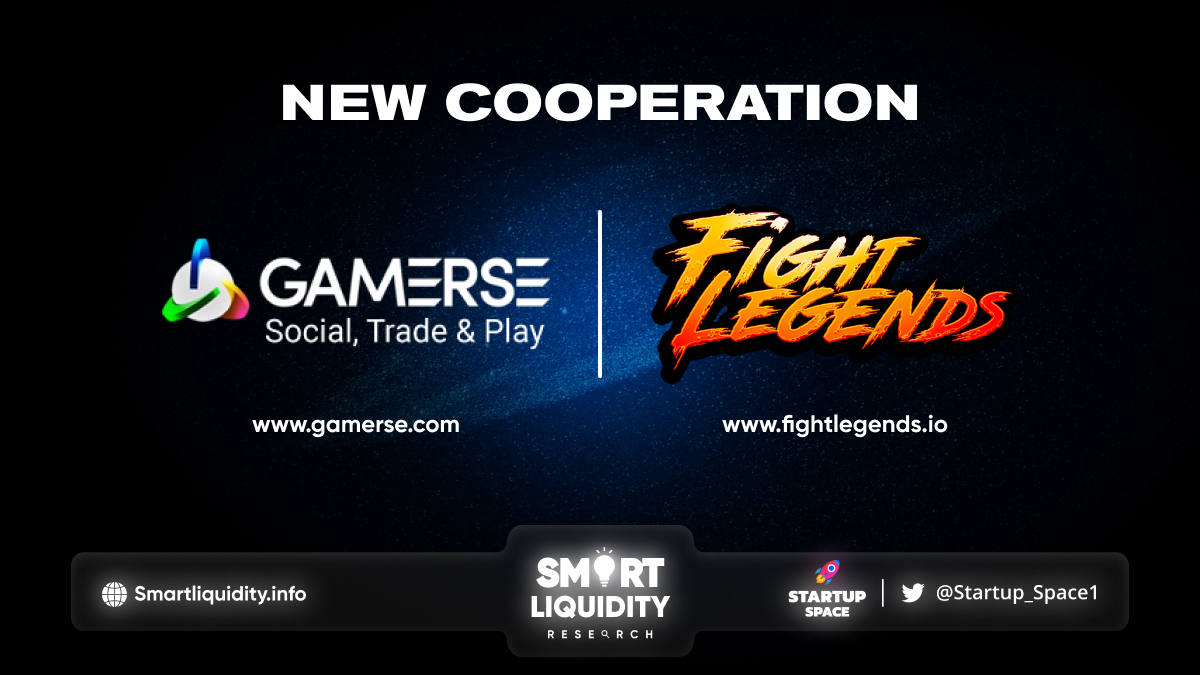 Gamerse is proud and delighted to announce its newest partnership with Fight Legends.
The mission of Gamerse is to unify the fragmented blockchain gaming space by creating a community-driven social ecosystem and their partnership with Fight Legends brings them one step closer!
Fight Legends is 2.5D fighting game where players fight for fame and fortune across an MMO virtual world.
Fight Legends introduces elements never before seen in AAA level fighting games, from fighter levelling and rarities, player owned gyms and trainer mechanisms, to metaverse style stadiums filled with thousands of other players watching ranked matches re-rendered live in the centre of the arena.
Integrating blockchain tech through NFT assets and a tokenised economy is a given, but Fight Legends is also built on the understanding that Web3 gaming is as much about the community as it is about tech.
Fight legends are creating the ultimate social space for fighting game players and fans, merging IRL experiences with digital experiences and creating an opportunity for players to grow communities.
Gamerse is excited to be working with the talented team behind Fight Legends to amplify this social element.
Gamerse features
Social Media – Gamerse brings social media to NFT gaming. Post content, like, comment, share, create groups and chat with friends.
Share-To-Earn – Stake your $LFG in your favorite games official groups to receive APY based on your interactions.
Aggregator Marketplace – You can find any popular gaming NFTs on Gamerse cross-chain marketplace.
NFT Swipe Swap – Tinder for NFTs. Swipe Swap will recommend your NFTs based on your interests.
Find New Friends – it is the first NFT gaming platform that helps players look for groups and build better community.
LFG Lottery – Earn a chance to win prizes just for using the platform.
MyGamerse Profile – Show off your collection, your avatr and your friends.
Avatar Merch – You can unlock more powerful avatars based on your activity on the platform.
What Gamerse communities can look forward to…
Integration of Fight Legends into our Social Aggregator Marketplace
G a m e r s e  NFT  SAM currently in its beta phase of development is a cross-chain, cross-platform social hub that curates, displays and facilitates all gaming NFTs and their transactions to provide a true-one-stop-shop for blockchain gamers.Gamerse is excited to be welcoming Fight Legends into its ecosystem as they continue to build and grow.
Fight Legends X Gamerse Fight tournaments
Integration of Gamerse in Fight Legends virtual world
Fight Legends X Gamerse Exclusive giveaways!
Cross-community AMAs and Twitter Spaces
Feature Fight Legends in our upcoming "Game Of The Week" series
About Fight Legends
The Fight Legends team looks towards creating the next blockbuster fighting game with esports competition in mind. Their aspirations towards building an AAA-level game are what first sets us apart from others in the NFT gaming industry.
Such an undertaking used to be impossible for independent studios, but today with the fundraising capabilities of the crypto and NFTs this is a realistic and achievable goal.
Fight Legends is focused on building a free-to-play competitive fighting game with PVP & eSports at the forefront of development and design decisions.
About Gamerse
Gamerse is unifying the fragmented NFT gaming community through its cross-chain, cross-domain and cross-verse solutions to create the first-ever NFT gaming social ecosystem.
SOURCE 
https://gamerse.medium.com/gamerse-is-proud-to-have-fight-legends-in-our-corner-b86eabca2aaa