Sportzchain NFTO (NFT Offering) on Genpad!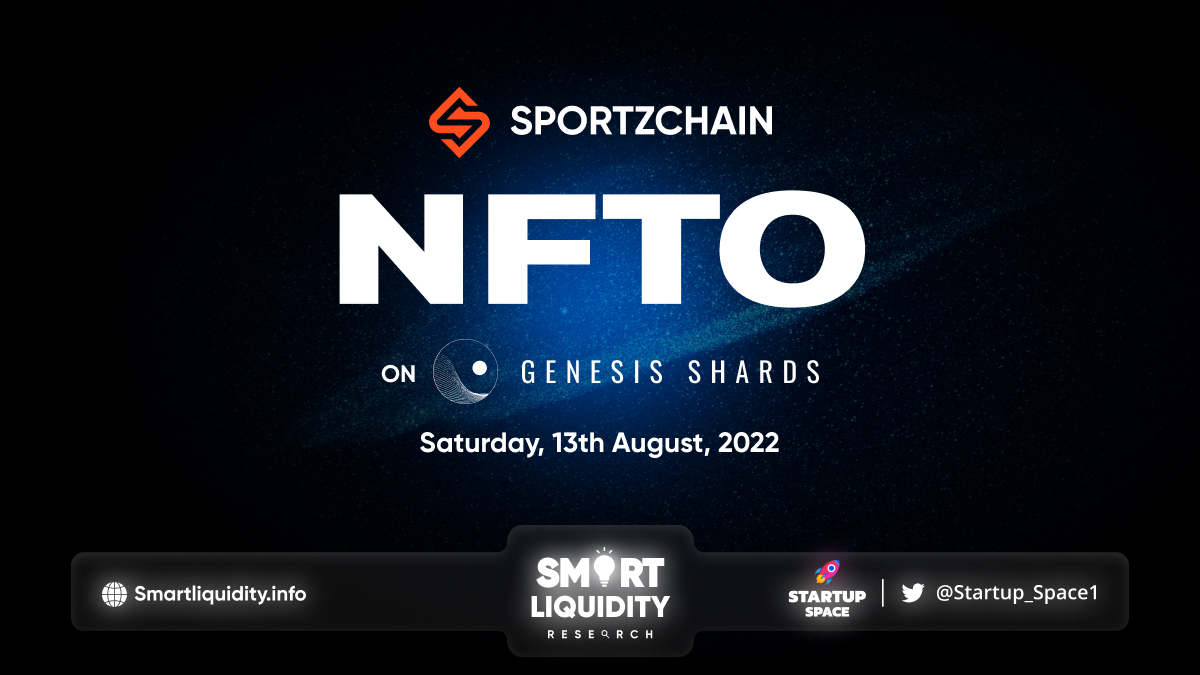 Genesis Shards is excited to announce that, The world's first engage-to-earn (E2E) platform for sports fans — Sportzchain NFTO lands on Genpad!
Whitelists are now live!
Genesis Shards js excited to launch the whitelist process for Sportzchain.
👉Link to the GS Research Report on Sportzchain: https://docsend.com/view/5xxwiv62sx66nyqy
Whitelist Process — Summary & Form Link
Whitelist process is now live for both Access Club members and Open Community.
Process will end at 1:00pm UTC on Thursday, 11 August 2022.
For Access Clubs
Whitelist forms are available on https://www.app.genshards.com/market [please connect your wallet on the Polygon(MATIC) Chain for this project]
👉Applications are gamified for Access Club members — you can apply in your Access Club (for higher allocation) or a lower tier Club than yours (for higher odds but lower allocation) [ more on this HERE ]
For Open Community
Some whitelist spots are open to the community — please fill in this form to be eligible : https://forms.gle/W2yWSqypH6RosGvB9
Two types of Whitelists
Note that allocation will be through 2 two types of whitelists — guaranteed & FCFS.
Guaranteed — you will get a 2-hour window once the sale starts (time to be notified by team), with a guaranteed allocation (Some access club allocations and all open community whitelists are guaranteed)
FCFS — you will be able to take part in the sale after this 2-hour window, on an FCFS basis.
IMPORTANT NOTE — GS Token snapshots requirement (For Access Club members) : 2 separate token snapshots will be taken at any point till the launch. You need to have sufficient number of tokens staked in either an Access Pool or Liquidity Pool to be part of a Gen Access Club, during both snapshots. Just holding the tokens in your wallet will NOT make you eligible for an Access Club.
Introducing Sportzchain
Sportzchain is the world's first engage-to-earn (E2E) platform for sports fans powered by sports tokens (fan token 2.0), watch 2 earn, fan commerce and gamefi 🎮
It is a sports fan-centric platform or a "digital world for fans" where the aim is to provide a 360-degree engagement approach for sports fans to engage and earn, all powered by the native asset $SPN 💻
It is poised to capture the Asian sports fan market which holds more than 3.5 billion fans by rewarding them for their fan engagement.
Key Features
Amazing rewards potential
Simple and Intuitive interface
Transparent and Decentralized engagement
Holistic engagement activities
Seamless in-platform experience
Key Token Metrics
About Sportzchain
Sportzchain is a web3 platform for fans to influence and engage with their teams.
About Genesis Shards
By wrapping time-locked fungible tokens into NFTs, Genesis Shards is creating a new marketplace for previously illiquid tokens.
SOURCE
https://genesis-shards.medium.com/the-worlds-first-engage-to-earn-e2e-platform-for-sports-fans-sportzchain-lands-on-genpad-ce86e73102a9