OKLG Collaborates with Mazer Gaming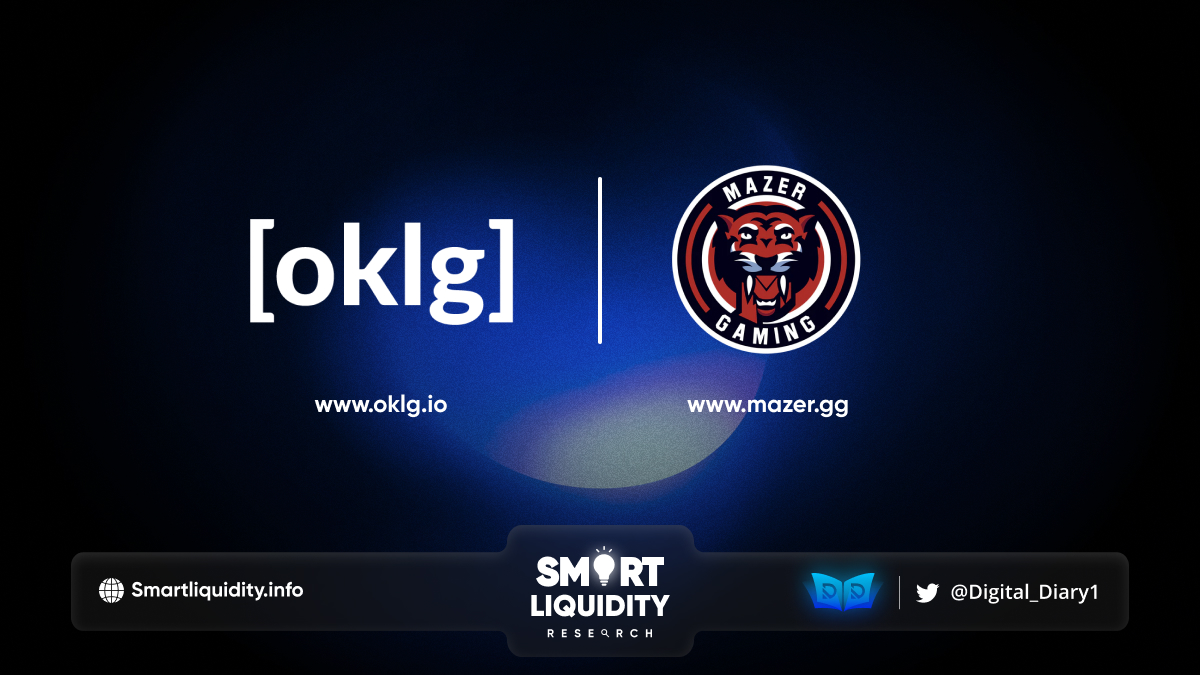 OKLG is elated to announce a collaboration with Mazer Gaming, a professional esports and entertainment organization.
OKLG isn't just about creating excitement; it seeks to build a sustainable ecosystem. That said, the team at OKLG is constantly looking forward to partnering with businesses who have similar objectives. From all indications, Mazer Gaming seems to fit in. A little about Mazer.
To begin with, Mazer started out in 2014 as a content creation group focused on games like Call of Duty but later transitioned into the E-Sports scene in 2016. It is a team of over 70 people, including professional E-Sport players, streamers, creators, and managers. For most sports enthusiasts, they need not be told that Mazer hosts lots of gaming tournaments worldwide. For the benefit of those who don't know, they have hosted Super Smash Bros, Mario Kart, Apex Legends, and Warzone. In fact, they have successfully had thousands compete in tournaments at one time.
Partnership Hightlights: 
Now, it becomes clear that one of the reasons OKLG chose Mazer is because they agree on sustainability. As OKLG is always looking out for the interest of its community members, it makes sense that they'd collaborate with brands that make sense for its holders. Mazer is well-known for a number of things, including their dedication to educating people about cryptocurrencies and the charitable contributions they make through tournaments.
Being a parent project of an actual gaming project in Smolting Inu, one of the things they know that will come out of this partnership is that it will put OKLG in front of new eyes. This is where Mazer's commitment to crypto education will come to play.  Through $OKLG, it will be a chance to introduce more people to cryptocurrency and put them in front of investors who are knowledgeable about it. Another peck is that Mazer's popularity will rub off on OKLG. And this can't be quantified. Fact is, it's a no-brainer. Already, Mazer gets around 25,000 clicks per month, with 25M impressions
For lovers of details, it is vital to categorically spell out the scope of the partnership. The $OKLG logo and description appearing on the Mazer Gaming website shouldn't come as a surprise to you. They will be featured alongside Gala Games and GMR Center, among others. Community members should also expect to see occasional retweets on Mazer's Twitter, which boasts a following of 13.2k. This will be in addition to one monthly tweet from an actual Mazer Gaming Player/Streamer.
About Mazer Gaming
Mazer Gaming is a professional esports and entertainment organization. Their goal at Mazer Gaming is to create championship winning teams and produce entertaining content for their fans.
About OKLG
ok.let's.go. is a blockchain tech solutions provider that specializes in next-gen dApp building. Mazer Gaming is home to the Mazer Gaming Gives Back Tournament Series, a monthly crypto-infused esports event across a huge variety of game titles. The goal of this series is to raise money for charity throughout the stream.
SOURCE: OKLG BLOG