MusicVerse New Collaboration with Luxpad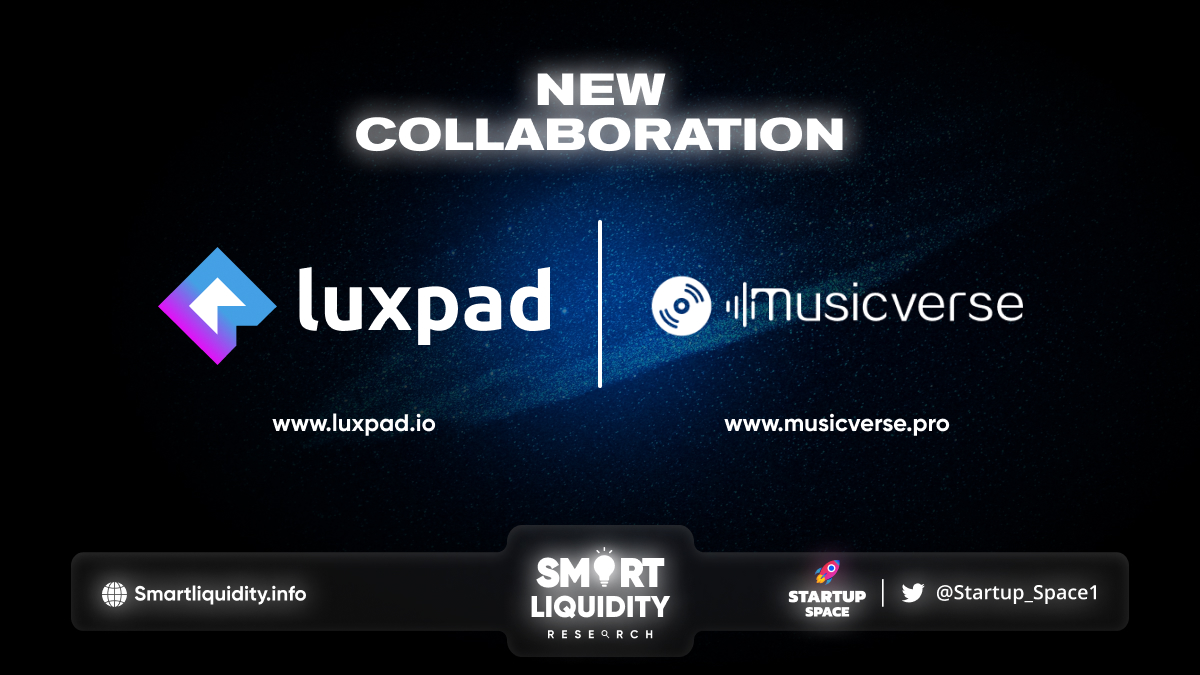 MusicVerse has announced a new collaboration with Luxpad, fully decentralized, self-served process creating a launchpad with multi-chain.
Project Introduction (Luxpad)
Luxpad is not only a platform where you can list your project to raise safe funds from the investor but where you can create a staking platform without worrying about coding the platform they provide you a hassle-free platform with only clicking and providing information with your NFT staking this is fully decentralized the ownership of the contract NFT staking is your same as with the launchpad presale and fair-launch.
Why Luxpad?
Providing a safe way of a presale, creating token, and NFT staking is their priority in all developer's project and investors luxpad make sure each user who use the platform a satisfaction decentralized protocol thwy do not own the contract you are the owner and you have access for it. aside from being safe for launching a project, they are the CHEAPEST SERVICE FEE.
Luxpad Token(LXPD) Use-cases
Luxpad Token(LXPD) will be used for the ecosystem of the Luxpad platform
The following use-case below are the future for LUXPAD
Payment for service fee – fair launch, launchpad, creating a token, creating NFT staking contract, and creating NFT in NFT Marketplace.
Stake and earn LXPD
Stake to become eligible for airdrop tokens from other project
Use for vote in the LUXPAD DAO
Use to buy NFT's in our marketplace
Add in liquidity and earn in FARM
Marketing plan
Luxpad's marketing plan is to expand and more exposure to the community in crypto and provide a better and safe place where you can invest and earn more profit from it. The all-in-one safe platform.
List for marketing:
Community airdrop task
NFT artist/creator
Testnet incentivize
Twitter/influencer giveaway
Centralized Listing ( MEXC, KUCOIN, GATE.IO )
High liquidity and locked forever(burn LP) 90% total sale from IDO
Chinese community ads/influencer
Targeting start-up project community to list in Luxpad
Supporting Startup project with a solid plan and use case via Lux-Invest
Institution partnership
MusicVerse Overview
https://www.youtube.com/watch?v=vVXQdF6NijY
Introduction 
Developed in the Unity Engine, the MusicVerse Metaverse is a Live-house made up of 21 rooms, to pay recognition to 21 million Bitcoin. MusicVerse contains everything that anyone will ever need to know about Music, Cryptocurrency and NFTs.
Visitors will engage in basic or advanced learning from some of the world learning minds in the industry, listen to music, dance, communicate with friends, earn revenue, play games with friends, build networks and much more.
Think of MusicVerse as a big Music-House, where instead of just retail, each room has a different project, singers, concerts, exchange, influencer or crypto brand showcasing their content and key messages.
Who will visit?
MusicVerse welcomes all levels of crypto experience and music lovers who don't know crypto. MVers', holders of the native token of MusicVerse – $MV, will have access to music concerts, crypto information and immersive content all in one place.
MusicVerse 's mission is to focus on giving the world a music platform which contains everything anyone would ever need to know about music, cryptocurrency and NFTs, and actively encourages the idea of mass adoption.
What can they see?
First of all, a user must create an avatar. Once an avatar is created, it will spawn inside MusicVerse.
Music & Dancing: MVers can listen to their favorite songs and control their avatars to dance with flows and friends.
Concerts & NFTs: They have planned lots of concerts with famous singers in the future. MVers can mint NFT tickets to join and give $MV gifts to favorite singers.
Games: They developed several games in MusicVerse that MVers can use $MV to play. Like: Lucky Spins, Arcade games, Casino games, …
Socials: MVers can communicate and voice with others in real time. Meet new friends at MusicVerse.
About Luxpad
Luxpad is a decentralized self-served launchpad platform, create your own customized IDO Launchpad, Token, NFT, Staking contract and launch on any blockchain inside in Luxpad platform with cheapest service fee.
About MusicVerse
MusicVerse is the first web3 music platform with metaverse & social elements. Redefine the music industry. They have built a vast music Metaverse where you can travel freely. You can communicate, listen & dance with others in real time!
SOURCE: https://twitter.com/MusicVerse_BSC/status/1564900309175918592