Gamerse and PlaceWar Collaboration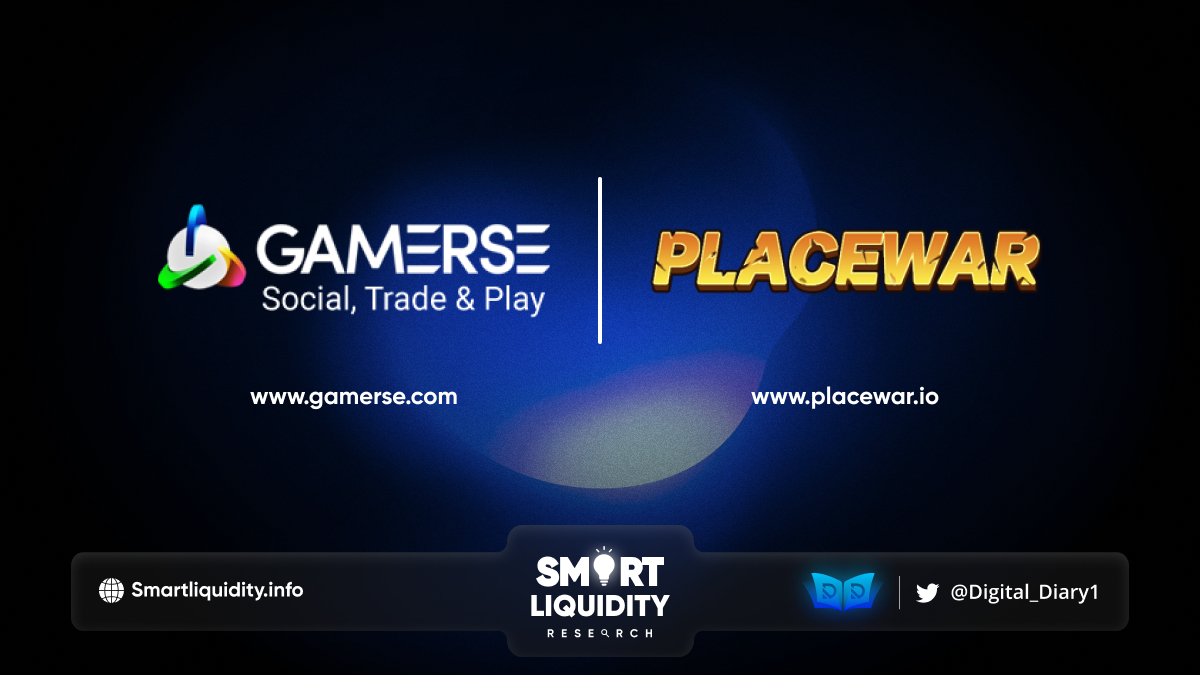 Gamerse has announced its collaboration with PlaceWar, a decentralized strategic play-to-earn game universe deployed on a multi-chain with highly engaging artillery gameplay.
PlaceWar is set to become a gamified Internet culture metaverse, and an open world for gamers and design enthusiasts, not just limited to the crypto space. PlaceWar allows gamers to not only enjoy the gameplay but also indulge their creativity, with a sustainable and lucrative Play-To-Earn mechanism to support. Players participate in content generation through Pixel system. Inheriting the spirit of r/place, players are empowered to show their own design through Pixel phalanx.
They will also be authorised to customise designs of tanks, defenders, buildings, maps, or even game modes. PlaceWar will encourage the community to develop handy tools and SDKs to assist that purpose. Through PlaceDAO, players are able to vote on proposals they support, winners of creator campaigns, admission of new tank model designs, or even the rules of a new season.
The PlaceWar project brings together a team who are both prominent and experienced in the game development industry as well as blockchain technology. The PlaceWar team is led by Myrtle Ramos, founder of Block Tides, a leading and award-winning blockchain PR firm based in Singapore under the leg of Asia Token Fund. She is an official influencer of Coinmarketcap and VP of GokuMarket. The core game developers are from Mega Game Studio, a leading mobile gaming studio based in Philippines and Taiwan.
What their communities can look forward to…
Integration of PlaceWar into their Social Aggregator Marketplace


Gamerse NFT SAM currently in its beta phase of development is a cross-chain, cross-platform social hub that curates, displays and facilitates all gaming NFTs and their transactions to provide a true-one-stop-shop for blockchain gamers. They're excited to welcome PlaceWar into their ecosystem as they continue to build and grow! Gamers will be able to directly launch the PlaceWar game and learn more by clicking on their socials and community links displayed in the profile section of their gaming page. Their communities can also look forward to PlaceWar Featured Drops and exclusive INOs on their platform.
2. PlaceWar X Gamerse Exclusive giveaways!
Stay tuned for more details on an exciting PlaceWar Giveaway for their Community!
3. Gamerse X PlaceWar Cross-community AMAs
4. Feature PlaceWar their upcoming "Game of The Week" series
They look forward to its collaboration with the PlaceWar team. To accomplish their shared mission of bridging the gap between the masses and blockchain gaming!
About PlaceWar
PlaceWar is a decentralized strategic play-to-earn game universe deployed on a multi-chain with highly engaging artillery gameplay that allows players to create and define the outlook of the in-game world through building, battles, and alliances.
Website | Twitter
About Gamerse
Gamerse is unifying the fragmented NFT gaming community through its cross-chain, cross-domain and cross-verse solutions. To create the first-ever NFT gaming social ecosystem. Gamers will be able to explore popular NFT games, receive exclusive drops and trade in-game NFT assets. From skins to land and collectibles, all aggregated in a single social marketplace.
SOURCE: MEDIUM