MarsPad New Collaboration with WARP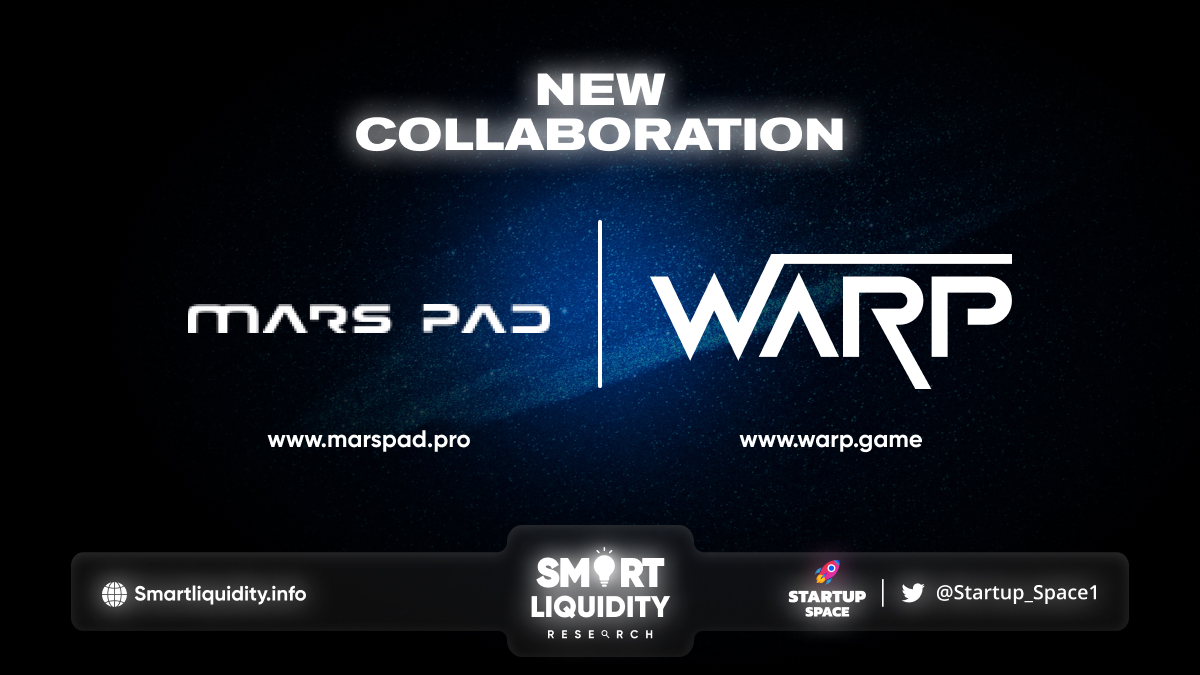 MarsPad has announced a new collaboration with WARP, a GameFi protocol featuring NFT starships, multiplayer online Arcade game, and NFT Battle Arena!
Project Introduction
What is Warp?
WARP Season 2
What makes WARP unique?
Travel to multiple staking pools via unique Starship NFTs
Build starship NFTs by buying parts using DAI and assemble those starships in the Starship Factory
Multichain integration allows you to send your NFT starships between chains where WARP has been launched
Built-in NFT marketplace allows you to buy, list, and sell both NFT starships and the parts that create them to other users
Multiplayer battle royale game available free for all starship captains
Turn-based blockchain battle arena where you can list and fight other listed starships
Seasonal deployment release schedule drops huge features and new economic opportunities all in one go
Fair launch – no early IDOs, Presales, IEOs, or influencers paid with WARP. Same chances to be a starship Captain for everyone.
Powerful and unique WEB3 user interface
All contracts, code, UI, and development done in-house with no third party vendors, meaning ultimate security and stability.
So what are you waiting for? The stars are calling.
How do I buy WARP?
Warp is live on Sushiswap on the Polygon network and on Spookyswap on the Fantom network. Be sure to only use the contract address listed on the Gitbook, Discord, and website. You must create your bonds, buy your parts, build your starships, fight in battles, and travel between planets only on the official WARP web3 app available at ​
What Network is WARP on?
WARP is currently live on the Polygon network and on the Fantom network. WARP will also arrive on Avalanche, Metis, BSC, and even Ethereum!
Find more details on their Whitepaper.
About MARS PAD
Mars Pad is a decentralized multi-chain fundraising platform enabling projects to raise capital and promise safety to early stage investors.
MarsPad is a Launchpad Protocol for Everyone! We helps project owners to create their own token sales conveniently. Everyone could find their fav on MarsPad.
Marspad is an early #1 C2C Launchpool in the upcoming cypto innovation. No need for VCs nor Backers, Everyone could start your adventure with your innovative project and community.
Find the next Gem or Create your Pools now on Marspad.
About WARP
WARP combines the best elements of blockchain and gaming into a single, all-encompassing package, including GameFi, NFTs, DeFi, multichain integration, and passive income generation, all wrapped in a sci-fi multiverse. Battle or race your NFT starships against players from every connected blockchain, go on expeditions for prizes, and enjoy their Galactic Club mini games!
SOURCE: https://twitter.com/MarspadPro/status/1571858066643255296