Dapp Play Store Partners with MetaOasis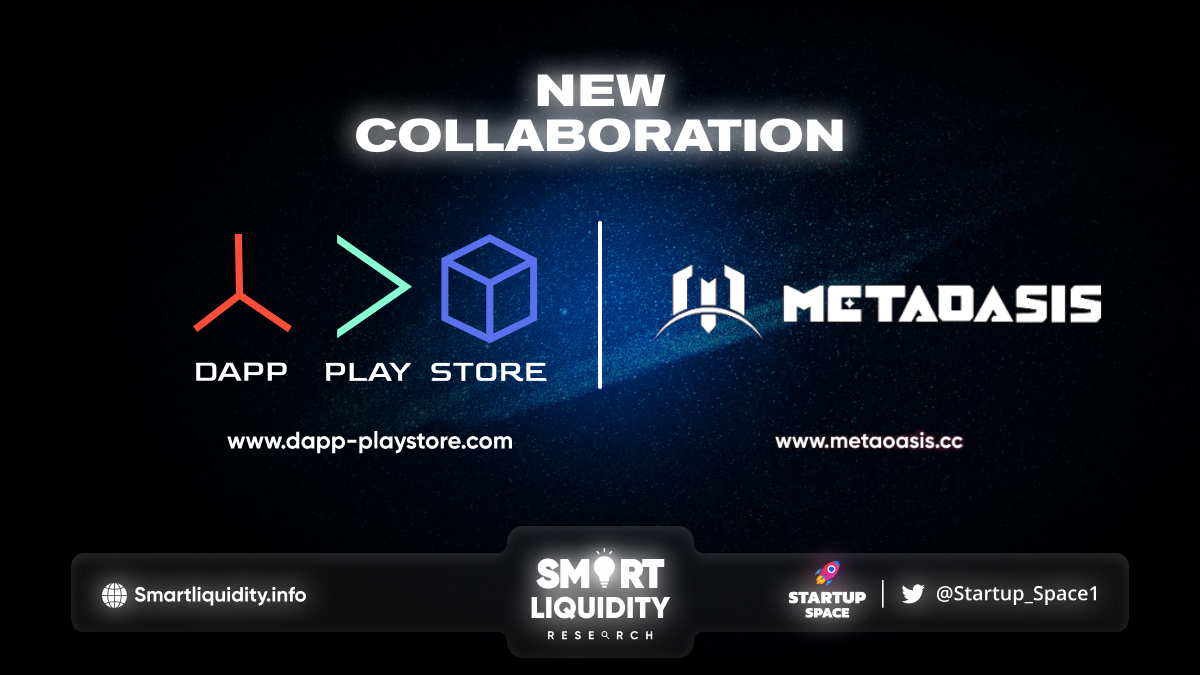 Dapp Play Store partners with MetaOasis — The Next-generation web3 game publishing platform.
To boost their ever-growing development, Dapp Play Store is thrilled to announce a new partnership with MetaOasis, the Next-generation web3 game publishing platform. As the first web3 game deployer, it will allow developers to deploy games with ease. This, allow developers to focus on building valuable products and simplify gamers' entry into web3.
With Dapp Play Store's ability to house networks of Decentralized applications on its infrastructure, it will allow MetaOasis as an application on its store. This partnership will now allow people to now download and enjoy the MetaOsis on dapp playstore infrastructure. Now gamers and developers can explore the opportunity MetaOasis is here to offer.
Dapp Play Store is pleased to be working alongside MetaOasis and seeing the dapp play store introduced to its ecosystem! Through this partnership, new possibilities and product expansion will now be brought to both projects. Read on to learn about what MetaOasis is here to offer.
What is MetaOasis?
MetaOasis is a multichain-based platform that is collaborating with several gaming studios to build a multi-gaming platform. It is contributing to the mass adoption of web3 by lowering barriers for gamers to enter the ecosystem. It does this by providing several tools for web3 developers to solve user login and payment problems.
Also a platform that not only simplifies entry into the blockchain gaming industry but also introduces new concepts into the space. It develops a new concept of NFT interoperability to deliver an exciting user experience. After deploying games, it also serves as a launchpad where gamers and investors can get access to its exciting game ecosystem.
Players will not only experience the main game content, but also a variety of sub-game worlds or pan-entertainment worlds. It houses a variety of games on its network and therefore presents different varieties of games for gamers to access. Meanwhile, MetaOasis will also release the main game of the universe created by its gaming studio cooperating all its unique features. The game title is known as CH(Celestial Heaven), an MMOSLG game; a few of the gaming features will be explored below so read on.
"Buffer token and temporary ownership"
To simplify entry into web3, MetaOasis introduced a "buffer token" mechanism to allow traditional gamers to participate in its economy. MetaOasis is integrated with compatible traditional gaming IAP(In-App Purchase) channels. To provide a traditional gamer with a familiar channel to easily purchase "buffer tokens". The buffer token is similar to diamonds used in games which are always at a constant price.
It can be withdrawn at any time with a charge of a low gas fee. Hence, players do not need to worry about in-game currency fluctuations. Users of Web2 can also transform their assets to the chain at any time to complete the final confirmation of ownership in Web3. The mechanism makes it possible for gamers to focus on going experience without worrying about learning costs or having foreknowledge about the web3 game world.
"The unique NFT interoperability platform"
Since MetaOasis contains different games with different ideas, it pioneered the NFT MNP protocol to enable developers to make use of NFTs of different games in their own games. Through this NFT MNP30, games are compatible with NFTs of other popular games, which can expand the NFT usage scenarios of the project itself, and increase its core value.
The NFT MNP helps to create a feasible protocol layer solution for connecting infrastructure and application processes for existing game application layers. It consists of different layers which are Layer 1 MNP301, Layer 2 MNP302, and Layer 3 MNP303. You can read more here. Main Universe: Project CH( Celestial Heaven) Project CH is the main Play2Earn game of the MetaOasis world. The main goal of every player in the game is to gain qualifications for the Oasis. Players do not need any item to start the game.
The Players can take the role of space commanders operating their own fleets and space fortresses. Players can also fight or trade with other players in the interstellar world on their way to the Oasis.
They can also become fighters that battle in wormholes and acquire loot to sell in the marketplace. The game uses the MTOS token as the native token and also as the governance token. ASA token serves as in-game currency that is equal to USDT. Players can use it purchase on the marketplace to buy in-game NFTs such as equipment and land and also purchase microtransactions like skins.
Advantages For Developers:
For easy deployment of games to web3 infrastructure.
Help developers to grow the number of users, hold AMA and offer financing support.
It helps developers track the latest date changes and provide strong support for each optimization.
Helps Developers to integrate DAO management tools to facilitate the onboarding of guilds and organizations.
Advantages For Gamers:
Simplify entry for users to explore
Enhance the Play2Earn concept for gamers to explore
"MetaOasis' vision is to contribute to the prosperity of the Web3 ecosystem, and we will actively promote this revolution from Web2 to Web3."
Dapp Play Store: Home to the most creative and inclusive Dapps in the world.
Dapp Play Store is the next generational Web3 application store & content management system.
Due to their decentralization and tokenomics, they are able to reward each dApp that submits their project to the Dapp Play Store with their native token for their participation. A peer-to-peer marketplace for decentralized applications.
Essentially Dapp Play Store platform provides a comprehensive set of software solutions to run, create, download, monetize and interact with an easy user experience, complete interoperability and with an infinite amount of dApps at your command. By the virtue of this partnership, MetaOasis will be joining the family of DApps on the DApp Play Store.
About Dapp Play Store
Dapp Play Store is a multi-coin wallet that allows users to search, play and install all blockchain applications uploaded to the store, whilst autonomously connecting to all the dapps submitted to the dapp play store wallet which ensures an easier user experience as opposed to using third party entities.
About MetaOasis
MetaOasis is a collaboration by several game studios to build a multi-game platform, a metaverse world.
SOURCE
https://medium.com/@DPS1017/dapp-play-store-partners-with-metaoasis-the-next-generation-web3-game-publishing-platform-e61f5caf1149