KyberSwap and Avalanche Rush 3 begin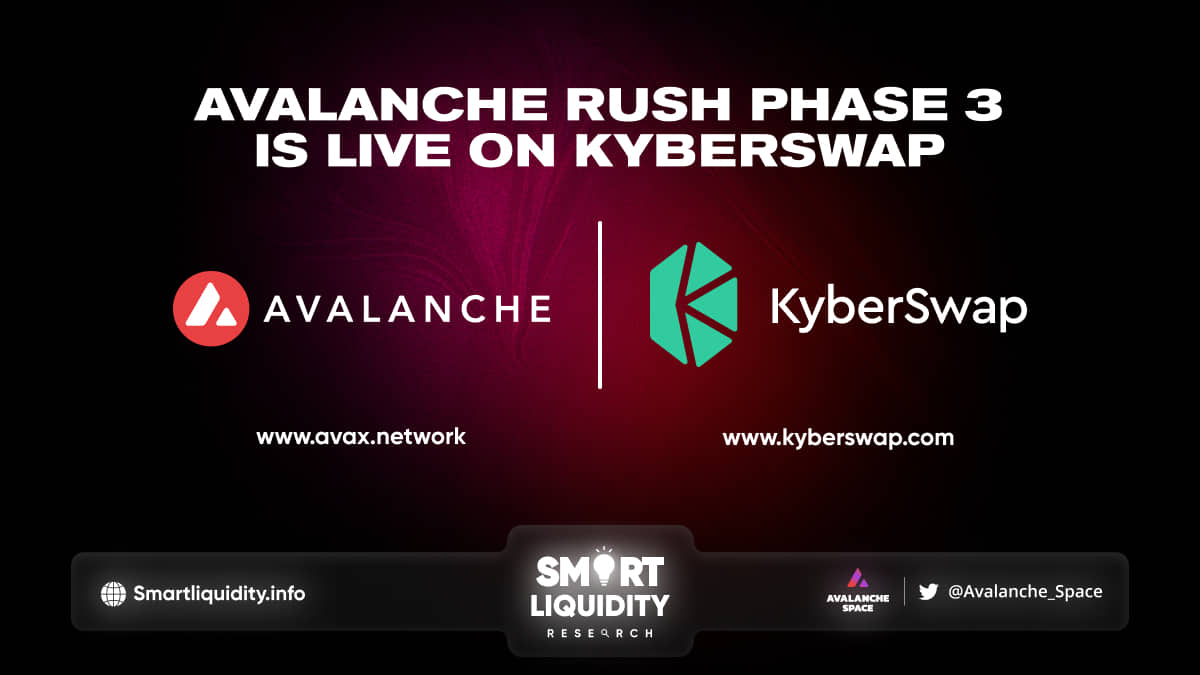 KyberSwap and Avalanche Rush 3 begin,  KyberSwap is continuing to provide Avalanche bulls with incentives and better earnings for liquidity providers who deposit and stake their liquidity positions on KyberSwap Elastic!
Phase 3 of Avalanche Rush, avalanche foundation hosted by KyberSwap, will begin on September 26. 17 farms will offer YOU up to $2 MILLION in prize incentives! Phase 3's first stage will reward liquidity providers with over $250,000 in governance token KNC and AVAX liquidity mining prizes.
Why Farm on KyberSwap Elastic?
KyberSwap Elastic pools farming protocol farmers market provide the world's first farming operation farming business that support concentrated liquidity to ensure LPs earn interest proportional to the risks they incur by establishing the price curve.
Coupled with JIT (Just in Time) protection and auto-compoundability, KyberSwap Elastic makes it fair, safe and extremely rewarding for LPs to participate.
Important Details: Eligible Pools (Fee Tier):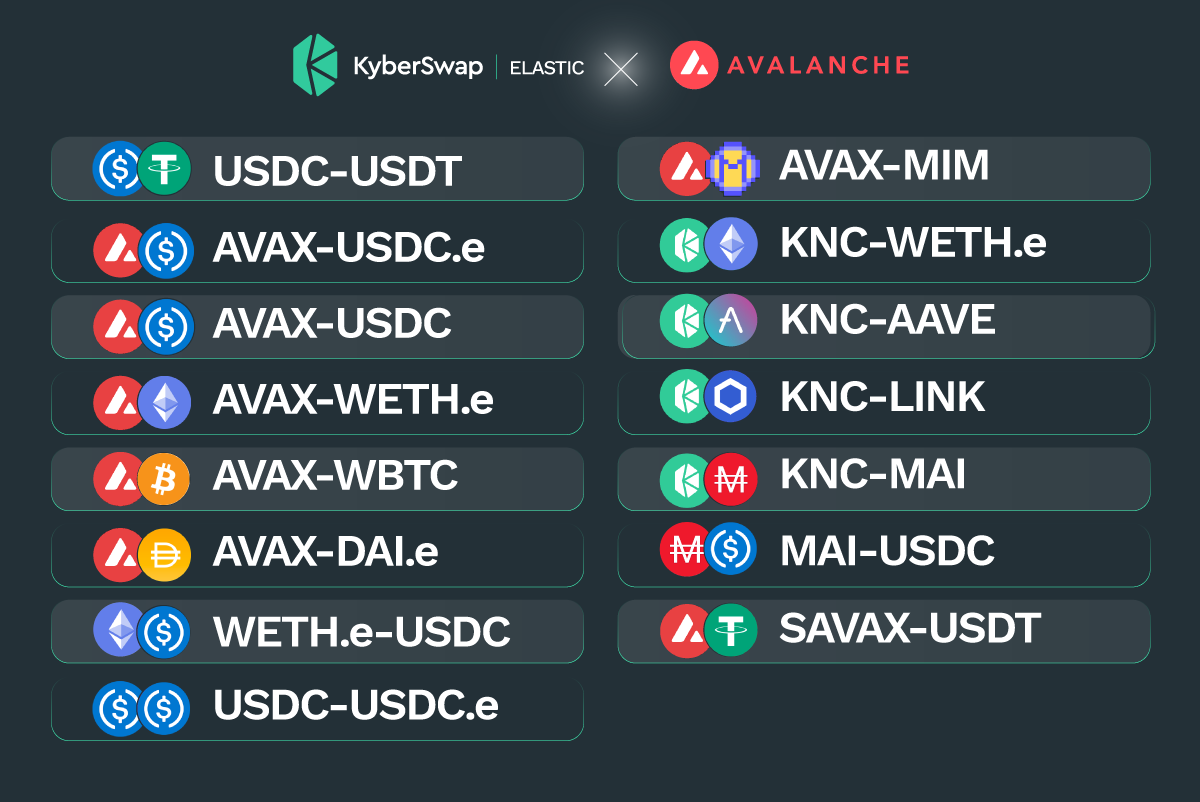 AVAX-USDC.e (0.04%)
AVAX-USDC.e (1%)
AVAX-USDC (0.04%)
AVAX-USDC (1%)
AVAX-WETH.e (0.04%)
AVAX-WBTC (0.04%)
AVAX-DAI.e (0.3%)
WETH.e-USDC (0.04%)
AVAX-MIM (0.3%)
KNC-WETH.e (0.3%)
KNC-AAVE (0.3%)
KNC-LINK (1%)
KNC-MAI (1%)
MAI-USDC (0.04%)
SAVAX-USDT (1%)
USDC-USDC.e (0.01%) *AVAX rewards only 
KyberSwap: Benefits for Avalanche Ecosystem
1. For Traders
Best swap rates for KNC, USDC, USDT, AVAX, USDC.e, WETH.e, MIM, AAVE, LINK, MAI, sAVAX tokens through DEX aggregation, while letting users identify other tokens even before they trend/moon via on-chain metrics
2. For Liquidity Providers
Concentrated liquidity for any token pair, stables and non-stables
Auto-compounded LP (liquidity provider) fees
Bonus liquidity incentives through yield farming practices
Sniping/Just-in-time attack protection to protect the earnings for Avalanche LPs
3. For Developers
Dapps can integrate with KyberSwap's pools and aggregation API to provide the best rates for their own users, saving time and resources capital efficiency
Summary of Farming process
Get the tokens you want to add liquidity for on Avalanche
Add liquidity for the eligible Elastic pools and you will receive an NFT that represents your liquidity position
IMPORTANT Last Step: Stake the deposited liquidity position NFT in the farming methods to start getting yield farming rewards
Details on How to Farm on KyberSwap Elastic
KyberSwap "Earn -> Pools" [Elastic Pools].
Liquidate qualifying pools at the above charge rates.
Enter the token pair deposit. If necessary, approve tokens.
Indicate the min and max prices of a bespoke pricing range to create liquidity. A shorter range provides you more focused liquidity pool and transaction fees, whereas a wider range increases the pool's activity start your farm (and get yield farmers, farming rewards).
You'll get an NFT (non-fungible token) after boosting liquidity. (View your liquidity holdings on "Earn -> My Pools.")
Staking
On "Farm," choose the farm you provided liquidity to. Click [Deposit] and pick NFT (ID number). Click [Deposit Selected], approve, and wait for confirmation.
After depositing NFT, click [+] to stake it.
If [+] is disabled, you haven't put NFT liquidity holdings into the farming smart contract. To start collecting rewards, you must stake your NFT liquidity (depositing the liquidity position NFT earlier is not enough).
Harvesting & Claiming Rewards
On the "Farm" screen, click the "axe" icon button or "Harvest All" to harvest.
A "Harvest" popup will reveal your prizes in monetary value and tokens. "Harvest"
To claim unlocked prizes, click [Vesting] on the Farm page and [Claim] under [Vesting Schedules]. If there's no vesting time, you get your benefits immediately.
About Kyber Network
KyberSwap powers 100+ integrated projects and has facilitated over US$10 billion worth of transactions for thousands of users since its inception. Currently deployed across 12 chains including Ethereum, BNB Chain, Polygon, Avalanche, Fantom, Cronos, Arbitrum, Velas, Aurora, Oasis, BitTorrent and Optimism. You can use DeFi platforms just by connecting your wallet and approving your transactions.
About Avalanche
By calculating the shortest time to finality, Avalanche network is the blockchain industry's quickest smart contracts platform digital asset. Avalanche is blazingly fast, low cost, and green. Any smart contract-enabled application can outperform its competition by deploying on Avalanche.
SOURCE:
https://blog.kyber.network/avalanche-rush-phase-3-kicks-off-with-2-million-in-rewards-as-kyberswap-celebrates-1-year-