Pyth Partners with MakerDAO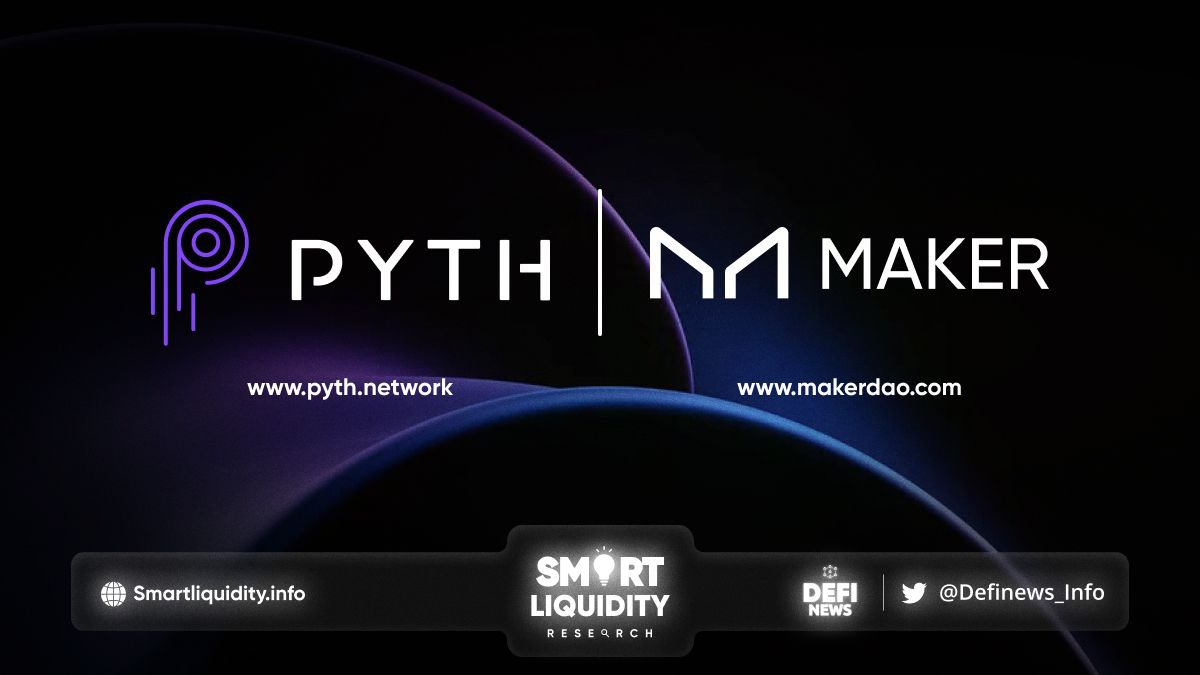 Pyth partners with MakerDAO to bring DAI to Solana. In partnership with MakerDAO, the Pyth DAI/USD feed enables anyone to borrow, lend, or trade on the leading decentralized stablecoin on any non-EVM chain.
Pyth Network is looking forward to working with leading Solana applications. It includes Solend, Mango Markets, Bonfida, Drift Protocol, as well as Jet Protocol, and PsyOptions. Unlocking the next generation of DeFi services through the world's leading stablecoin.
 "As applications and usability of DeFi continue to grow, oracles become increasingly important to provide reliable information at a pace in line with this steady growth. As partnerships such as this become more common, the bridge between off-chain data and DeFi protocols strengthens, delivering a new era of finance. Partnering with Pyth facilitates the use of this bridge, bringing the longest-standing stablecoin to the real world of finance. Having launched as recently as 2021, Pyth's explosive introduction in the space emphasizes DeFi's expansive growth and the need for an accessible, usable oracle."— Niklas Kunkel, Oracle Core Unit Facilitator at MakerDAO

"As the Pyth community of publishers and consumers continues to grow, our oracle will continually grant more accurate and widespread price feeds to fuel growth across the DeFi ecosystem. Finance is changing, and this is clearly evident with the popularity of MakerDAO's DAI stablecoin. We are very excited to see how our user base interacts with the new price feeds, and are equally excited about the overall industry impact of initiatives where the real world of traditional finance is transformed by the use of DeFi and oracles."—Michael Cahill, Director at Pyth Data Association
MakerDAO and DAI
MakerDAO is a decentralized organization dedicated to bringing stability to the cryptocurrency economy. The Maker Protocol employs a two-token system. The first token, DAI, is an over-collateralized stablecoin that offers stability.
The MakerDAO community believes that a decentralize stablecoin requires to have any business or individual to realize the advantages of digital money. The second token, MKR, is a governance token use by stakeholders to maintain the system and manage DAI.
MKR token holders are the decision-makers of the Maker Protocol. Supported by the larger public community and various other external parties. Maker is unlocking the power of decentralized finance for everyone by creating an inclusive platform for economic empowerment. Enabling everyone with equal access to the global financial marketplace.
DAI for Solana DeFi
As of today, Solana DeFi has been mostly relying on centralized stablecoins. USDC issued from Circle and USDT from Tether close to 99% of stablecoins on Solana are from either two previously mentioned. While convenient for users, using centralized stablecoins carry risks such as unilateral censorship or trust assumptions.
What's next?
The Pyth DAI/USD price feed is a critical step towards enabling new ERC-20 token use cases in the Solana ecosystem. With Pyth data going cross-chain thanks to Wormhole, developers on any blockchain is empowers by Pyth and the DAI stablecoin.
Anyone can permissionless deploy Pyth contracts on any chain and start requesting streaming updates through Wormhole for DAI/USD. Any pair or cross-pair from Pyth's wide offerings across crypto, FX, equities, and commodities.
ABOUT Pyth Network
Pyth Network is an oracle that publishes financial market data to multiple blockchains. Our market data is contributed by over 60 first-party publishers, including some of the biggest exchanges and market-making firms in the world. We offer price feeds for a number of different asset classes, including US equities, commodities, and cryptocurrencies. Each price feed publishes a robust aggregate of publisher prices that updates multiple times per second.
RESOURCES