Degis Collaborates with GMX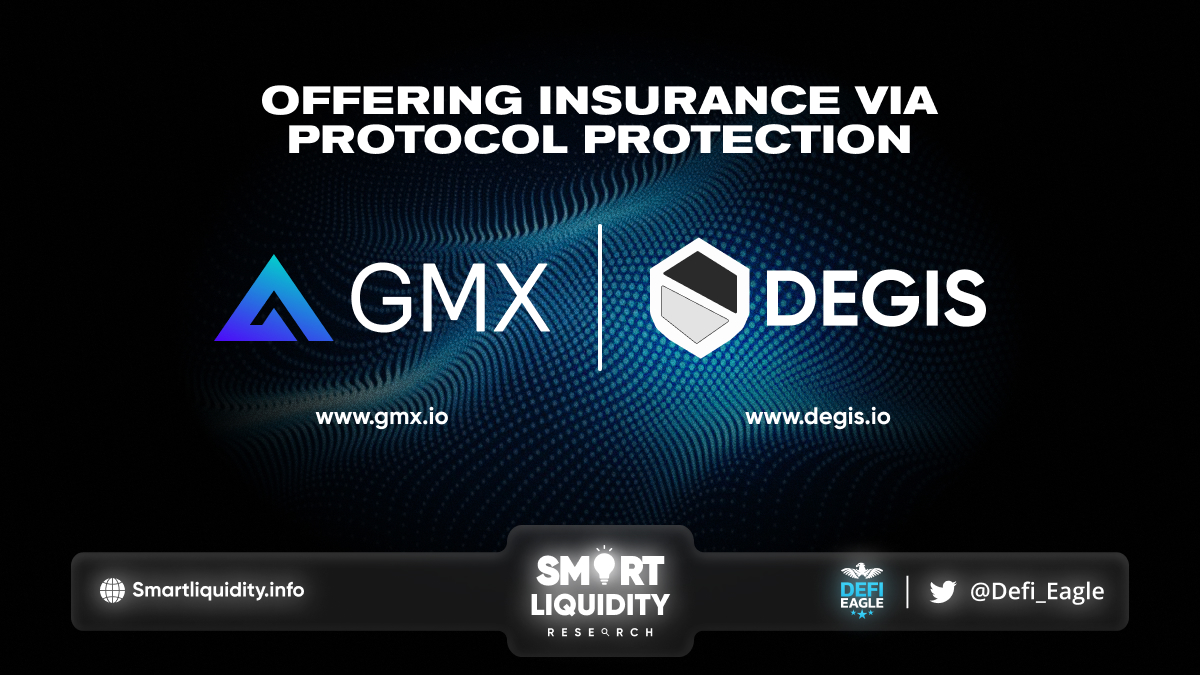 Degis announced a strategic collaboration with GMX, so Degis will offer insurance for GMX via Protocol Protection.
It will be offering exhaustive insurance coverage to GMX users by incorporating GMX in our novel Protocol Protection product. Degis Collaborates with GMX, They believe that under this protection, users are guaranteed sufficient compensation in case any unforeseen. Undesirable situation were to present itself on-chain.
How does Protocol Protection work?
Protocol Protection is a next-generation protection product that offers exhaustive protection against all kinds of on-chain risks. Degis Collaborates with GMX, In Protocol Protection, they adopt both a unique pricing model and aggregate liquidity.
Unique Pricing Model: Base Premium + Dynamic premium
Premium for the Degis Protocol Protection is determining by a base premium p% and the dynamic pricing model. For GMX, the initial base premium is set by all the veDEG holders, and the annualized premium in the first 7 days will be fixing at the base premium. After 7 days, the premium price will be determined by the market. The amount of Protection Pool LP tokens in each protocol Priority Pool can also influence the price.
In the meantime, both the community and third-party auditing companies can propose repricing the base premium (i.e. Repricing a%). The approval of the repricing proposal will be deciding by veDEG holders.
By applying Degis dynamic pricing model, Protocol Protection can provide users with more accurate and preferential premiums, according to the risk of the insured item and changes in market supply and demand.
Aggregate liquidity: Protection Pool + Priority Pool model
In contrast to the current insurance market protocols, Degis Protocol Protection has set up a Protection Pool on top of the Priority Pool. Users can provide protection for all insured projects on the platform by providing liquidity to the Protection Pool. This ensures that the platform reserves are sufficient. The utilization rate of funds is greatly improving. At the same time, liquidity providers can also obtain premium income from all insured projects.
About GMX
GMX is a leading decentralized exchange for perpetual futures and swaps, available on the Arbitrum and Avalanche blockchains. The protocol allows traders to long or short BTC, ETH, AVAX and other top cryptocurrencies with up to 30x leverage directly from their own wallet.
About Degis
Degis is the next-generation all-in-one protection protocol, the first on Avalanche. We offer exhaustive protection to users and traders, offer a decentralized protection market and will ultimately bring scalable risk management to the crypto world. We've already launched Price Protection with the initial matching mechanism, and the coming product will be Protocol Protection, which covers the risks regarding smart contracts, rug pulls, etc. More amazing features and functions will be developing in the future.
SOURCE:
https://degis.medium.com/degis-will-offer-insurance-for-gmx-via-protocol-protection-afde70f4db19