SupraOracles Partnership with Solaunch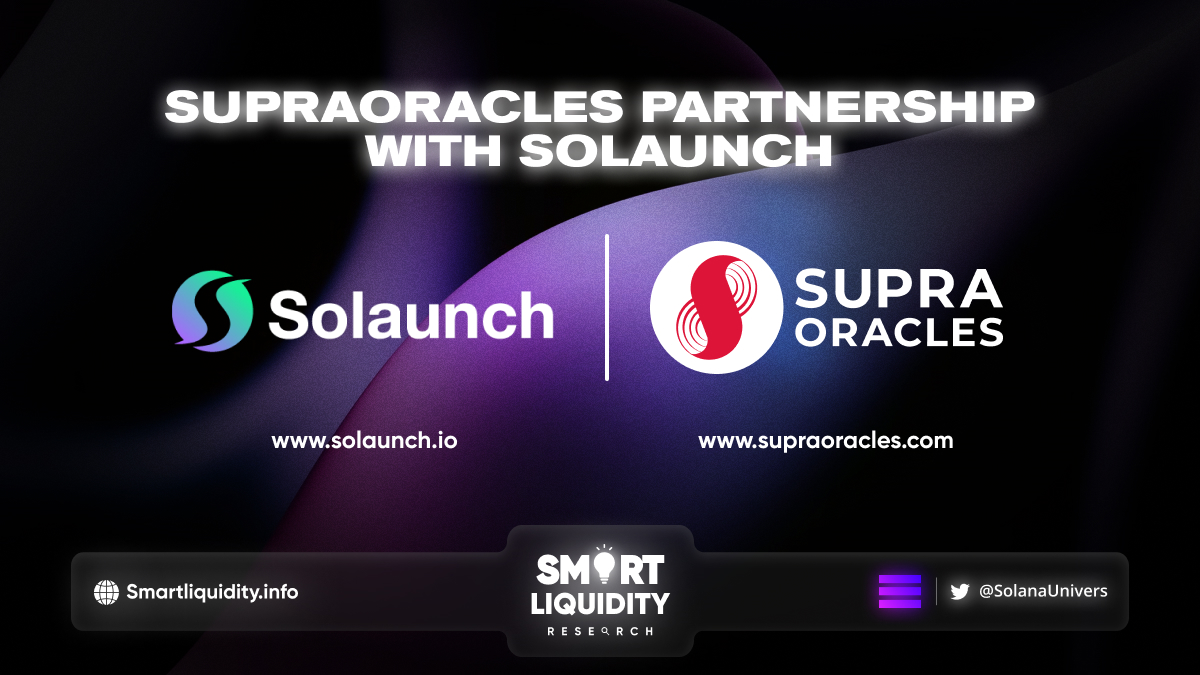 SupraOracles, b

ridging real-world data to automate, simplify, and secure the

smart contracts

of financial markets,

 announced a partnership with Solaunch, a platform for DeFi, art, and gaming.
SupraOracles is pleased to announce a partnership with Solaunch, to provide early access to all premium initiatives and to let their community invest securely in remarkable innovations.
Solaunch Overview
Solaunch uses viral marketing strategies to aid early-stage NFT, DeFi, and GameFi initiatives in rapidly developing communities. The platform supports Solana and EVM-compatible chains and provides heterogeneous cross-chain interoperability. They now support the BNB, Ethereum, Avalanche, and Solana chains, significantly lowering wait times and introducing a wider range of great IDO projects from diverse crypto sectors.
SupraOracles' chain-independent oracle network will provide increased cross-chain growth for Solaunch. Because of SupraOracles' interoperable oracles, Solaunch will be able to provide a seamless and consistent cross-chain crowdfunding function. Through this partnership, SupraOracles will provide Solaunch with a variety of Oracle services and data to enable smooth operations.
Joshua D. Tobkin, CEO and Co-founder of SupraOracles, commented:
"Solaunch wants to provide the blockchain sector with fair and secure investment options. We adore their viral marketing approach, which will foster a sense of community for fresh initiatives. We'll help them out by offering our oracle services."
About SupraOracles
SupraOracles intends to bridge the gap between conventional finance markets and Web3. Our objective is to provide the developer community with an innovative collection of Oracle tools that enables them to construct, deploy, and manage data applications with enhanced performance, robustness, and agility.
Their team comprises professionals in consensus mechanism design, randomness research, real-time data services, investment banking, digital securities, traditional stock exchanges, big data, Ph.D. academics, big four consulting, blockchain/DLT, and DeFi.
SupraOracles intends to solve the oracle dilemma. Eventually power the future of finance with the aid of our developer community and an increasing number of partners.
About Solaunch
Solaunch is a decentralized crowdfunding platform for fundraising across all major crypto networks. Solaunch utilizes contagious marketing strategies to help NFT, DeFi, and GameFi projects at their early stage, which facilitates them in building communities more quickly.
SOURCE
https://supraoracles.com/news/supraoracles-partners-with-solaunch-a-decentralized-crowdfunding-platform/