THORChain Integration of Avalanche C-Chain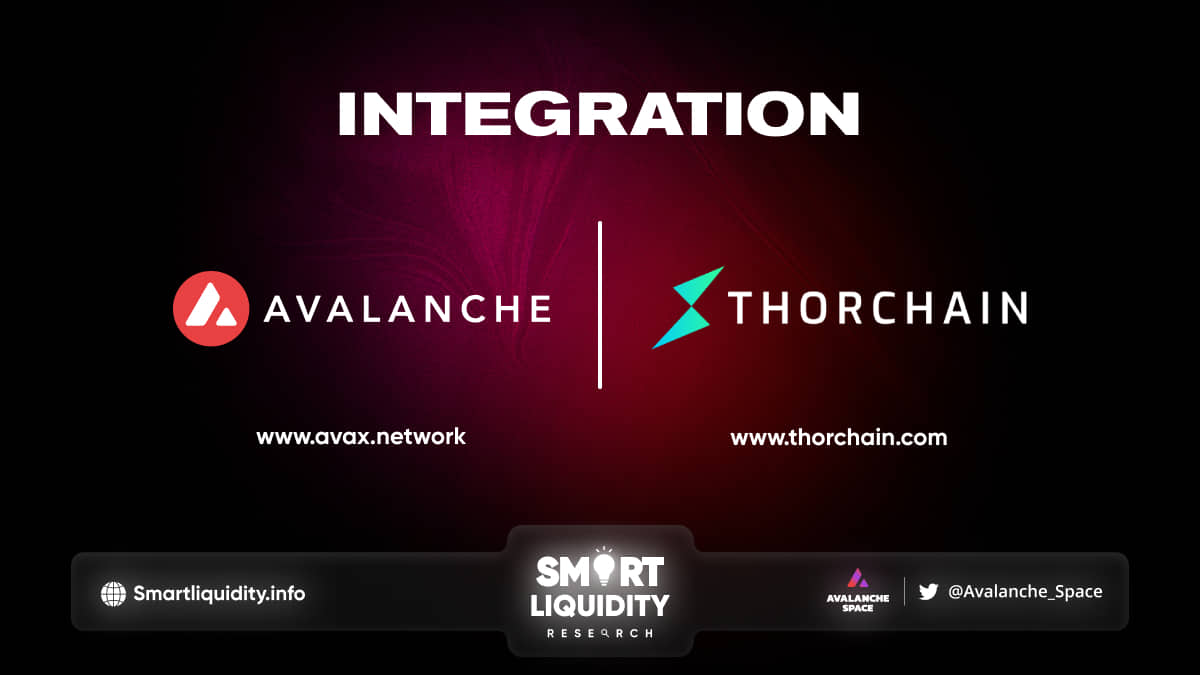 THORChain Integration of Avalanche C-Chain, The integration of THORChain with Avalanche C-Chain extends the total number of connected blockchains to eight (8):
Bitcoin
Ethereum
Binance Beacon Chain
Bitcoin Cash
Litecoin
Dogecoin
Cosmos Hub
Avalanche C-Chain
What does the Avalanche C-Chain Integration Mean?
Avalanche C-Chain users can now swap in and out of the Avalanche ecosystem without the use of bridges. Users interested in exchanging their Avalanche C-Chain assets for other crypto assets can easily do so at any THORChain interface.
Users can also provide liquidity to THORChain's pools and earn a yield from every swap that takes place in the liquidity pool.
At the next pool churn, AVAX.USDC and AVAX.USDT will be traded on THORChain. Every 3 days, the pool churns, allowing for over 10,000 RUNE in liquidity. AVAX.USDC and AVAX.USDT pools (1 week) have instant access to deposits.
By submitting a Gitlab pull request, further AVAX assets may be whitelisted for THORChain. Other Avalanche C-Chain assets lacking THORChain liquidity may utilize the aggregator capability to reach deep liquidity pools, automating the usage of many swap providers to enable best-in-class price execution on any asset.
Using Aggregators to Swap Other Avalanche C-Chain Assets in One Click
THORChain's aggregator simplifies swaps. Switching from THORChain native assets to long-tail assets is easier than ever. THORChain's DEX aggregation function gives users access to DEX liquidity. Any DEX may construct an aggregator, integrate liquidity, and simplify native asset swaps.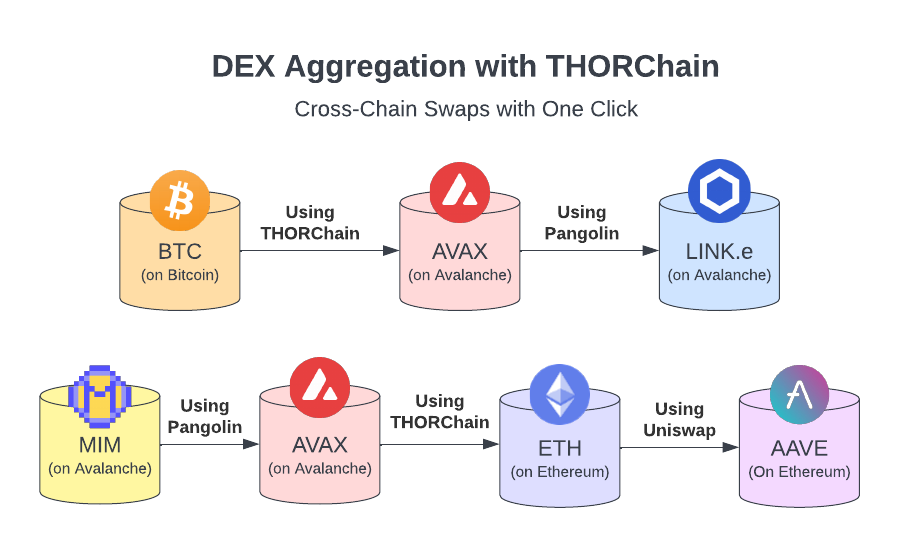 Where can I swap or add liquidity?
Swap on any THORChain Interface:
Pangolin DEX (coming soon)
Using any supported wallet:
Summary
Avalanche C-Chain has been integrated into THORChain for native asset swaps without the need for bridging
AVAX is immediately accessible for swaps and liquidity deposits
USDC and USDT are immediately available for liquidity deposits. Swaps will be available after 2 pool cycles (~1 week)
The DEX Aggregator can be used to swap to/from any THORChain supported asset to any Avalanche C-Chain asset
Pangolin DEX is integrating their Avalanche C-Chain pools into the THORChain DEX aggregator
About THORChain
THORChain is a settlement layer that facilitates swaps between 8 chains: Bitcoin, Ethereum, Binance Chain, Avalanche, CosmosHub, Dogecoin, Litecoin, and Bitcoin Cash.
About Avalanche
By calculating the shortest time to finality, Avalanche network is the blockchain industry's quickest smart contracts platform digital asset. Avalanche is blazingly fast, low cost, and green. Any smart contract-enabled application can outperform its competition by deploying on Avalanche.
SOURCE:
https://medium.com/thorchain/thorchain-integration-of-avalanche-c-chain-complete-de8786ac7435