Introducing Bounce V3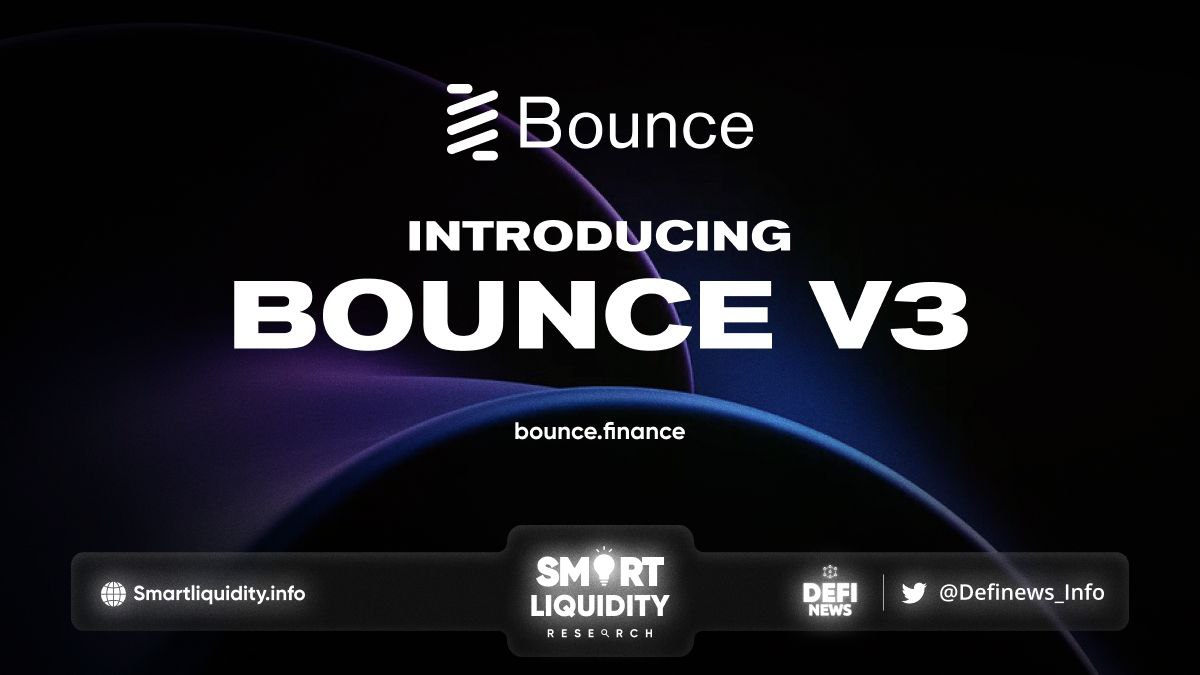 Introducing Bounce V3 a Multistage Management and Logistics Platform built using a "Hybrid" Defi Infrastructure Approach. Bounce strives to promote innovation, sustainability, and continuity in everything they do. 
In order to build a truly sustainable platform and the brand that goes along with one, Bounce feels that building products that suit the evolving market is a must. Today, they find themselves in a radically different crypto landscape compared to when Bounce was initially founded, as reflected by the changing needs of users at all levels, from individuals to institutions.
As it stands today, Bounce has built four distinct pillars of product offerings, each meeting the different demands of companies across the industry. In the early days of DeFi, many projects sought to build tools and features that would facilitate broader industry development. These products and applications are often original and innovative at first but ultimately fork and repeat in a way that fragments and dilutes their initial value adds.
Today's application layer landscape is fragmented and often full of dapps that do not provide comprehensive user experiences. They see this as a major opportunity for Bounce, especially considering that as most industries mature there tends to be a mass period of "resource reallocation" and broader integration of platforms.
It is during this time when the "super-applications" and platforms drive future market cycles to build. With its full suite of web3 products, each consolidated under Bounce and fully integrated with one another, Bounce is in a unique position to be a truly complete DeFi platform solution for all of web3's users across a variety of different chains.
Bounce Offers Four Products
Furthermore, Bounce offers four products. These products include Bounce Finance, a decentralized auction platform, Bounce Fangible, an NFT marketplace, and toolkit solution, Bounce Metalents, a web3 freelance marketplace, and The Bounce Metaverse, a virtual world that will consolidate each of its platforms under one, fully immersive "roof" if you will. Each of the four platforms they built provides different tools and features to serve not only individual users but also larger companies across the industry.
On top of that, its ecosystem of products has been built with not only the present demands of users but also ones they anticipate will be valuable for users in the future. At Bounce they like to say: "narratives come and go but the products providing real utility for decentralized finance users are here to stay", this is regardless of current, momentum-driven narratives which is why they have not lost faith and continued building throughout the difficult market conditions. Bounce is in a position to capture and fuel the next wave of DeFi users.
The Problem Identified
The birth and subsequent evolution of decentralized finance have been fascinating innovations to watch unfold. Products like automated market makers, decentralized auctions, and on-chain lending & borrowing have brought about an entirely new way to go about traditional finance.
However, almost all of these functions are mere "tool-based" applications, meaning the market is fragmented with repetitive, single-function products. This makes establishing & keeping track of reliable, on-chain reputations for projects and individuals an extremely challenging task.
Users today are still unable to truly understand the character of the "trustless" tokens, companies, and users they interact with across the fragmented networks of tools. This gap in information has been quite costly for users and the industry as a whole. Leading to malicious attacks and destructive on-chain interactions. Instead, they propose that these products be together within one ecosystem. Providing not only a safer DeFi environment but also a better experience for users.
Introducing Bounce V3
Additionally, Bounce V3 will introduce a new era for Bounce as a multi-stage management and logistics platform. Emphasis on personal and project development with tools built for individuals, companies, and institutional investors across all realms of DeFi.

Courtesy of Bounce
Product Offering Divisions
 Information Board
Companies can post their own information on their platform, including ideas, company information, etc. If it is a company that has not yet established a startup, it can simply publish its ideas. Individuals can create self-portraits of themselves, similar to LinkedIn. Investors or institutions may publish their own information and investment goals.

Talent Exchange


Companies and institutions can post their full-time recruitment or freelance opportunity under their profile. Individuals can explore and apply for jobs and tasks.
Company Tools (Auction, M&A & NFT)
Different cycles of a project will use different tools, the Auction, M&A, and NFT they do are all similar tools. Companies or individuals can host these things under their own profiles.
 Cap Table Management
Companies that issue tokens will be able to use Bounce's infrastructure to manage their shareholders and token table
Bounce V3 Infrastructure
Bounce V3 uses a hybrid infrastructure that incorporates a centralized account management system. In addition, a decentralized application and tool access system. Users will be able to log in and sign up for the platform without a web3 wallet using traditional methods of doing so (by email, phone number, etc). Decentralized access is only needed when users decide to utilize the DeFi components of the platform.
Bounce stated and strongly believes that a hybrid infrastructure brings the benefits of traditional infrastructure and blockchain together. Ultimately maximizing user adoption and usage.
GET MORE UPDATES HERE
RESOURCES