Notifi Introduces Enterprise-level Tools to Web3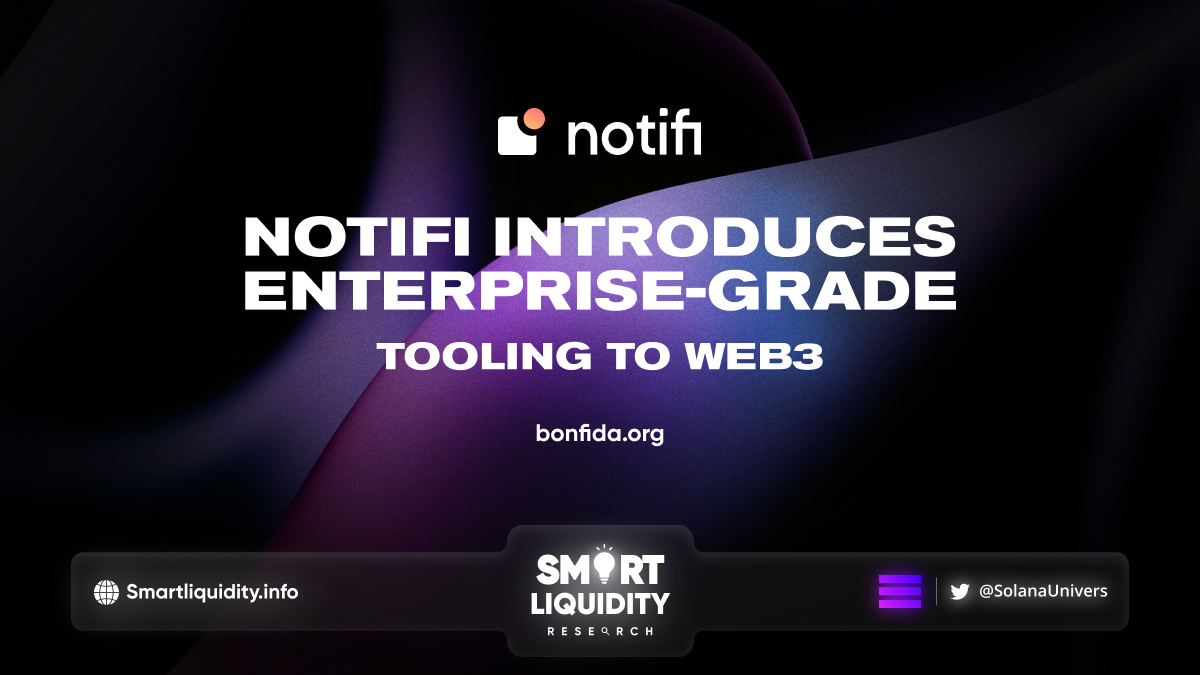 A messaging infrastructure for dApps to engage with their users in Web3, Notifi Network, introduces Enterprise-level tools to web3.
Notifi introduces enterprise-level tools to web3. Their cross-chain communication products are robust and reliable, delivering exceptional user experience with crypto alerts that can scale to any company's needs.
Messaging infrastructure is critical to maintaining users in web3, and enterprises that have the foresight to expand for the next generation of blockchain technology will come out on top.
What is a web3 enterprise?
Many people envision small yet nimble firms producing solutions for unique use cases that serve only a few consumers when they think of web3 and initiatives in the crypto and DeFi ecosystems. Though this school of thought may describe many early web3 enterprises, it is naive.
Growth marketing, user onboarding, and retention are just a few of the principles that web3 organizations must embrace in order to progress their missions. Web3 is still in its early stages, but companies should begin to look beyond the present user environment and prepare for a surge of new users.
A web3 enterprise is a company that creates software for the future tens of millions of users who will rely on DeFi, NFTs, DAOs, and other apps in their everyday lives. These organizations are modern-day mega-corporations, requiring the same resources as any other digital company.
What problems do notifications solve for web3?
Notifi creates products tailored to the web3 enterprise. Our platform can interface with any crypto application using both on-chain and off-chain communications. Users can receive notifications via web2 and web3 channels like as email, text message, Telegram, Discord, and even in their wallet.
Notifi intends to tackle this issue by serving as the primary notification center for cryptocurrency users. Users are frequently pushed and tugged in several directions, making it difficult for them to identify a home base. As crypto apps grow in popularity, the tools they rely on must reach millions of people on a consistent basis.
The team behind Notifi comes from a background in web2. Where they have work at large companies like Meta and Amazon who require powerful software for their businesses.
Bringing Notifi to cross-chain applications
One of the goals at Notifi is to integrate on as many relevant blockchains as possible. To date, they have worked on projects built on Ethereum, Solana, NEAR, and more. Developing tools that can connect these chains is pivotal in the Notifi mission, especially for bigger organizations.
Notifi's product, xMS, is a cross-chain messaging platform where users can talk with each other through their wallets. Building across blockchains is the future of web3. As new Layer 1s and Layer 2s require web3 enterprises to adapt to multi-chain ecosystems.
About Notifi
Notifi is the Twilio for web3. Notifi simplifies communication across all web3 messaging channels. The Notifi platform is designed with simple APIs for easy integration and customizable and advanced features for dApps and web3 applications. Notifi empowers developers to better engage with their users via multichannel communications.
SOURCE
https://medium.com/notifi/building-tools-for-web3-enterprise-with-notifi-3b9d1edb1d8