Chapter One Invested in Helius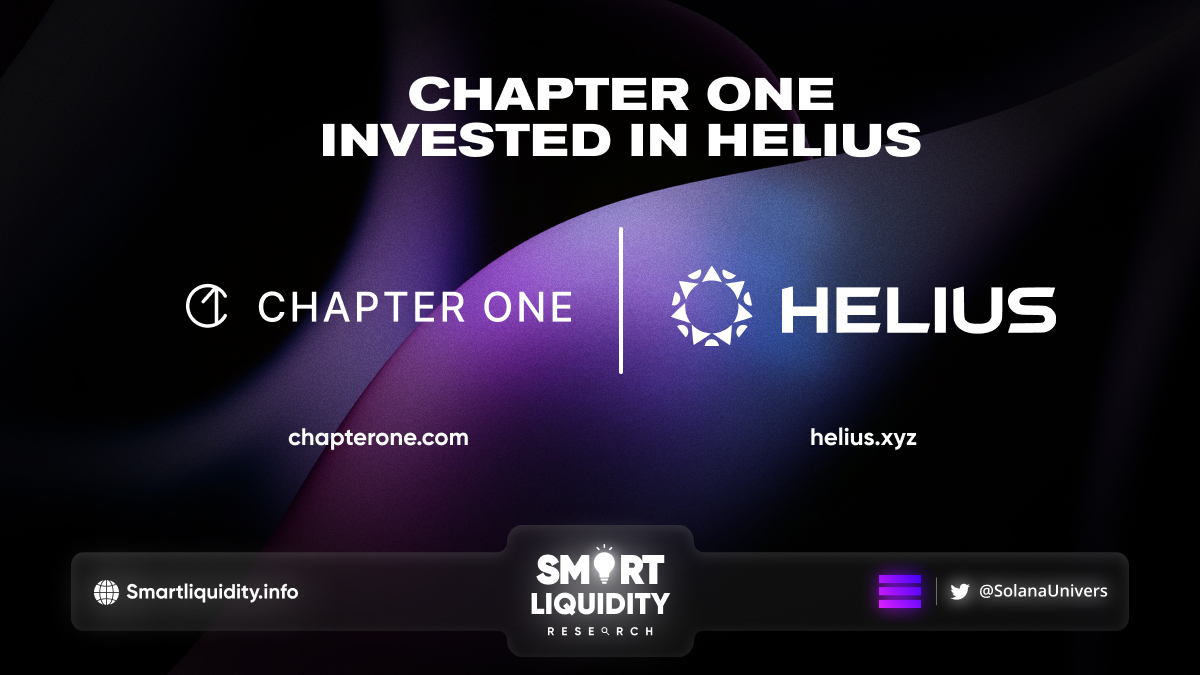 Chapter One, the first check crypto fund focused on the web3 economy, has invested in Helius, making Solana development easier, quicker, and less expensive.
Chapter One has invested in Helius, which raised 3.1 million to fuel the modern digital world with safe, trustworthy, and speedy APIs.
Helius' seed round was co-led by Chapter One and Reciprocal Ventures, and was supported by a large number of funds and angel investors.
Why use API
APIs that are secure, trustworthy, and speedy fuel the modern tech world. They are much more crucial in the Web3 ecosystem, where the next generation of software is being built at breakneck speed and relies on blockchain-based data.
The Solana ecosystem has proven its thesis via a keen eye for design and speed. But it has also demonstrated the necessity for a fast-scaling firm to offer the underlying infrastructure that other chains take for granted. All innovation and development technology stacks will be built on API indexing and low-latency webhooks.
Web3 developers are continuously on the lookout for new tools to help them produce efficient breakthroughs. Allows teams to focus on what they do best while leaving the data processing and abstraction layer to partners that excel at it.
Web3 is the next generation of the internet that will be able to reach its potential faster. By relying on data providers that have built bundled products with node access, querying support, and one-click code solutions.
Where will the next generation of API products shine?
There have clearly been multiple ecosystem leaders, but they have become increasingly generic as the sector has grown. Current suppliers are struggling to satisfy client requests, whether due to technological debt or competing goals. The need for customized APIs is high.
Why Solana?
Solana, regarded as one of the most performant blockchains, consistently completing more over 2,000 transactions per second. Because Solana is not the most developer-friendly L1 in comparison to the EVM stack. There have been few leaders that specialize in data programming.
Why Helius?
Helius intends to address these issues by reverse engineering all transactions and accounts on the Solana blockchain. Making them available via highly queryable APIs and low-latency webhooks, which the team is publishing today. To build on Solana, developers and teams now spend hours, weeks, or months. Putting up costly indexing infrastructure and transaction/account decoders. With Helius, developers can quickly launch complex apps and workflows on Solana.
Helius has already serviced almost 400 developers and 20 million API queries since unveiling a private, invite-only alpha two months ago, with over 1500 others on the queue for open beta access. Crossmint, Formfunction, Famous Fox Federation, Netrunner, and some significant hedge funds are among the noteworthy teams using Helius in production today.
Meet the Team
In addition to Helius's great concept, the founding team is exceptionally distinctive and well-positioned within the ecosystem. Mert, Nick, and Liam are not only embedd in the Solana ecosystem. But they also come from solid technical backgrounds at Coinbase and AWS, where they specialized in API infrastructure for several years. They've spent their lives identifying opportunities for development in this arena, and now they're ready to put those ideas into action at Helius.
About Helius
Helius' robust APIs, webhooks, and RPCs relieve you of the burden of dealing with cryptic on-chain data and costly indexers, allowing you to focus on your product. Utilize Solana's full strength.
About Chapter One
Chapter One is passionate with assisting creators in creating products for their category-defining tales. They have created things that people enjoy and want to encourage the next generation of entrepreneurs to create similar items.
SOURCE
https://mirror.xyz/chapterone.eth/AjlM8K83pPWVw8ppqzqXqkH4B_FGRoav5_Xsiq0uW1w