Notifi Created New Alerts on Bonfida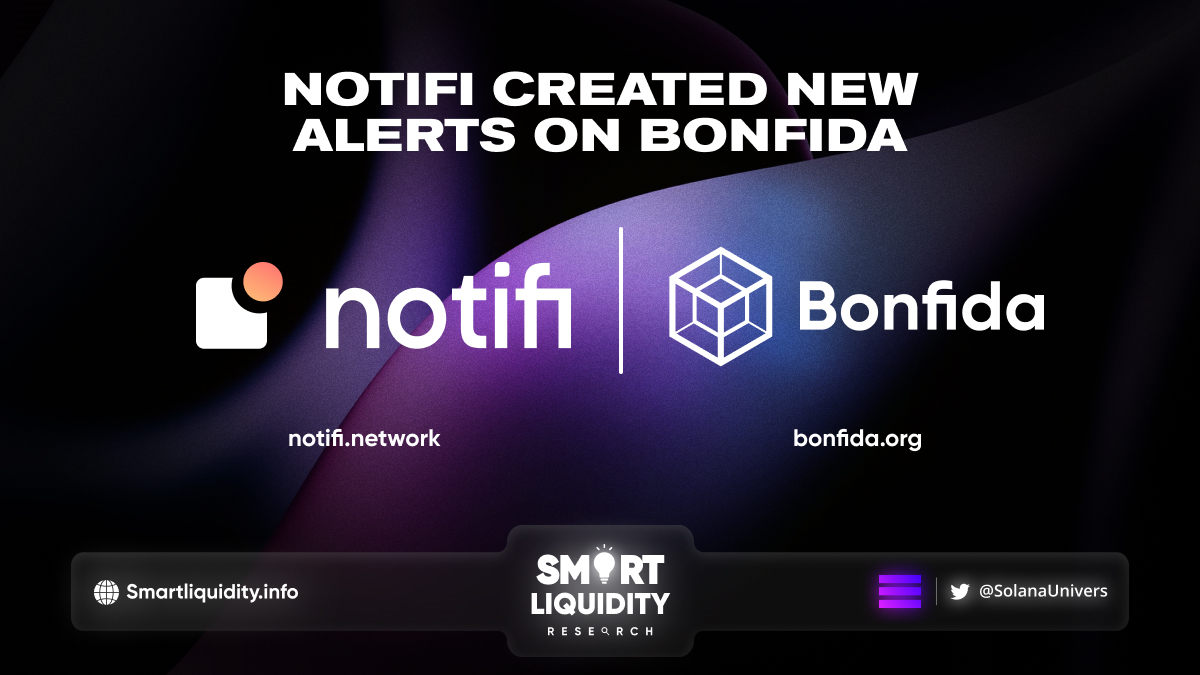 Notifi, a message infrastructure allowing Web3 dApps to communicate with their consumers, has created new alerts on

Bonfida

that provide blockchain solutions.
Notifi and Bonfida collaboration began with newly created alerts but has now grown to include a shared objective to ease web3 onboarding for new users.
Partnership Highlights
Solana Name Service (SNS) by Bonfida is the decentralized domain name service for the Solana ecosystem. Users may customise their Solana wallet address with a unique.sol domain using Bonfida. Notifi alerts from receiving offers on your domains, information on whether your offers are accepted or refused, and more are available to Bonfida members through SMS and email!
The current status of web3 is continuously being redefined, with projects declaring that their solution would bring the next billion consumers to web3 – yet most fail to explain how. Solana Name Service (SNS) by Bonfida allows users to brand their web3 profile, whether anonymous or doxxed. Their personalized.sol wallet address replaces the current semi-confusing wallet string of digits and letters with a humorous username suitable for web3 degens and others unfamiliar with the technology. Notifi and Bonfida feel that a simple customized onboarding procedure and a clear way to join the community are the keys to welcome new members to web3. They are pleased to announce that they have collaborated to make this idea a reality.
Notifi Alerts for Bonfida Community
It can be difficult and tedious to learn a new method to engage and trade, but including Notifi alerts can assist offer vital information to aid the process. Many web3 veterans joke that time flows differently on web3, yet every joke has a grain of truth. It may be difficult to keep up with the crypto market's volatility and FOMO, especially with new projects and blockchains debuting on a regular basis. Adding Notifi's real-time notifications was a critical communication tool for Bonfida.
When developing alerts for Bonfida, we collaborated closely with their team to ensure that the notifications aided buyers and sellers in their user experience. Users can now get alerts from an offer on a.sol domain to acquisition via the auction bidding procedure.
Users of Bonfida can choose to get the following push notifications:
Buyer alerts
Found a .sol domain you desire? Add Notifi alerts to track offers to acquisition.
Real-time alerts when offer is rejected for a chance to rebid and win .sol domain
Alerts when .sol offer is accepted and can claim domain
Buyer Alerts for win or loss status when auction completes
Seller Alerts
Looking to sell or test the market interest in your .sol domain? Track your auction with Notifi!
Create alerts for .sol auction offers and fixed price listings
Activate alerts for when offers are received or accepted
Notification of win/loss status when the auction is complete
About Bonfida
Bonfida has a straightforward mission of making Web3 easy through the primary product of the Solana Name Service (SNS). One of the clear benefits of the name service is a human-readable name that maps to a SOL address. A metaverse ID that contributes to SocialFi ecosystems, facilitates payments, efficiency and overall user experience in our sphere. A name, not a number.
About Notifi
Notifi is the Twilio for web3. Notifi simplifies communication across all web3 messaging channels. The Notifi platform is designed with simple APIs for easy integration and customizable and advanced features for dApps and web3 applications. Notifi empowers developers to better engage with their users via multichannel communications.
SOURCE
https://medium.com/notifi/new-alerts-on-bonfida-built-by-notifi-4feb4043f29d