Collaboration Between Lido Finance and Kamino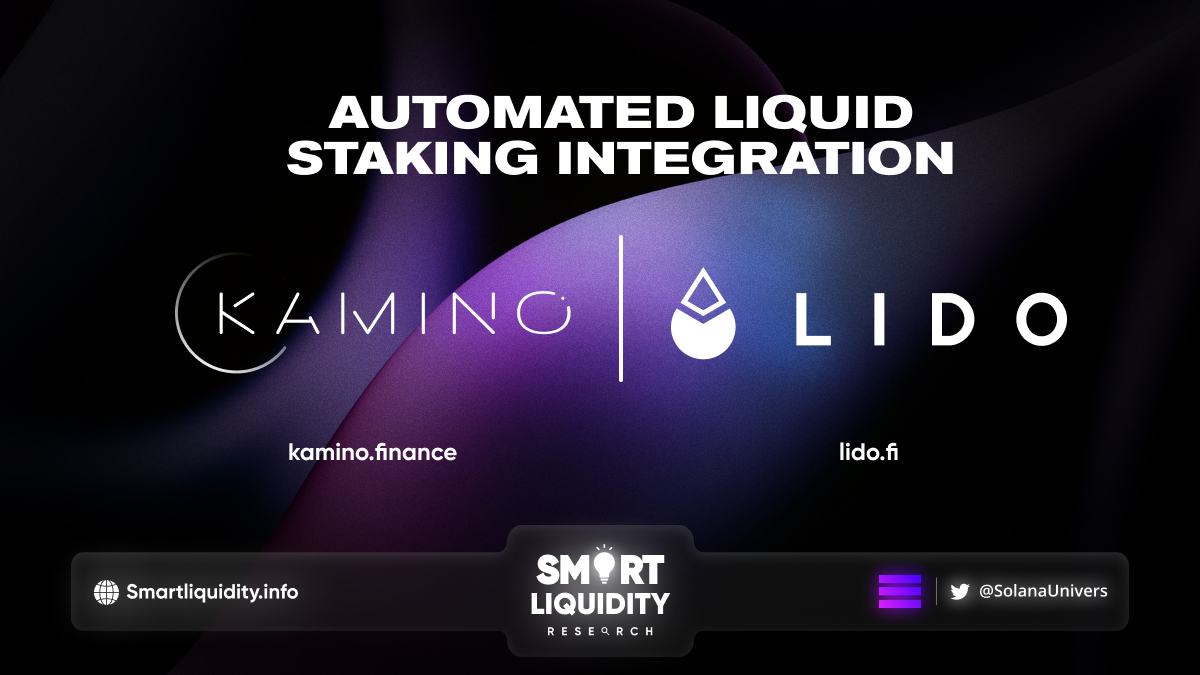 In collaboration with Lido, Kamino Finance is pleased to announce a significant accomplishment in enhancing Solana's capital efficiency and network security.
The most recent breakthrough in the collaboration between Lido Finance and Kamino will enable users to earn a yield on their yield while also increasing the amount of SOL staked on the network to further promote the decentralization of the blockchain.
Earn yield by staking SOL through Lido and depositing a token in DeFi
Positions in stSOL, which now earn 5.5% APY through staking incentives, can now earn an extra return thanks to automated focused liquidity vaults on Kamino. Users can passively earn APY from exposure to stSOL and earning commissions from trades using Kamino, which offers liquidity for stSOL-SOL concentrated liquidity market makers (CLMMs).
Users can instantly stake their SOL with Solana through Kamino and Lido when they deposit SOL into Kamino's stSOL-SOL vault thanks to a brilliant piece of decentralized finance (DeFi) innovation. With this technique, more SOL will be staked to decentralize Solana in addition to generating more yield on stSOL.
How Does Staking SOL Through Kamino and Lido Work?
Single asset deposits of SOL placed into the stSOL-SOL vault were previously automatically split using Jupiter Aggregator, which has grown to be one of the most capital-efficient liquidity aggregators in DeFi. This is all changed with the most recent integration between Kamino and Lido.
Earn APY from LDO rewards and real yield from trade fees.
However, establishing a liquidity position by exchanging SOL for stSOL that is currently in circulation on the market does not contribute to raising the SOL staked with Solana validators. Finding a mechanism to enhance SOL staking has therefore become a top goal. On the other side, raising the number of SOL staked on Solana is one of the main reasons that stSOL exists.
After this update, Kamino deposits of single asset SOL will be divided into stSOL by introducing fresh stSOL into the ecosystem through Lido. As a result, Lido's efforts to spread SOL among a larger number of Solana's validators will aid by the SOL put on Kamino into the stSOL-SOL vault.
DeFi Liquidity Solutions Team Up to Decentralize Solana
Users can rely on the protocol to help protect the future of their positions in addition to using Kamino to optimize their stSOL yield. This can be accomplish by contributing to the rise of Solana's Nakamoto Coefficient, a crucial figure for guaranteeing the long-term viability of every blockchain through more decentralization.
When a variety of validators earn SOL from other users to enhance their capacity to efficiently complete transactions, the Nakamoto Coefficient for Solana—which calculates the minimal number of participants that would need to band together to conquer a blockchain network—increases. Users may not always make decisions that effectively increase Solana's Nakamoto Coefficient, though.
The Nakamoto Coefficient for PoS blockchains at the time of writing.
The SOL staked with Lido ultimately ends up in the hands of the most deserving validators who could further raise the Nakamoto Coefficient on Solana, according to Lido's specialization in this area. Currently at 31, Solana has one of the highest Nakamoto Coefficients among proof-of-stake (PoS) blockchains, and raising this value is a key objective for enhancing network security.
In order to balance concentrated liquidity holdings, Kamino is now contributing to Lido's attempts to decentralize the network by staking SOL for stSOL rather than exchanging it for it. Thanks to Lido, a significant quantity of SOL is being stake on the network in a very effective manner.
Mark Another Win for DeFi Composability on Solana 
DeFi on Solana enables some fantastic protocol integrations thanks to its great composability. Solana's decentralization through stSOL can be increase, deep liquidity can be achieve, novel yield methods may be foster, and the composability of Kamino and Lido can aid in creating sustained flywheel effects.
The stSOL liquid staking token from Lido on Solana is an effective tool for boosting DeFi liquidity and protecting Solana through PoS consensus. Users can support the network's continued decentralization by putting SOL into Kamino's stSOL-SOL vault and receiving real income from trading fees.
It will be intriguing to watch what the collaboration between Lido and Kamino creates next. In order to provide value for consumers and the future of Solana DeFi, they are figuring out fresh and innovative ways to combine their services. As we advance the concept of composability, concentrating on this value ought to lead to some fantastic inventions.
About Kamino
Kamino automatically manages your concentrated liquidity positions. When depositing your tokens, Kamino opens a liquidity pool position on a DEX and does everything for you. Rebalancing, auto-compounding, and finding the optimum range for capturing the most trading fees while avoiding impermanent loss (IL).
About Lido Finance
Lido is the leader in liquid staking (when measured by TVL) with a priority on contributing to ecosystem improvement, increasing blockchain decentralization, and making staking beneficial for all the participants on every chain it has launched.
SOURCE
https://blog.kamino.finance/earn-yield-and-decentralize-solana-stake-sol-with-lido-finance-on-kamino