Hubble Protocol New Partnership with InsurAce.io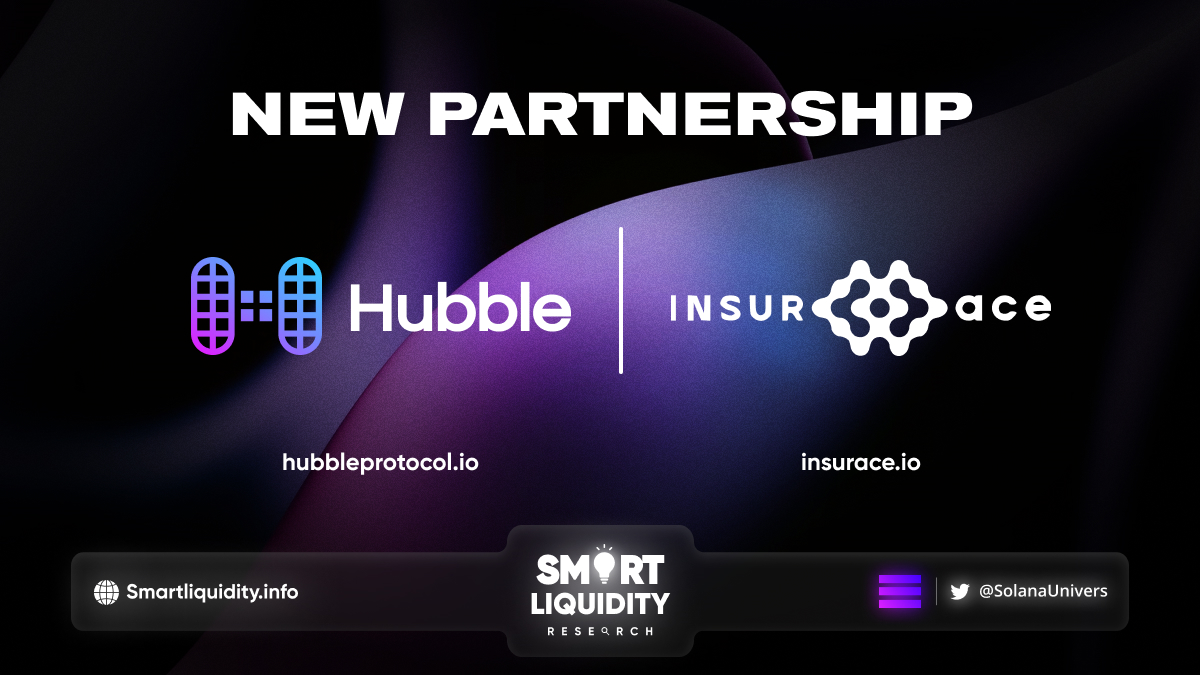 Hubble Protocol, a decentralized finance and stablecoin project on Solana, announced its partnership with the leading multi-Chain decentralized cover, InsurAce.io
This partnership of Hubble Protocol with InsurAce.io  is to facilitate secure DeFi-Lending on Solana's fastest-growing stablecoin platform.
Partnership and Listing Highlights
They have increased their efforts to enhance the worldwide reach and financial capability of their Cover products as part of their newest InsurAce v2 roadmap roll-out. Hubble Protocol has joined the InsurAce.io ecosystem.
With this landmark product listing, they will be able to offer Smart Contract Vulnerability Cover to one of Solana's fastest-growing stablecoin platforms. Hubble has made huge achievements in competitive collateralized debt position (CDP) stablecoin borrowing since its successful $10 million raise and product launch in early 2022, allowing DeFi customers on the Solana network to grow their liquidity and earn sustainable & passive income by borrowing USDH.
The InsurAce community is pleased to offer DeFi Cover goods and services on this renowned platform.
What exactly is the Hubble Protocol?
Hubble Protocol enables users to borrow the stablecoin USDH at incredibly low interest rates against a variety of crypto assets from the Solana DeFi ecosystem. Due to its durable crypto-backed design, censorship resilience, and peg stability. USDH has become the most extensively paired Solana-native stablecoin in several liquidity pools on Solana's developing DEX landscape.
Users can borrow USDH by depositing vanilla blue chip tokens such as SOL, BTC, and ETH, as well as yield-bearing assets. Hubble now accepts liquid staking tokens such as stSOL and mSOL, as well as cTokens from Solend and kTokens from Kamino Finance, a Hubble-incubated project.
The Hubble Protocol's smart contracts were thoroughly tested while the code was being written. Furthermore, Hubble Protocol's smart contracts have been reviewed on several occasions and through several major revisions by multiple third-party security organizations. Theys also imposed maximum outflow limitations on deposits in order to limit any losses that may occur during an exploit.
Key Features Of Hubble Protocol 
Supercharged Liquidity
Censorship resistance
Multi-asset Collateral
Yield Opportunities
Synergy Between InsurAce and Hubble Protocol 
Many crypto investors and users around the world are concerned about the recent wave of hacks in the DeFi industry. Hubble Protocol will be able to add an extra degree of sophistication to its security architecture. By integrating InsurAce's Smart Contract Vulnerability Coverage products and services.
The Hubble crew is really optimistic about the InsurAce listing. Hubble's listing on the InsurAce DeFi Coverage network, in addition to its secure, censorship-resistant, and audited code-base. Will now enable the platform to give an additional layer of security and ultimate safety net to its existing users, fund depositors, and new investors.
"The security of our users' funds is extremely important. We've taken many measures to ensure that assets remain safe when deposited on Hubble, and providing access to insurance coverage for deposits is the next step toward protecting our users. Hubble recognizes that in DeFi, anything can happen, and we want to share the added layer of assurance that smart contract coverage from InsurAce provides for our users' peace of mind." Marius Ciubotariu (Co-founder, Hubble Protocol) 
Hubble Protocol aims to create a safe and secure space for Investors and users to access DeFi service globally. By integrating Hubble Protocol, they will now be able to extend their Crypto Coverage security to another burgeoning community of blockchain enthusiasts and innovators.
About InsurAce.io 
InsurAce.io is a leading decentralized multi-chain protocol that provides reliable, robust and secure risk protection services to DeFi users. The company's $11.7m payouts played a major role in sustaining investor confidence and averting a systemic crash for the crypto industry.
With InsurAce.io, users can rely on:  
Unbeatable Low Cover Premiums
Cross-chain Coverage
Multi-chain Accessibility
Sustainable Investment Returns (via our Investment Portal and Mining Program)
About Hubble
Hubble protocol allows users to take interest-free loans against multiple crypto assets. Hubble works with USDH, Hubble's decentralized stablecoin.
SOURCE
https://www.insurace.io/blog/?p=3570