Promisphere and Ember Partnership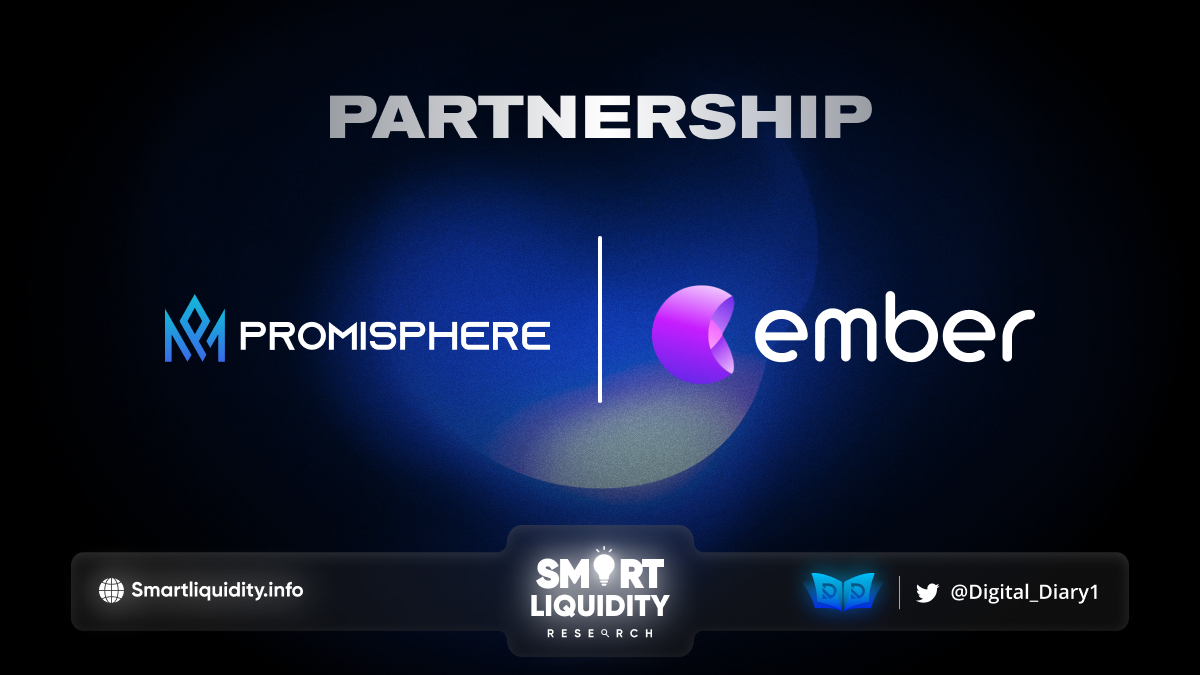 Promisphere is thrilled to announce its partnership with Ember with a view to utilize Ember's services to increase their asset armouries and expand upon their offerings to their community through renting, borrowing, and sharing NFTs.
Now, through the partnership, its community of 100,000+ Guild Members and 1000+ Scholars can tap into Ember's sharing economy to bring prolonged and prolific profits to Promisphere, and bring an even greater user base for Ember.
Ember is creating the first sharing economy for NFTs, gaming, finance & entertainment with the introduction of the Ember Marketplace, Ember NFT Wallet, and the Ember Renting Protocol. Ember's innovations allow everyone to rent, borrow, and share digital assets; solving the problem of the illiquid NFT market. Ember's revolutionary products will see billions of dollars of untapped value in idle NFT assets get unlocked, and see new opportunities for the industry as a whole open up as Ember challenges the status quo in the way NFTs are transacted.
Promisphere started as a gaming guild in the Summer of 2021, seeing immense growth and rapid scaling stemming from their focus on premium performance and belief that community is the driving factor behind success. Promisphere is an embodiment of GameFi and Web3 whose mission is to create new definitions for asset ownership and bring about greater accessibility for their community — their core ethos centering around innovatively superior models of ownership in gaming through Web3.
Ember x Promisphere Partnership Highlights:
Naturally, a partnership between Ember and Promipshere is a perfect fit. As Promisphere seek to break down the barriers of access to Web3 gaming, they can see the need for Ember's solution of a sharing economy for digital assets; and also the ability to rent and share NFTs to their community without friction through Ember will empower an evermore promising future for Promisphere.
"Recent turbulence in the NFT gaming space has left many struggling to find the right business response. Some, we won't say whom, have even resorted to desperate and questionable attempts to dump assets with decreased value onto oblivious mass market consumers. Even if we do not know which models, P2E or not, will be the ultimate winners for blockchain gaming, such short sighted practice only tarnishes our field. That is why it is heartening to see the likes of Ember offering a more sustainable solution for P2E asset liquidity and deployment in this interim phase of discovery."
Stanley Chia, CEO, Promisphere
By joining forces with Ember, Promisphere will benefit from increased capital efficiency. Through the ability to rent and borrow NFTs from Ember's inventory for the purpose of sharing with their community. As well as generating passive income for Promisphere from renting of assets that the collective chooses. To add to Ember's global inventory.
In addition, Promisphere will be able to decentralize and automate the profit splits from their communities gaming activity. Via Ember's automated revenue sharing model, as well as accessing the ability. To pay for NFTs in installments through Ember's payment plans. Ember will also help to empower Promisphere's product Arcana with superior gaming data offerings. Making for a long lasting and also prosperous partnership between parties.
With Promisphere's support and endorsement of Ember's services to their community of 100,000+ Guild Members and 1000+ scholars. A sizable gaming community is welcomed by Ember with open arms. Who will be amongst the first to utilize Ember's sharing economy of NFTs.
A promising future
Ember is incredibly excited to bring about the sharing revolution and also to re-invent the way in which NFTs are transacted. Cultivating new opportunities, possibilities and utilities for NFTs through the sharing economy that they are introducing.
"With Promisphere's support and endorsement of Ember's services to their community of 100,000+ Guild Members and 1000+ scholars, Ember is set to onboard a universe of dedicated gamers who will be amongst the first to utilize Ember's sharing economy of NFTs."
Greg Chapman, COO, Ember Protocol
By partnering with Promisphere, they're aligning with a powerful collective that shares their vision of redefined ownership models for NFTs. And also their beliefs in the future of the GameFi sector and the endless potential of NFTs. As well as bringing Promisphere's dedicated community to join Ember's own community to share assets from Ember's sharing economy.
About Promisphere
They started small, just a group of friends and the curiosity to engage in then uncharted territories of NFT gaming. Now, they are a premium performance community of thousands. Humbled by the opportunity to participate in the paradigm shifts that are Web3 and also GameFi. It is their dream to both contribute to, and enhance. This space via continual innovation and building up an ecosystem like no other. It is with such efforts that they can one day collectively reach the #Promisphere.
About Ember
Ember is the sharing economy for all NFTs; enabling every type and standard of NFT to be rented, leased, shared & also borrowed across multiple chains. Ember operates in a fully decentralized and trustless way, with zero-collateral, zero-KYC, and also zero barriers to access.
SOURCE: MEDIUM